Members of the North Dakota Republican Party's State Committee will meet next month in Medora to conduct party business. It's already expected that tension will be high after a contentious season of district reorganization meetings. But amidst it all might be some angst, from members of the committee, when it comes to the North Dakota Young Republicans and North Dakota College Republicans.
First, some background.
As you can see on their website, the Young Republicans are "the young professional arm of the North Dakota Republican Party." They represent Republicans 18 to 40 years of age with the goal to provide them with a "better political understanding and a means by which they can become more involved in the Republican Party."
The stated mission of the College Republicans "is to get Students and young people from around the State of North Dakota involved in the political process, provide them with a better understanding of local, statewide, and national issues, and educate them on conservative principles."
When it comes to political influence, North Dakota's Young Republicans have unquestionably been more influential in state and local politics. You can see their achievements listed here. They're impressive. So much so that in December of 2018 Senator Kevin Cramer (R – ND) did a YouTube Video acknowledging their contributions to his campaign, the state, and the country.
About six months after Senator Cramer raved about the Young Republicans, a change was made to the makeup of the NDGOP State Committee. The State Chairs of both the Young Republicans and College Republicans were added to that body— giving them a vote when it comes to the "supervision, regulation, and direction" of the party.
Yet, two things have happened since that time that have caused some grumbling in party circles.
The first came last October — just prior to the general election — when the Young Republicans broke ranks with the State Committee and endorsed DPI Superintendent candidate, Brandt Dick. As you'll likely recall, Dick was trying to unseat incumbent Kirsten Baesler who, earlier that year, had been arrested for a DUI. That was in addition to an already rocky past for Baesler. And, despite the majority of the committee voting to issue her a Letter of Support, it seemed the Young Republicans had enough and couldn't stomach it.
The second is a more recent development. College Republican Chair Joy Dahlen failed to hold a reorganization meeting in April. As a result, her challenger, Skyler Strand, and Vice Chair candidate, Caden Wurzbacher, held an ad hoc meeting and got themselves elected. Dahlen claims, due to a change in their constitution, that she had through July to have the meeting. A complaint is being reviewed by the College Republicans National Committee and they'll have to sort it all out. But adding to the oddity of it all is the fact that the North Dakota Republican Party is currently recognizing Strand's election as chair. You can see that here.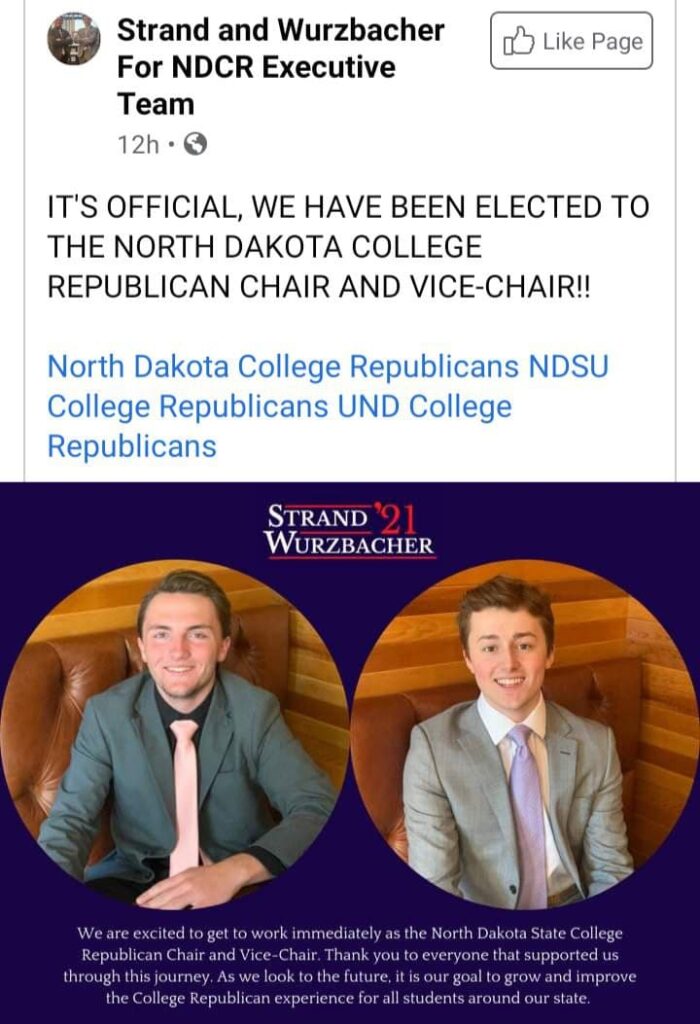 It's important to note that, to some degree, these issues surrounding the Young Republicans and College Republicans are representative of the divide we're seeing in North Dakota's Republican Party. On the one hand, we have an organization of conservative grassroots leadership (Young Republicans) and on the other is the establishment supported team of Strand/Wurzbacher (College Republicans).
How this all plays out remains to be seen. Will these issues be addressed at all? If so, how? Could we see one or both of the organizations chastised? Might we even see a proposal to have their chairs removed from the State Committee?
Time will answer these questions. But it could end up being a rough meeting for North Dakota's Young Republicans and College Republicans.
PLEASE LIKE & SHARE!
Sources: