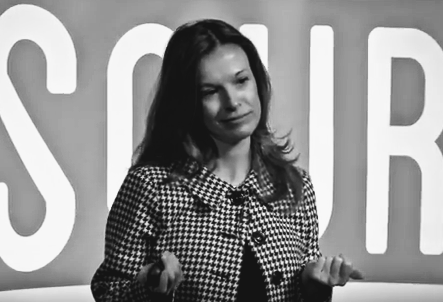 It seems North Dakota Young Republicans have had enough of Kirsten Baesler. As you're likely aware, Baesler is running for her third term as Superintendent of Publican Instruction. But yesterday the "young professional arm of the North Dakota Republican Party" broke ranks and threw their support behind the incumbent's opponent— Brandt Dick (pictured below).
The move is unusual— and bold. After all, the party's State Committee voted back in July to issue a Letter of Support for Baesler.
Way back in March, this same committee voted to cancel the NDGOP State Convention that was scheduled to be held in Bismarck. That move, of course, came a result of concerns surrounding COVID-19.
At the time they cancelled the convention, Baesler was under fire for having been arrested for a DUI. It wasn't her first run-in with the law. She has a rocky past and an alcohol problem. And many in the party didn't want to issue a Letter of Support at all. Nevertheless, four months later, the votes were there to do just that.
It's purely speculation, but had the NDGOP State Convention actually taken place, it's possible that Baesler would have lost out on the Letter of Support. You see, the delegates to that convention would have made the decision, not the State Committee. And the climate surrounding Baesler at the time was not a pleasant one. She was viewed by many as an embarrassment to the party. It seems the Young Republicans still think she is.
Make no mistake about it, these "kids" have had some influence in North Dakota politics. Just ask U.S. Senator Kevin Cramer (R – North Dakota), who acknowledged this in a 2018 video.
So, as you can imagine, it didn't take long for someone to get their skivvies in a bundle over the youngsters getting out of line. District 15 Chair Vonda Markestad fired this message off to them: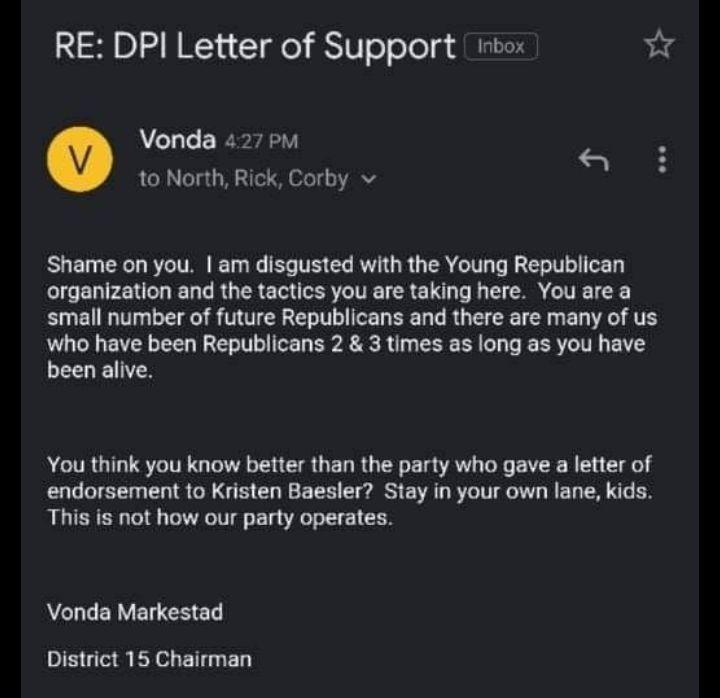 Apparently Young Republican leadership was about as receptive to Markestad's snootiness as they are to Kirsten Baesler having a third term. They took to social media and responded with this:
The District 15 Chair actually asks a relevant question— Do these young whippersnappers know better than those on the State Committee who voted to issue a Letter of Support to Kirsten Baesler? I'd say it seems that they do. After all, they're not the ones supporting a candidate who has a sordid history, a mugshot, and a less than stellar record as Superintendent.
These Young Republicans give us hope for the future of the North Dakota Republican Party.
PLEASE LIKE & SHARE!
Sources: