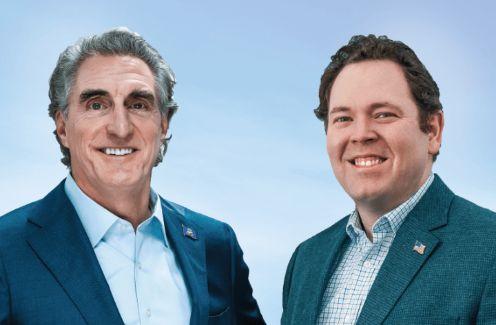 In recent weeks, voters have been inundated with Thomas Beadle mailers. The recent ones have gotten pretty ugly— to the point of personal attacks with misrepresentations about his opponent, Dan Johnston.
As you know, Beadle and Johnston are battling it out, in the Republican Primary, for the right to succeed Kelly Schmidt as State Treasurer. The two candidates — both legislators — are strikingly different.
While Beadle is desperately trying to brand himself as a conservative, his record tells quite a different story. In fact, he's one of the most liberal Republicans in the North Dakota State Legislature. If you believe in the values and platform of the North Dakota Republican Party, then Johnston is unquestionably your guy.
In addition to their records, endorsements have also illustrated differences between the two candidates. The most notable among them was when President Donald Trump threw his support behind Dan Johnston over a week ago. In one respect, the President's endorsement made some of us chuckle. After all, Beadle had been sending out mailers with Trump's picture photoshopped in next to him— attempting to give the impression that Beadle had the President's support. Political karma, I guess.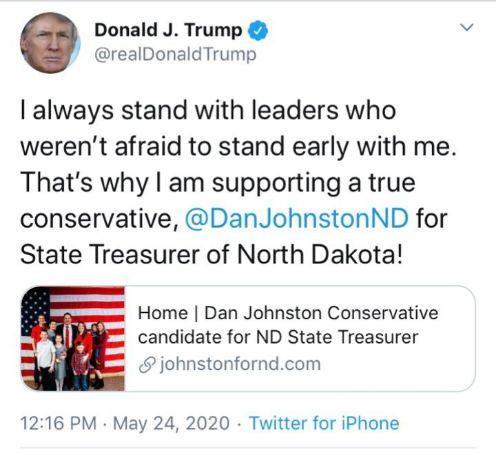 Johnston has also received the backing of U.S. Senator Kevin Cramer and outgoing State Treasurer Kelly Schmidt. Beadle managed to garner the support of big spending establishment figures like former House Majority Leader Al Carlson (R – District 41) and Senate Majority Leader Rich Wardner (R – District 37), among others.
There's little question that Beadle's most notable endorsement has come from Governor Doug Burgum. But what nobody is talking about is the distrust of Beadle that Burgum has shown since throwing his support behind him. How has that distrust manifested itself? I'll explain.
In preparation for the primary season, Governor Burgum took it upon himself to set up a political action committee as an apparatus to defeat conservatives in key races across the state. We were the first to expose this reality over a month ago.
The Dakota Leadership PAC is being run by former Burgum staffers and is overwhelmingly being funded by the governor himself. In fact, as of today, Burgum has thrown an unprecedented $1.85 million into the effort. And defeating Dan Johnston is just one of their goals.
While early on, Burgum gave $25,000 directly to Thomas Beadle's campaign, you'll notice that the heavy hitting is coming from Burgum's PAC. In other words, the governor doesn't trust Beadle with his own money. If he did, he wouldn't be funneling it into a PAC to defeat Johnston himself.
Let's be honest about this. The State Treasurer sits on six important State Boards and Governor Burgum wants to control them as much as he can. This is especially true of the State Investment Board, Teachers Fund for Retirement Board, and Board of University and School Lands.
In other words, this is very simple. To Doug Burgum, Thomas Beadle is just a pawn in a much larger political game. The governor doesn't even trust him with his own money, why should we trust him with ours?
PLEASE LIKE & SHARE!
Sources: