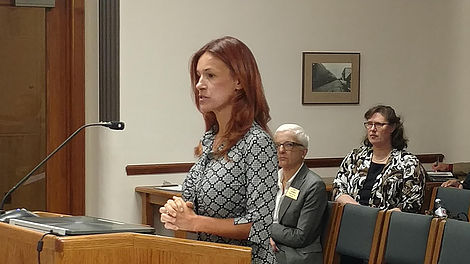 A week ago, North Dakota's Superintendent of Public Instruction made headlines for all the wrong reasons. Not only was Kirsten Baesler arrested for a DUI, but she also refused a breathalyzer and blood alcohol test.
Unfortunately, this wasn't the first time Baesler had a run-in with the law that made state news. As I wrote last week, she has a rocky past— that includes alcohol abuse.
The aftermath of her arrest has sure brought out its share of defenders though. Perhaps the craziest line among them was this statement of justification from District 12 Chairwoman, Delores Rath:
"And I feel we should look at ourselves — how many of us have gone out, had a couple of drinks and drove home and didn't get caught or didn't get picked up?" (Emphasis Added)
Seriously? Does that somehow make it okay?
I suppose this sort of rationalization shouldn't surprise us. After all, it was Rath's district — together with District 29 — that decided it was a good idea to auction off bottles of wine named after and signed by Baesler. And keep in mind, it was just three days after her arrest for a DUI.
Yet, it seems not everyone in the North Dakota Republican Party (NDGOP) is quite as willing to turn a blind eye to all of this. We received information that the NDGOP Executive Committee met Wednesday evening and voted to eliminate the Letter of Support for the DPI race at this year's State Convention.
As described on their website, the makeup of the Executive Committee is as follows:
"Our Executive Committee is the active governing board of the Republican Party in North Dakota, and is elected by the State Committee. It consists of the Chairman, Vice Chairman and Vice Chairwoman, Secretary, Treasurer, National Committeeman and Committeewoman, four Regional Chairmen, as well as the Governor, Senate Majority Leader, and House Majority Leader."
We'll wait for more details to come out. But at this point, I'm told qualified candidates will be allowed to speak at the convention, but delegates will not vote on the DPI race— meaning no Letter of Support will be issued from the NDGOP.
It's an interesting turn to an already troubling DPI race
Note: As of this article, the only other candidate for DPI is former U.S. House candidate, Charles Tuttle.
PLEASE LIKE & SHARE!
Sources:
1. https://www.kfyrtv.com/content/news/North-Dakota-State-Superintendent-arrested-for-DUI-568237521.html?fbclid=IwAR1tMxiST2qRFIuM8ZzZ_KFXX2vrM0rAXTm4oWzf5kQXLmHO_hy0vtrRyyo
2. https://theminutemanblog.com/2020/02/29/baeslers-rocky-past-alcohol-use-poor-record-as-dpi-superintendent/
3. https://ndgop.org/state-committee/