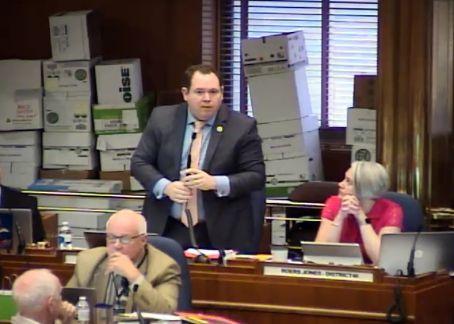 If you're like many North Dakotans, your mailbox has been inundated this primary season with mailers encouraging you to vote for Governor Doug Burgum's chosen ones (i.e. candidates). Burgum is spending a lot of his own money to convince you to do so. He desperately wants to defeat conservative candidates.
One of those candidates, who's in the good graces of the governor, is Rep. Thomas Beadle (R – District 27). As you're probably well aware of by now, Beadle is taking on Rep. Dan Johnston (R – District 24) for the right to succeed the outgoing State Treasurer, Kelly Schmidt. (By the way, Schmidt has endorsed Johnston.)
The campaign to get Thomas Beadle elected has been nothing short of deceit. He's branded himself a conservative, when his record shows that he's anything but. The American Conservative Union gave him a score of 50% last Legislative Session. The Family Policy Alliance hammered him on a number of conservative issues in this Voter's Guide.
In addition to being a fake conservative, mailers have also trotted out the idea that Beadle is somehow a taxpayer "watchdog". If this race wasn't so important, the claim would be laughable.
While it's easy to slap labels like these on mailers — thanks to the governor's money — it's another thing to back it up with a voting record. And that's where Thomas Beadle comes up short— big time.
An analysis of Beadle's record shows he's something more of cronyist than a "watchdog". Here's some examples going back to 2015:
As if this isn't bad enough, toss in his support for spending taxpayer dollars on things like:
Senate Bill 2019 (2019) – $5 Million Cactus Garden
House Bill 1333 (2019) – $15 Million Loans to the Tech Industry
Senate Bill 2001 (2019) – $50 Million Endowment for Presidential Library
By now, you should be getting the picture.
Aside from the spending and cronyism, it's also worth noting that Beadle not only supported eliminating the office of State Treasurer in 2017, but he voted to strip the State Auditor of his authority to initiate performance audits in 2019. Would a taxpayer watchdog support such things?
No, Thomas Beadle is no watchdog. In fact, it's quite the contrary. He's a big spending cronyist. He's like the lazy hound who, instead of guarding the place, takes a bone while showing intruders their way through the back door.
PLEASE LIKE & SHARE!
Sources:
https://theminutemanblog.com/2020/05/11/state-treasurers-race-what-voting-records-say-about-johnston-beadle/
https://theminutemanblog.com/2020/04/30/breaking-outgoing-state-treasurer-endorses-johnston-to-take-her-place/
http://acuratings.conservative.org/wp-content/uploads/sites/5/2019/09/CLA_NorthDakota_2019_web-1.pdf