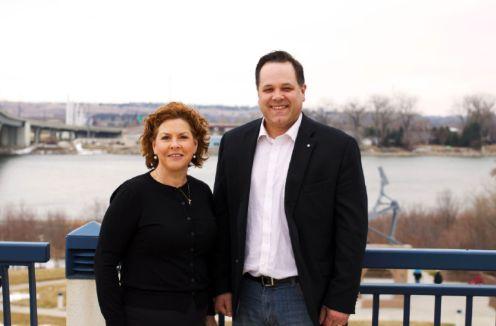 In December, State Treasurer Kelly Schmidt (R) surprised many when she announced that she wouldn't be seeking a fifth term. When she was first elected in 2004, Democrats had occupied the Treasurer's office for about 20 years. Schmidt has steadied the ship ever since.
In early January, State Representative Dan Johnston (R – District 24) — one of the most conservative lawmakers in the legislature — announced his bid to succeed Schmidt. Later that same month, State Representative Thomas Beadle (R – District 27) threw his name into the mix too.
Last week, Beadle received the endorsement of Governor Doug Burgum. That move wasn't particularly surprising. Burgum has been working against conservative candidates this election cycle. We've written about that here and here.
Johnston has enjoyed his own high-profile endorsement. U.S. Senator Kevin Cramer came out in support of him on social media back in March. He followed that up with the campaign mailer you can see below.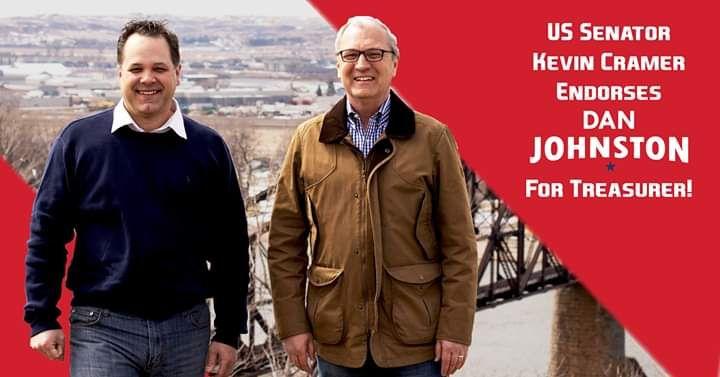 The Johnston campaign announced another endorsement today. The aforementioned Kelly Schmidt has thrown her support behind the conservative candidate:
"I have been privileged to serve North Dakotans for 16 years. I know what the job requires. During these challenging times, Dan Johnston will bring calm, steady leadership to the Office of State Treasurer. From his early beginnings as a legislator, Dan has reached out time and time again with our office. He was eager to learn and familiarize himself with the responsibilities and roles of the Office of State Treasurer. I have no doubt he will continue to carry the people's voice in his role as State Treasurer."
You can see the announcement in its entirety here.
Initially, this race was supposed to be settled at the NDGOP State Convention back in March. Both candidates had committed to honoring the results of that event, but due to the COVID-19 virus, the NDGOP State Executive Committee voted to cancel. This forced a runoff for the party's nomination in the upcoming June Primary.
To complicate matters, voting in the primary will be mail-in only. Watch for your ballot application in the mail. The North Dakota Secretary of State's office sent those out to voters and you should be receiving them soon (if you haven't already).
PLEASE LIKE & SHARE!
Sources:
https://kfgo.com/news/articles/2019/dec/11/nd-treasurer-will-not-run-for-another-term/965703/
https://theminutemanblog.com/2020/01/29/lawmaker-who-voted-to-abolish-treasurers-office-is-running-for-treasurer/
https://theminutemanblog.com/2020/02/24/reports-say-burgum-seeking-to-defeat-conservative-candidates/
https://theminutemanblog.com/2020/03/09/u-s-senator-kevin-cramer-endorses-dan-johnston-for-state-treasurer/