Update: In the aftermath of this article, it appears that many readers did not fully comprehend what was written. The purpose of the article was to illustrate the irony/hypocrisy of the artist. On the one hand, he implies through his artwork that President Trump is some sort of Nazi (with no evidence of such). Yet, he's worn a t-shirt with an actual Nazi on it himself. You'll notice that at no point in the article did I call him a Nazi.
The City of Bismarck has been in the headlines this week— thanks in no small part to local wet plate artist Shane Balkowitsch. On Wednesday, I wrote about his proposal being pulled to put a mural of 17-year-old climate activist Greta Thunberg in downtown Bismarck. Then we showed that this isn't the only controversial piece Balkowitsch has done.
Mocking Jesus and depicting Donald Trump as some sort of transgender-like figure, with a Hitler mustache, was bad enough. But we've now come across something about Balkowitsch that once again leaves us scratching our heads.
A reader of The Minuteman posted the following picture: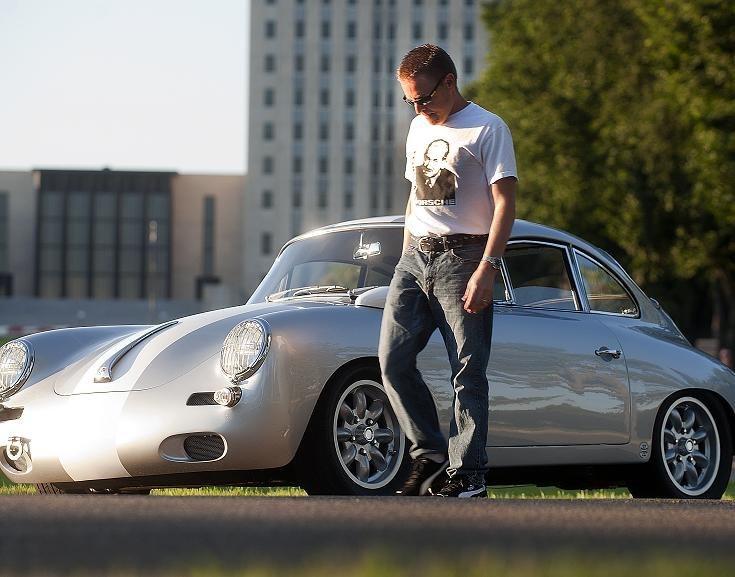 As you can see here, on Balkowitsch's own website, the guy loves his car— a 1965 Porsche 356C Coupe. In fact, he captions the picture with:
"Impromptu photograph of me walking away from the car, probably my favorite photograph of me and my car."
Now, don't get me wrong. I have no problem with a guy loving his car. It happens all the time. But look closer— specifically at his t-shirt. That's Ferdinand Porsche— founder of the Porsche car company. Perhaps this close-up, together with a picture of Porsche, will help.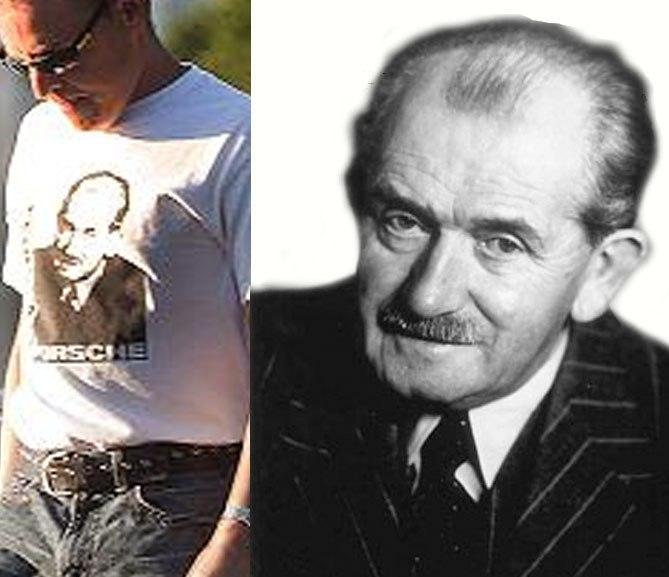 For many of you, this means nothing. It's just an old guy who had started a famous car company, right? Well, there's more to Ferdinand Porsche than that.
Porsche was a member of the Nazi Party. And aside from his being hired to assist with the "people's car" project — known in German as the "Volkswagen" — he and his son were both "tapped by Hitler" to produce tanks for the Tiger Program. In short, Porsche contributed to the war effort.
While some may downplay just how committed of a Nazi he was, it's worth noting that Ferdinand Porsche actually gave up Czechoslovak citizenship, and became a German, at the urging of Adolf Hitler. He also made a fortune as a result of his closeness to the fuhrer.
Just how committed was he to Hitler and the Nazi regime? Porsche was so concerned about "political explosiveness" that rather than help save a Jewish colleague, it's reported that he did nothing and the man became a victim of the "extermination" program.
Following the war, Porsche was actually arrested by the French for his Nazi affiliation and served 22 months in prison.
What's odd about all of this is that Balkowitsch's wet plate of a transgender-like Trump clearly has an element in which he suggests the President is some sort of Nazi. Remember the Hitler mustache? It's something many leftists imply or even come right out and say about Trump.
But at this point, it seems to me that there's far more evidence of Balkowitsch sympathizing with Nazi's than there ever has been of President Trump doing so.
I don't know that we clearly understand all that goes on in the mind of Shane Balkowitsch. But I do know this… if I were a business, I'd want absolutely nothing to do with his artwork on my building.
PLEASE LIKE & SHARE!
(Photo Credit to Shane Balkowitsch and History & War.)
Sources:
https://theminutemanblog.com/2020/02/12/idea-for-greta-thunberg-mural-in-downtown-bismarck-scrapped/
https://theminutemanblog.com/2020/02/14/controversy-doesnt-stop-at-climate-change-for-divisive-bismarck-artist-story/
http://sharoncol.balkowitsch.com/porsche356.htm
https://en.wikipedia.org/wiki/Volkswagen
https://www.biography.com/business-figure/ferdinand-porsche
https://www.historynet.com/hitlers-monster-tanks.htm
https://www.express.co.uk/news/world/868430/Porsche-founder-Ferdinand-Adolf-Hitler-Nazi