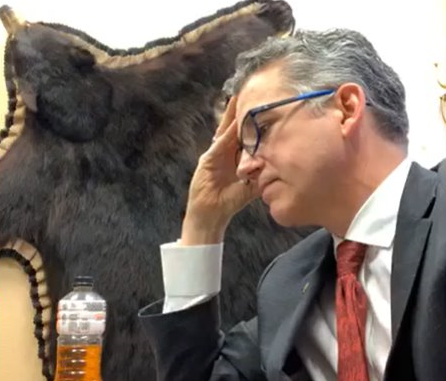 We recently published an article explaining some reasons why so-called "Red Flag Laws" should never be supported. As you're probably aware, in the aftermath of shootings in El Paso and Dayton, there's a number of political figures — Republicans and Democrats alike — calling on lawmakers to "do something".
Though Red Flag Gun Confiscation is being advocated at the national level, it's certainly nothing new to those of us here in North Dakota. Many of us haven't forgotten the legislation proposed last session in Bismarck pushing the idea. Aside from how awful the bill itself was, the fact that 8 of its 10 sponsors were Republicans was nothing short of shameful.
In the aftermath of its demise, I wrote that I wasn't convinced we'd seen the last of Red Flag in North Dakota. The Forum's John Hageman wrote an article earlier this month that seemed to indicate that the possibility of the legislation returning for another go in the North Dakota Legislature is very real.
You might recall that Rep. Rick Becker (R – District 7) was the man who led the charge to defeat North Dakota's version of Red Flag Gun Confiscation, on the House floor, during the recent legislative session. With all the noise on the issue at the national and state levels, Rep. Becker dropped an opinion piece in the Washington Examiner this week in which he wrote:
"Now, for the second time, the Democratic and Republican sponsors of the original Red Flag bill are being prodded to resurrect this bill in my state.

"And with the idea capturing the attention of President Trump, our governor, and several colleagues of mine in the North Dakota Legislative Assembly, it's not overstating it to say that several constitutional rights are in peril of being breached from all sides. Unfortunately, this is the case in countless other states as well."
Becker went on to urge "elected officials across the nation" to "unite against this new onslaught against our liberties". And he's right in doing so, for we must never forget that liberties are lost in the absence of vigilance.
Note: You can read Rep. Becker's opinion piece in its entirety by clicking here.
PLEASE LIKE & SHARE!
Sources:
https://theminutemanblog.com/2019/08/10/some-reasons-why-we-should-never-support-red-flag-laws/
https://theminutemanblog.com/2019/01/15/nd-republican-traitors-stand-with-democrats-on-red-flag-gun-law/
https://theminutemanblog.com/2019/02/19/have-we-seen-the-last-of-the-red-flag-bill-in-north-dakota/
https://www.jamestownsun.com/news/government-and-politics/4068348-North-Dakota-lawmaker-unsure-if-shell-reintroduce-failed-red-flag-bill-after-new-round-of-gun-violence
http://video.legis.nd.gov/en/PowerBrowser/PowerBrowserV2/20190219/-1/11089?startposition=20190219085654
https://www.washingtonexaminer.com/opinion/op-eds/legislators-resist-the-urge-to-pass-red-flag-laws