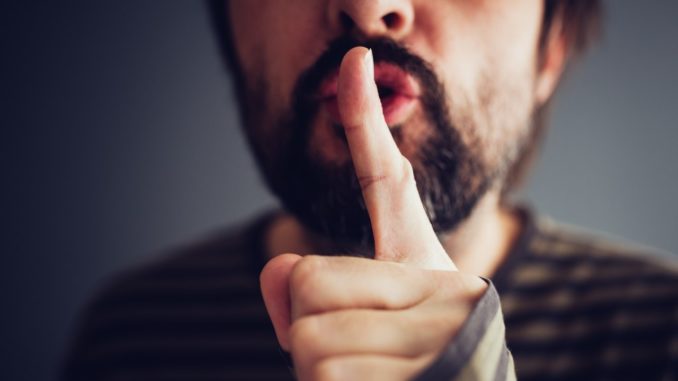 Last week, we published an article about a proposal being pulled to put a mural in downtown Bismarck of 17-year-old climate activist Greta Thunberg. Local wet plate artist Shane Balkowitsch had submitted the idea to the Renaissance Zone Authority. The mural would have featured a portrait done by Balkowitsch when Thunberg visited Standing Rock last year.
It's understandable that some members of the community, who suffered through the Dakota Access Pipeline (DAPL) protests, weren't too pleased with the idea. Threats of boycotts made it apparent that downtown Bismarck wasn't the place to honor the leftist icon.
In the aftermath of the Thunberg mural controversy, we discovered that it wasn't the only controversial piece of wet plate "art" that Balkowitsch has done. We published a brief article questioning other examples that might be inflammatory to some folks. In one of those, he depicts Donald Trump as a transgender-like figure with a Hitler mustache.
After a reader posted a picture of Balkowitsch next to his treasured 1965 Porsche, we pointed out just who was on his t-shirt in the picture— Ferdinand Porsche. And then we explained that Porsche was more than just a car guy. He was a member of the Nazi Party during the Hitler regime and contributed to the war effort.
As previously mentioned, Balkowitsch had taken it upon himself to depict the President as some sort of Nazi. We thought that was a pretty ridiculous move— for two reasons.
1. There's no evidence of Trump being a Nazi.
2. Balkowitsch — the same guy implying Trump was a Nazi — had actually worn a t-shirt with a Nazi on it.
With this information as a catalyst, we set out to illustrate both the irony and hypocrisy of Shane Balkowitsch the "artist". That was the point of the article. It's really that simple. In fact, I stated as much in the comments after it was posted to Facebook.
Despite this reality, Balkowitsch has chosen to embark on what some folks consider a crusade of martyrdom— which is something many believe has been his intention all along. As just one example to support that idea, take a look at this post that was sent to me by a reader of The Minuteman. Balkowitsch is literally begging people to help him get on Joe Rogan's podcast "to tell [his] side of the story".
Seems kind of self-serving to me. After all, why beg for an appeal to a national audience for something that is very much a local issue? As if that's not silly enough, take a look at this screenshot from his Instagram page:
That's right. For Shane Balkowitsch, it's perfectly okay to dishonor the President and imply he's a Nazi. But when others illustrate the irony and hypocrisy of it all, he claims "false propaganda", seeks to have them labeled as a "hate group", and wants to silence them. And this coming from a guy who supported the hostile DAPL protests. It really is a pathetic display of hypocrisy.
Even one of his own followers questioned the Instagram post: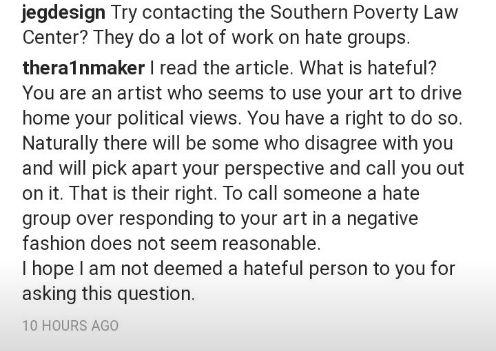 Indeed, it seems that for Shane Balkowitsch and his followers, it's "Free speech for me, but not for thee."
PLEASE LIKE & SHARE!
Sources:
https://theminutemanblog.com/2020/02/12/idea-for-greta-thunberg-mural-in-downtown-bismarck-scrapped/
https://theminutemanblog.com/2020/02/14/controversy-doesnt-stop-at-climate-change-for-divisive-bismarck-artist-story/
https://theminutemanblog.com/2020/02/15/bismarck-artist-celebrates-nazi-war-figure/
https://en.wikipedia.org/wiki/Joe_Rogan#2009–present:_Podcast_and_recent_career