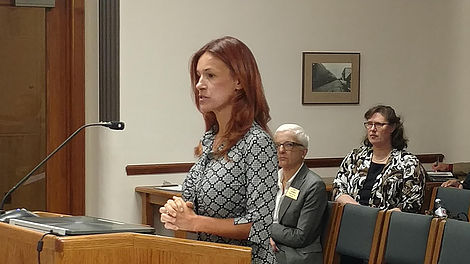 At the end of last month, North Dakota's Superintendent of Public Instruction Kirsten Baesler announced 13 finalists for open positions on North Dakota's Board of Higher Education. Among them was former Bismarck Mayor Mike Seminary. We made our case of why Seminary doesn't deserve consideration to be on the board. Apparently the five-member nominating committee isn't put off by the former mayor's horrendous history.
Baesler announced Monday that the committee has narrowed their list of finalists for three openings and among them is none other than Mike Seminary.
The board now has one vacancy which was created by the September resignation of former Vice Chairman Greg Stemen. The eight-member board will have two more openings on June 30, when Stemen's original four-year term ends, and the four-year term of incumbent board member Nick Hacker expires.
The nominating committee chose the following finalists for the three openings.
For Stemen's unexpired term, which ends June 30:
1. Timothy Mihalick of Minot— a business development officer at First Western Bank & Trust of Minot;
2. Thomas Atkinson of Bismarck— an environmental engineer for the Western Area Power Administration;
3. and Lonnie Pederson of Oxbow— director of the Jeremiah Program, which provides aid to single parents and their children.
For a new four-year term that begins July 1: Mihalick, Atkinson and Pederson.
For a new four-year term, which begins July 1, for the seat now held by incumbent Nick Hacker:
1. Nick Hacker of Bismarck— the president of North Dakota Guaranty & Title Co.;
2. Mike Seminary of Bismarck— who is business development manager at Houston Engineering and a former mayor of Bismarck;
3. and Taya Spelhaug of West Fargo— the North Dakota manager of Microsoft TechSpark, which promotes broadband access and computer science in schools.
Baesler is chair of the five-member committee that makes recommendations to the governor for appointments to the Board of Higher Education. Governor Doug Burgum will make the final choices, which are subject to confirmation by the North Dakota Senate. But he must choose from the recommended list.
Choosing identical lists for Stemen's unexpired term, and for the new four-year term that follows it, will give Burgum the option of appointing the same person for both terms. That would avoid the possibility that a newly selected Board of Higher Education member would serve for less than six months.
The nominating committee's other members are North Dakota House Speaker Lawrence Klemin (R – Bismarck); state Senator David Hogue (R – Minot), the North Dakota Senate's President Pro Tempore; Supreme Court Chief Justice Gerald VandeWalle; and Nick Archuleta, the president of North Dakota United, which represents public employees and school teachers. The nominating committee originates from the North Dakota Constitution.
The Board of Higher Education oversees the 11 public colleges and universities in the North Dakota University System. It has eight voting members and two advisory members who represent the university system's faculty and staff.
As we mentioned last month, Mike Seminary has significant connections to the Bismarck political establishment. Aside from his wife having worked for Governor Burgum's office in the past, she is currently employed by Odney Advertising— a political powerhouse that benefits from taxpayer dollars.
If Burgum chooses to appoint Seminary to the State Board of Higher Education, it might just be an indication that he has succumb to the pressure of establishment politics. Let's hope that doesn't happen.
Sources:
https://bismarcktribune.com/news/local/education/apply-for-north-dakota-board-of-higher-education/article_54f37658-6cc2-5d06-8e9e-6527a05177a6.html
https://theminutemanblog.com/2018/11/29/mike-seminary-doesnt-deserve-consideration-to-be-on-board-of-higher-ed/
https://www.odney.com/news/SeminaryandSchmidtJoinOdney/
https://ndxplains.com/2018/10/16/episode-2-where-campaigns-and-tax-dollars-collide/