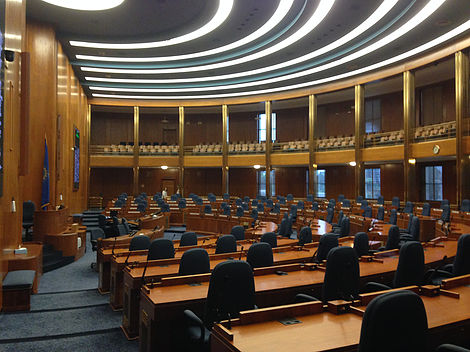 The news hit yesterday that three state legislators are proposing that state employees receive pay increases in the upcoming 2019 Legislative Session. And go figure— all three are Republicans. It was just last week that I predicted, in the aftermath of the recent 2018 elections, that we'd likely just see more of the same. So, I can't say that I'm surprised. District 32's legislators — Representatives Lisa Meier and Pat Heinert, together with Senator Dick Dever — are the brains behind the bill draft.
According to The Forum's John Hageman, the bill proposes:
"… a $300 per month pay increase for 'permanent state employees' in the first year of the two-year budget cycle that begins in July 2019. They also floated an average 1 percent pay increase for the second year, but each employee's raise would be based on their 'documented performance.'"
The justification for such a move? To make up for the fact that no increase was given during the 2017 Legislative Session. The cost? According to KFYR, it'll be about $72 million over the next biennium. To put that figure into perspective, it represents nearly 10% of the $791 million figure the legislature raided from reserve funds last session to make the budget work.
A quick look at the Office of Management & Budget's Increase History — from 1983 to the present — shows that years without pay raises have been few and far between. As you can see, there's been just seven years since 1983 — a period of 35 years — that there's been no increases.
But this doesn't tell the entire story. Let's take a look at the group benefits package offered to state employees. Just to name a few, they include:
Health insurance with the full premium paid by the state if the employee works 20 hours a week for 20 weeks a year.
Life insurance with a basic benefit paid for by the state if the employee works 20 hours a week for 20 weeks a year.
A retirement contribution of 14.12%, with the state contributing 11.12% and the employee 3%, when they work 20 hours a week for 20 weeks a year.
Sick leave accrued at 8 hours per month with no maximum accumulations.
10 holidays paid per year.
Annual leave at the rate of 8 to 16 hours accrued per month, with a maximum of 240 hours (30 days) to be carried beyond April 30th of each year. The rate is determined by years of service. A state employee whose been around for as long as Attorney General Wayne Stenehjem can earn as much as 168 hours (21 days) a year. One who falls in the Al Jaeger category of years of service can earn up to 192 hours (24 days) a year.
Those are just the highlights. Take a look at the link. There are a lot more. You can also see information in the document called "What Every State Employee Needs to Know". It's quite an eye-opener.
Yet, to Rep. Pat Heinert and Senator Erin Oban (D – District 35), this is a cost savings. According to Oban:
"There's a lot of concern with the public employees that are leaving work — either taking buyouts or retiring — and all of that establishment knowledge that's going on with it. So in order to recruit and retain the best folks to stay in those public sector jobs, we're going to have to compete at some level."
Heaven forbid should we reduce the size of government. As I said before— this is just more of the same.
Senator Oban is correct from this perspective— buyouts and retirements have been a reality. Back in April, Governor Doug Burgum called for more cuts in the budgets of state agencies. Many obliged. And, of course, it's no secret that we think deeper cuts can be made. But what exactly is Senator Oban referring to when she indicates that the state needs to "recruit and retain the best folks" for these "public sector jobs"? Just who is it that they need to "compete" with? It's the private sector of course.
It's also interesting to note that while Governor Burgum was calling on state agencies to make more cuts to their budgets, he was also expressing support for pay increases for those who remain:
"To retain existing team members, we need to ensure that we preserve the ability to reward performance, especially our high performers, and we've got to make sure that we've got room in this budget to provide the much overdue salary increases in the next biennium."
Oh, and we're not done yet. Again, according to John Hageman:
"A legislative committee already voted in September to boost lawmaker pay by 2 percent in each of the next two fiscal years in an effort to set the tone for employee raises." (Emphasis Added)
That's right. It appears that prior to the unveiling of this proposal yesterday, to increase the pay for state employees, that some legislators decided they should propose a raise for themselves too. The only one on the committee to vote against it was Rep. Larry Bellew (R – District 38). Good for him.
Now, to be fair, that 2% for legislators doesn't amount to a whole lot. But it's the principle of the thing. The 2019 Legislative Session is shaping up to be a tough one. Difficult decisions are going to be made. I think it sends the wrong message when the legislature and state employees get to the be the ones coming out with the upper hand when all is said and done. It's decisions like this that contribute to the taxpayers never having the lasting relief that they should.
Sources:
https://theminutemanblog.com/2018/11/08/did-the-people-of-north-dakota-lose-on-election-night/
https://theminutemanblog.com/2018/11/08/did-the-people-of-north-dakota-lose-on-election-night/
https://www.kfyrtv.com/content/news/Three-Bismarck-legislators-submit-pay-increase-bill-for-state-employees-500309111.html
https://www.nd.gov/omb/state-employee/employment-and-compensation/compensation/increase-history
https://www.nd.gov/omb/state-employee/employment-and-compensation/benefits
https://www.nd.gov/omb/sites/omb/files/documents/state-employee/job-openings-comp/whateverystateemployeeneedstoknow.pdf
https://theminutemanblog.com/2018/07/07/more-buyouts-offered-to-state-employees/
https://theminutemanblog.com/2018/04/18/cmon-governor-burgum-can-cut-deeper/
http://www.grandforksherald.com/news/government-and-politics/4498986-expecting-state-employee-salary-boost-north-dakota-legislators
https://www.legis.nd.gov/assembly/65-2017/interim/19-5181-03000-meeting-minutes.pdf