Earlier this week, the Bismarck Tribune reported that former NDGOP Chairman and businessman Gary Emineth is seeking the District 35 Republican endorsement for State Senate. As you may recall, Emineth briefly entered the U.S. Senate race in a bid to seek the NDGOP endorsement to take on Democratic incumbent Heidi Heitkamp. But then CNN made a big deal about some of his past social media posts, followed by Congressman Kevin Cramer jumping in the U.S. Senate race, and Emineth withdrew his candidacy in support of Cramer.
Emineth's decision to jump into the District 35 State Senate race against Democratic incumbent Erin Oban turns what appeared to be an uncontested race into perhaps the most compelling race for the State Legislature. Oban was elected in 2014 when she ousted Republican Margaret Sitte. And since that time, her voting record has been less than impressive.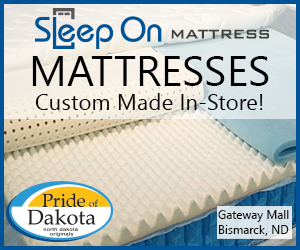 In the American Conservative Union Foundation's (ACU) 2017 Ratings of North Dakota, Senator Oban was tied for the second worst voting record in the Senate at 17%– only behind Senator Tim Mathern (D – District 11) and his 6%.
Let's take a look at some votes Oban got wrong:
I realize this is just a snapshot of a much larger voting record, but I chose these for a reason– gun rights, free speech, parental rights, school choice, and opposing government freebies to the arts. These are important issues to consider for constituents in District 35 and North Dakotans in general. I challenge those interested to look further into her record. It's not impressive.
To be rated the second most liberal Senator in the North Dakota Legislature is pretty bad. The Senate as a whole isn't conservative. In fact, their overall rating by the ACU was 50%. And the recent North Dakota Watchdog Legislative Scorecard refused to even rate the Senate due to "lack of diversity in voting records".
So, when Senator Oban says she's "tired of partisan rhetoric and bitter partisanship", it's difficult to take her seriously. Even in the atrocious North Dakota Senate, she's about as partisan as they come. Which I suppose shouldn't surprise us. After all, she belongs to a party that is bringing former Vice President Joe Biden to North Dakota to give the keynote at their State Convention.
At the end of the day, one thing is blatantly obvious– Oban is a liberal, and she needs to go.
Sources:
http://bismarcktribune.com/news/local/govt-and-politics/article_73d6607b-5649-5416-91f1-c1ba234ae5d0.html
https://theminutemanblog.com/2018/01/29/gary-emineth-is-laying-the-groundwork-to-win-u-s-senate-race/
https://theminutemanblog.com/2018/02/08/is-this-really-the-worst-cnn-has-on-u-s-senate-candidate-gary-emineth/
https://theminutemanblog.com/2018/02/13/breaking-cramer-to-jump-into-senate-race/
https://ballotpedia.org/Erin_Oban
http://acuratings.conservative.org/wp-content/uploads/sites/5/2017/07/NorthDakota_2017_web-1.pdf
http://www.legis.nd.gov/assembly/65-2017/bill-video/bv1169.html
http://video.legis.nd.gov/pb2/powerbrowser_Desktop.aspx?wowzaplaystart=5290000&ContentEntityId=1891&MediaStart=2017-03-21T14%3a23%3a56-06%3a00&browser=0
http://www.legis.nd.gov/assembly/65-2017/bill-video/bv1428.html
http://video.legis.nd.gov/pb2/powerbrowser_Desktop.aspx?wowzaplaystart=2699000&ContentEntityId=1900&MediaStart=2017-03-24T13%3a11%3a39-06%3a00&browser=0
http://www.legis.nd.gov/assembly/65-2017/bill-video/bv1329.html
http://video.legis.nd.gov/pb2/powerbrowser_Desktop.aspx?wowzaplaystart=5660000&ContentEntityId=1891&MediaStart=2017-03-21T14%3a30%3a06-06%3a00&browser=0
http://video.legis.nd.gov/pb2/powerbrowser_Desktop.aspx?wowzaplaystart=5864000&ContentEntityId=1827&MediaStart=2017-02-06T14%3a32%3a50-06%3a00&browser=0
http://video.legis.nd.gov/pb2/powerbrowser_Desktop.aspx?wowzaplaystart=4062000&ContentEntityId=1909&MediaStart=2017-03-31T13%3a33%3a24-06%3a00&browser=0
http://www.legis.nd.gov/assembly/65-2017/bill-video/bv1382.html
http://video.legis.nd.gov/pb2/powerbrowser_Desktop.aspx?wowzaplaystart=2837000&ContentEntityId=1874&MediaStart=2017-03-10T13%3a14%3a20-06%3a00&browser=0
http://video.legis.nd.gov/pb2/powerbrowser_Desktop.aspx?wowzaplaystart=4397000&ContentEntityId=1909&MediaStart=2017-03-31T13%3a38%3a59-06%3a00&browser=0
http://www.legis.nd.gov/assembly/65-2017/bill-video/bv2010.html
http://video.legis.nd.gov/pb2/powerbrowser_Desktop.aspx?wowzaplaystart=440000&ContentEntityId=1959&MediaStart=2017-04-19T17%3a02%3a01-06%3a00&browser=0
https://theminutemanblog.com/2018/02/19/bidens-planned-keynote-to-dem-npl-convention-shows-how-out-of-touch-nd-dems-are/