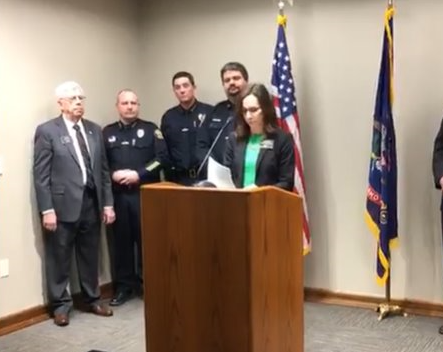 In a despicable show of support for the North Dakota House Assistant Minority Leader Karla Rose Hanson (D – District 44), eight — yes, EIGHT — legislators, who call themselves Republicans, signed on to House Bill 1537— otherwise known as the "Red Flag Law". That means 8 of 10 sponsors are Republicans. The other Democrat is Senate Minority Caucus Leader Erin Oban (District 35).
Rep. Hanson, together with co-sponsor and Senate Majority Leader Rich Warder, held a press conference at the Capitol in Bismarck today to discuss the bill. Joining them was selected law enforcement, co-sponsor and State Representative Bernie Satrom, North Dakota United President Nick Archuleta, and Superintendent of Public Instruction Kirsten Baesler. The legislation is being hailed as a bi-partisan effort.
This all comes on the heels of our Democratic neighbors to the East in Minnesota ramping up their efforts to bring the Red Flag Law to their state. It wasn't that long ago — just prior to the general election — that we published an article showing that Minnesota's Republican Legislators are More Conservative than North Dakota's. This could be more evidence of that. After all, Republicans in Minnesota have rejected these efforts in the past.
Perhaps the best way to summarize Red Flag Laws comes from Gun Owners of America:
"… the red flag concept, would remove firearms from those who have not committed any crime but are thought to be a 'dangerous behavior risk' for the future."
According to HB 1537, a law enforcement officer can obtain a search warrant to seize an individuals firearm if they submit a sworn affidavit stating that they believe the person is "dangerous and in possession of a firearm". After seizure, the officer must also file a return with the court stating "quantity and identity of firearms seized by the law enforcement officer". This triggers "a hearing for a date not later than fourteen days after a return is filed" or "at a later date upon good cause shown".
The purpose of the hearing is to determine whether the firearm will be returned to the individual or retained by law enforcement. If the court determines there is "clear and convincing evidence the individual is dangerous", then they issue a "public safety protection order effective for up to one year". And get this… the bill says the state "may order the law enforcement agency having custody of the seized firearm to retain the firearm." Notice the wording isn't "shall", but "may". As an old teacher of mine used to tell his students, "Words mean things." Is there any guarantee seized firearms will be returned? I'd argue there isn't.
Aside from law enforcement, who is it exactly that can trigger all of this? The bill says a "family or household member". And the definition of that is very broad:
"Family or household member" means an individual who:
a. Is or was married to the respondent;
b. Is or was residing with the respondent in the same household;
c. Is or was related by blood or marriage to the respondent;
d. Has or is having a child in common with the respondent;
e. Is or has been in a dating relationship with the respondent; or
f. The court determines has a sufficient relationship to the respondent.
So, what's the standard for obtaining a public safety protection order? The individual must pose "a risk of personal injury to self or others by having a firearm". Well, since words do indeed mean things, let's take a look at what constitutes "risk of personal injury to self or others":
A risk of personal injury to self or others may be shown by:
a. An act of violence or threat of violence to self or others within the last twelve months;
b. Conviction of or arrest for domestic violence, sexual assault, stalking or harassment;
c. Violence or cruelty toward an animal;
d. Prior unlawful or reckless use of a firearm; or
e. A violation of a prior domestic violence protection order, disorderly conduct restraining order, an order prohibiting contact, or a sexual assault restraining order.
Can you imagine the can of worms opened up by this definition? It's not like false allegations aren't a reality in our world today, right? And with the bar being as low as only having been arrested for a crime — not necessarily being convicted of one — where does that potentially leave those who are then wrongly accused of being dangerous? Yep, they may have just qualified as being "a risk of personal injury to self or others"— and the state can seize their firearms.
What about violence or cruelty to an animal? Depending on the judge, what might constitute that? Kicking the neighbor's annoying dog when it strayed unwelcomed onto your property for the umpteenth time? Getting a tad irritable with that horse you've been trying to break to ride? The list is endless.
Oh, and get this. That protective order that lasts one year. Well, thirty calendar days prior to it expiring they can hold a review hearing and extend it for up to another year. In fact, the individual has the "burden of proving, by clear and convincing evidence" that they no longer pose "a risk of personal injury to self or others". How does a person prove that when the court already deemed that they are? Is there really any guarantee the judge is going to be objective about it? In a nutshell, they can really put you through the wringer and who knows when — or if — you'll ever get your firearms back.
I could go on. The bill is 15 pages long. But the fact that they take your gun rights away first — and give you due process later — is alone problematic. Especially when no crime has been committed.
Think for just a moment how illogical Red Flag Laws are. According to wording in the bill itself, these individuals are so dangerous, to themselves or others, that they must be prohibited from having possession of a firearm. As if this is the only means available of harming themselves or those around them.
What these Republicans have done is buy into anti-gun rhetoric. Whether they intended to or not is irrelevant. As uncomfortable as it may be for some folks to hear, on some level these Republicans have joined the ranks of the gun-grabbers. All in the name of safety and security.
If they're going to cede this ground, then where does it stop? Why not longer waiting periods and enhanced background checks? What about proficiency tests? Should we make people prove to the state that they are physically, mentally, and emotionally stable enough to possess a firearm? Mandatory registration? Ah heck, why not go the whole way— let's just ban firearms altogether?
There are currently 13 states with some form of the law in place. And if these gun-grabbers get their way, North Dakota will be #14. This is no time to mince words. We've gone from the victory of Constitutional Carry in the 2017 session to this garbage in the current one.
If you're truly a stalwart supporter of gun rights and due process, then this is your call to action. Contact the legislators who sponsored HB 1537 and let them know that you not only oppose this bill, but you want it either withdrawn or defeated. Their names, phone numbers, and e-mail addresses are below.
It also appears as though this has been referred to the Judiciary Committee. You can contact them here and let them know to give this a Do Not Pass recommendation. Let's send a "clear and convincing" message to the North Dakota State Legislature that gun control legislation isn't welcome in North Dakota. And we're not too fond of lawmakers who violate their oath of office either.
PLEASE LIKE & SHARE!
1) Karla Rose Hanson (D – District 44)
Cellphone: 701-793-9181
Email: krhanson@nd.gov
2) Jason Dockter (R – District 7)
Home Telephone: 701-214-0486
Office Telephone: 701-258-9848
Cellphone: 701-214-0486
Email: jddockter@nd.gov
3) George Keiser (R – District 47)
Home Telephone: 701-258-0333
Office Telephone: 701-255-3900
Cellphone: 701-202-3900
Email: gkeiser@nd.gov
4) Mark Sanford (R – District 17)
Home Telephone: 701-772-4236
Email: masanford@nd.gov
5) Bernie Satrom (R – District 12)
Office Telephone: 701-252-4058
Cellphone: 701-320-7239
Email: blsatrom@nd.gov
6) Austen Schauer (R – District 13)
Cellphone: 701-730-4474
Email: aschauer@nd.gov
7) Judy Lee (R – District 13)
Home Telephone: 701-282-6512
Email: jlee@nd.gov
8) Erin Oban (D – District 35)
Cellphone: 701-955-3188
Email: eoban@nd.gov
9) Nicole Poolman (R – District 7)
Home Telephone: 701-250-6730
Email: npoolman@nd.gov
10) Rich Wardner (R – District 37)
Home Telephone: 701-483-6918
Office Telephone: 701-483-6918
Cellphone: 701-590-1178
Email: rwardner@nd.gov
Sources:
https://www.legis.nd.gov/assembly/66-2019/documents/19-0337-04000.pdf
https://www.facebook.com/KFYRtv/videos/523047428189831/UzpfSTYyODE1Mjk4OToxMDE1NzA2MjE4Nzc2Mjk5MA/?comment_id=10157062336612990&notif_id=1547603820264155&notif_t=feed_comment
https://www.twincities.com/2019/01/01/mn-gun-control-bills-background-checks-red-flag-laws/
https://theminutemanblog.com/2018/08/23/minnesotas-republican-legislators-are-more-conservative-than-north-dakotas/
https://www.gunowners.org/two-views-red-flag-law-makes-us-vulnerable-to-thought-police.htm
https://www.legis.nd.gov/assembly/66-2019/committees/house/judiciary