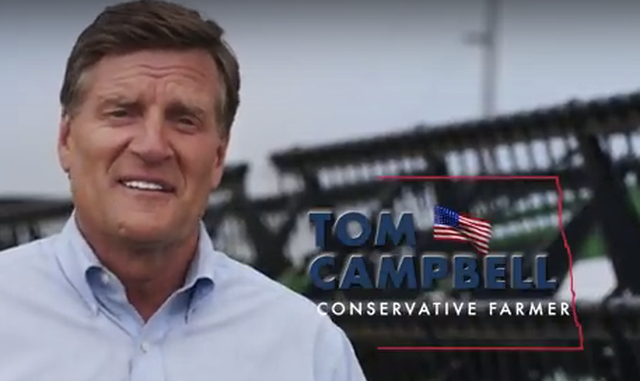 Earlier this month North Dakota State Senator Tom Campbell (R – District 19) announced his candidacy for the Republican nomination for United States Senate. Campbell hopes to win over North Dakota Republicans and become the 2018 Republican nominee versus incumbent Democrat Heidi Heitkamp.
The State Senator's announcement really came as no surprise. It's not as though Campbell had kept his intentions a secret. He's been very open about the fact that he would run for either the House or Senate. Initially it seemed he would wait for Congressman Kevin Cramer to decide whether he'd run– therefore vacating his House seat. But with Cramer undecided and seemingly leaning towards sticking with where he's at, Campbell decided to get in early.
There are some things that Campbell has going for him. He looks the part of a U.S. Senator. He has a beautiful family. He's ran a successful agricultural business. As a successful businessman, he has the money to run a campaign– as shown by already running three ads across the state. As a member of the State Senate since 2013, he has experience in state politics.
But even with all that going for him, is it enough? Many folks look at much of it as superficial. Campbell's open aspirations for federal office – regardless of which one – leaves many thinking he's more interested in prestige than advocating for limited government policies in the cesspool known as Washington, DC. I've personally heard conversation where it was said that he'd run for dog catcher if it were a federal office. That's not a good reputation to have if you're hoping to win.
When we get down to the nuts and bolts of what Campbell has to offer, many are highly skeptical. Thus far, he is attempting to craft his messaging along the lines of the Donald Trump and Doug Burgum campaigns. He seemingly wants to be seen as a successful businessman "outsider". Successful businessman? Yes. Outsider? Not so much.
I suppose if an outsider is one who has never held a federal office before, Campbell would qualify. But that label could then be applied to nearly any Republican thought as possibilities to enter the race– with the exception of Rick Berg.
At the state level, Campbell is no outsider. Has he been among the few dissenters in the State Legislature since 2013 to speak out against what has been a state government that has had a horrendous appetite for spending? In a word… no. In fact, far more often than not, Campbell has gone along to get along with an atrocious Senate Establishment.
One need not take my word for it. One of the unique features of the North Dakota Legislative web site is that we can look up "Senate Member Video". When viewing Campbell's history during the last session, you will find he seldom speaks unless he's carrying a bill to the floor. Which means the evidence shows he really isn't a vocal advocate for smaller state government. How can we then believe he'll go to Washington and speak out against the DC Establishment?
Then we've got the issue of incumbent Democrat Heidi Heitkamp. Say what you will about Heitkamp, but she's a crude politician who knows the political game and has a growing war chest to play it– even if it is primarily from out of state sources. While she's certainly vulnerable, the feeling in political circles is that she would take Campbell to the woodshed in a general election campaign. That feeling – I believe – is more a reflection of Heitkamp's DC experience than it is an endorsement of her policy positions– which are actually pretty bad.
According to the Forum's Mike McFeely, Campbell has already spent $150,000 for two and a half weeks of advertising on North Dakota TV stations. This puts him on pace to spend about $2.5 million by the time the June primary rolls around.
While I believe it's a mistake for the Campbell campaign to believe they can follow the Burgum model for advertising and win, they really have little choice. Like Burgum, Campbell has little state-wide name recognition. Having said that, Burgum wasn't facing an incumbent like Heitkamp with name recognition and plenty of money of her own to spend.
Burgum's main competition wasn't even his General Election opponent– Rep. Marvin Nelson (D – District 9). His stiffest competition was Attorney General Wayne Stenehjem, who made the mistake of believing that his state-wide name recognition would help him coast to a primary victory. Senator Heitkamp won't make the same mistake if she were to go up against Tom Campbell in the 2018 General Election.
Seeing the early pattern in Campbell's campaign begs the question whether he will follow Burgum's example and go on to the June primary if he doesn't secure the NDGOP's endorsement at the party's convention? One of the party's heavy hitters with convention experience tells me that Campbell doesn't stand a chance in a contested convention with the likes of Rep. Rick Becker (R – District 7). Becker failed in his attempt at the governor's office, but was hugely popular at the 2016 State Convention.
It remains to be seen whether Rep. Becker even enters the race. And while Campbell would most certainly outspend him if he does, Becker has the ability to communicate a believable and true limited government message that Campbell does not. Not to mention the fact that Becker basically has a slate of convention delegates from 2016 to build upon. Back in May, I addressed the question whether Becker should make a run for U.S. Senate. You can see that article here.
In addition to potentially facing Rep. Rick Becker, party elite have also been courting Western North Dakota Geologist and businesswoman Kathy Neset. While Neset would also face a challenge with name recognition, she's extremely likable and unquestionably has enough connections in the energy industry to fundraise and overcome that problem. Like Becker, she has the ability to communicate. There's a very good case to be made for her candidacy. I wrote about that last month. You can read that here.
We're obviously a ways away from the NDGOP State Convention and June primary. But when all is said and done, I believe delegates and voters are going to choose the candidate they believe is best suited to beat Senator Heidi Heitkamp. And unfortunately for Tom Campbell – who is genuinely a likable person – I don't think it will be him.
Sources:
1. http://www.legis.nd.gov/assembly/65-2017/member-video/senator/tomcampbell.html
2. http://www.inforum.com/opinion/columnists/4317526-mcfeely-campbell-already-pouring-money-us-senate-race
3. https://theminutemanblog.com/single-post/2017/05/03/Should-Rep-Rick-Becker-Run-for-US-Senate
4. https://theminutemanblog.com/single-post/2017/07/08/Dont-Underestimate-Kathy-Neset-as-a-Candidate-for-US-Senate