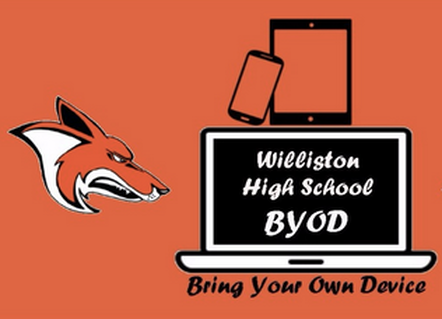 I had a reader of The Minuteman recently send me an inquiry about my thoughts on Williston High School's Bring Your Own Device (BYOD) program. More specifically, they wondered if I thought it was constitutional on a state level. Since I didn't really know the specifics of the program, I said I would look into it to see what I could find out.
So, last night I sent an e-mail off to WHS Principal, Jason Germundson. Mr. Germundson was kind enough to respond today. He answered all my questions and even gave me some greater insight into the purpose of the program.
Let's first establish what the BYOD program is. According to the WHS web site:
"For purposes of BYOD, 'Device' means a privately owned wireless and/or portable electronic hand held equipment that can be used for word processing, wireless Internet access, image capture/recording, sound recording and information transmitting/receiving/storing, etc. 
"Williston Public School District #1 strives to educate with the highest level of technology. Students will use their devices to complete in-class activities, complete homework, collaborate in real time, research for projects, access websites with curriculum-related content, keep track of classroom assignments, and other approved instructional activities."
And then there's the big question. Is bringing your own device a requirement? Again from their web site:
"BYOD is a required program and students are required to have a device." 
To be more specific, a July 2017 letter to parents specifically says:
"Devices are required for English, Social Studies, and Science and may also be used in other subject areas." 
The school previously had a rental and purchase program which it has now discontinued. Although Mr. Germundson tells me that they will still do rentals on a daily checkout basis for those that do not have their own.
For those students that cannot afford a device, they simply notify teachers and the school locates a device for them to use. Mr. Germundson's comments in regards to this issue were encouraging:
"You cannot penalize a student for something like this, just as you wouldn't penalize them for not bringing a pencil to class. The only way [they] are penalized is that they don't do their work."
But apparently these things have not been much of a problem. Again from Mr. Germundson:
"The truth is that the ones that don't have a device can still use their phones to access the online component. We have yet to find a student that doesn't have a smart phone."
As to the purpose of the program:
"Williston Public School District's mission statement is to 'prepare students for the next level for education, work, and life'. So we must train our students to function in the 21st century world."
On the whole, the BYOD program at WHS seems to be run fairly. And a discussion could certainly be had about the value of technology in the classroom. But the bigger question is whether the program itself is in harmony with our State Constitution?
The reason for the reader's inquiry stems from Article VIII Section 2 of the North Dakota State Constitution:
This section is sometimes an issue of debate with legislators. As you can see, the State Constitution requires the "legislative assembly" to "provide" for "free public schools". The only exception is "public schools of higher education" who can charge "tuition, fees and service charges"– something obviously not permitted with K-12.
The original intent of the State Constitution was that the legislature fully fund education. The "History of North Dakota" by Elwyn B. Robinson actually touches upon this issue. And yes, that means property tax was not supposed to be a means of funding education. But that's an issue for another day. So, I digress.
When considering the issue at hand, one could certainly argue that a reading of Section 2 means that parents of students at WHS should not be required to purchase these electronic devices. And that if required, then they must be provided through funding from the legislature.
It would only follow then that if such an argument could be made for these devices, then simple things such as folders, paper, pencils, etc. should be provided for as well. Yet, we know that parents across the state provide those things for their children each school year.
One of the arguments against such a strict reading of Section 2 centers around the meaning of the word "provide". Yet, I honestly find the opposing argument lacking. I say that because one of the legal definitions of "provide" is:
"The allocation of resources, being money or goods…" This definition completely supports the idea that not only is the legislature constitutionally responsible for fully funding K-12 education in North Dakota, but that means they would be responsible to provide enough for the necessary supplies for such an education.
Unfortunately, the only way I ever see such questions possibly being resolved is for someone with legal standing to file a lawsuit. And I question if even that would matter. As Robinson points out in the History of North Dakota, this was the original intent of the State Constitution, but the legislature "shirked" their constitutionally mandated responsibility.
There's also the argument that perhaps a school like WHS should prioritize better and refrain from funding non-essentials– like athletic programs, for example. The argument being that doing so would free up enough in current budgets to fund a BYOD program without placing the additional burden on parents.
Without question, there's a variety of arguments to be had on such a topic.
In the meantime, it appears WHS is doing what they feel is best to bring their students into the 21st century of a technology-driven society. And from what I can see, they are doing their best to administer the BYOD program in a way that doesn't penalize students.
(Editorial Note: This article was written as a means of addressing the issue at hand. It is not intended to address the larger issue of what role – if any – the state should have in education.)
Sources:
1. http://highschool.willistonschools.org/bring-your-own-device-byod-6ffef649
2. http://thelawdictionary.org/provide/
3. https://www.amazon.com/History-North-Dakota-Elwyn-Robinson/dp/0911042431
4.