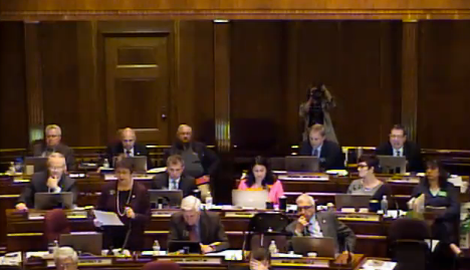 The North Dakota Senate is a perplexing body. At times, they surprise a person and do the right thing on certain bills. Such was the case with HB 1428 last week. But today they did something that I find absolutely inexcusable, even illogical. Not only did they kill House Bill 1170, but not one Senator voted for it.
Senator Diane Larson (R – District 30) carried the bill to the floor from the Senate Judiciary Committee where it had received a 6-0 Do Not Pass recommendation. The bill was sponsored by Rep. Rick C. Becker (R – District 7) and proposed reform to Civil Asset Forfeiture laws. If you're not familiar with them, this empowers law enforcement to confiscate and sell belongings they believe to have been used in a crimewithout a conviction.
HB 1170 proposed to change some of the standards associated with current law. The primary changes being to require a conviction and when property is sold to put the money in the General Fund instead of going to law enforcement. Thus removing incentive for abuses to occur by eliminating the possibility of law enforcement benefiting from confiscation of property.
Senator Larson argued that North Dakota does not have a current problem with forfeiture abuse– something that allegedly even Rep. Becker admitted to. So, her idea is, "Why fix a problem that doesn't exist?" But isn't that the point? The fundamental purpose of government is to protect the inherent rights of the people. The refusal of our legislature to protect the property rights of present and future citizens is, quite frankly, unacceptable.
The primary argument of Senator Larson was that there were flaws to the bill. In particular she mentioned that the State Treasurer would be required to handle forfeited items. Something that her office is not currently set up for. Fair enough, but has the Senator and her colleagues forgotten what an amendment is? I suspect not, since they abused their amendment power with "Andrews Law" (more on that in another article). Why didn't they propose amendments for this bill?