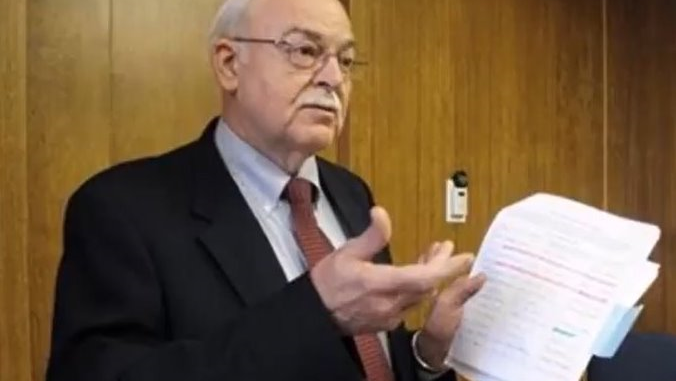 Just two months ago, delegates at the North Dakota Republican State Convention voted overwhelmingly to close the Al Jaeger era in the Secretary of State's office. Jaeger – the incumbent of 25 years – came in as one of the longest serving elected officials in North Dakota history. But after a speech that was nothing short of the political version of Grumpy Old Men, the vote total said it all – 679 to 438 – delegates were ready to move on. Former District 34 Chairman and tech-guru Will Gardner was their man.
On the surface, it appeared that the Secretary of State's office was Gardner's for the taking. Not only did he hold the necessary qualifications, but he had growing support across the political spectrum. And having "Republican" next to his name on a ballot certainly wasn't going to hurt his overall chances in a general election.
And then it happened. With one article published in The Forum, Will Gardner's career in politics was over before it began. By now, you're all too familiar with the circumstances. Gardner was caught peeping in dormitory windows on NDSU's campus in 2006, but pled down to a disorderly conduct charge. There was little question that the 12-year old incident would become a political problem. And with that, Will Gardner promptly withdrew from the Secretary of State's race.
With Gardner out, Al Jaeger promptly announced that he would mount an Independent campaign to keep his office. The move wasn't a surprise. It was expected.
Due to state law, Gardner's name would still be on the primary ballot. But with the filing deadline for primary challengers past, all of this left the NDGOP in the unique position of essentially having no candidate. Gardner promised to formally withdraw after the June 12th primary. And he carried through with that promise last week— in spite of getting over 93% of the vote and calls from supporters to continue on.
As all of this was playing out, the NDGOP was setting the stage to throw their support behind Jaeger by proposing a rule that would allow them to issue him a Letter of Support. On Saturday of last week, they approved of the rule. Then, by a unanimous vote of those in attendance on the NDGOP State Committee, they threw their support behind Jaeger.
Jaeger will now appear as an Independent on November's ballot. His opponent is Democrat Josh Boschee. Libertarian Roland Riemers failed to get the necessary votes to advance to the general election.
Despite not having "Republican" next to his name in November, I think it's fair to say that Al Jaeger still has an upper hand on Boschee. If nothing else, as an incumbent of 25 years, Jaeger has name recognition. Yet, it remains to be seen how voters will respond to a candidate that was first rejected by his own party. And not only rejected, but rejected handily.
Jaeger's defeat at April's convention came – in part – because of his failure to keep his office up to date with the technology of today. When people think of Al Jaeger, they think of this picture as an illustration of how archaic he allowed the office to remain: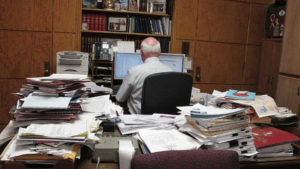 The NDGOP likely felt they had little choice but to throw their support behind Jaeger. Not only is he the incumbent, but he was the runner-up at the party's state convention. And aside from that, nobody else stepped up to ask for the NDGOP's support at last Saturday's meeting. So, they chose to do with him what it appears he does so little of in his office— recycle.
As a side note, if Al Jaeger comes out on top in November, the expectation should be that he finish his term. In some political circles, there was speculation that some folks would like to see Deputy Secretary of State Jim Silrum take over for Jaeger at some point. But with concern for his lack of name recognition, the story goes that if Jaeger can be elected to another term and then later resign, Silrum could take over via appointment and essentially become the incumbent— a major advantage in North Dakota politics. Such a move would only confirm that the Good 'ol Boys network is alive and well.
As for the NDGOP, perhaps the best thing they can do for Al Jaeger's campaign is to ensure they never release his Grumpy Old Men speech from the state convention. As of now, they haven't. For them, that's a good thing. It's embarrassing. And now it would be political gold for Democrats. As I mentioned after the convention, while trying to rest on his laurels of 25-years in office, Jaeger pretty much confirmed the challenges of his critics. In silence, delegates listened as he spent his time putting out proverbial fires. In short, he was on the defensive. He was a man without a vision for the future.
As the Secretary of State's race materializes, Jaeger is going to have to convince voters that he deserves to keep the seat that so many within his own party thought he was no longer deserving of. When it comes to things like election integrity, technology updates, and office efficiencies; Jaeger will need to convince the electorate that he can get the job done— that he's willing to update and do things he's been reluctant to do in the past.
It's just a suggestion, but a good first step for Al Jaeger may be to finally get a campaign website. You know, show the voters they're getting a new and improved candidate, not just more of the same.
(NOTE: The filing deadline for an Independent candidate to get their name on the general election ballot is September 4, 2018 at 4pm. Candidates must have 1,000 verifiable signatures on their petitions in order to qualify.)
Sources:
https://bismarcktribune.com/news/state-and-regional/will-gardner-wins-endorsement-over-incumbent-al-jaeger/article_81dc383e-1ab7-5765-8532-6346b5f9bf22.html#tracking-source=home-top-story
https://www.ndcourts.gov/court/news/longestservingofficials.htm
https://www.inforum.com/news/government-and-politics/4448414-i-messed-nd-secretary-state-hopeful-confronts-2006-ndsu-window
https://theminutemanblog.com/2018/05/19/secretary-state-candidate-will-gardners-past-problem/
https://bismarcktribune.com/news/local/incumbent-to-run-independent-campaign-for-secretary-of-state/article_cb809170-9b9d-5f3d-b61c-13d7c5a4f968.html
http://www.kfyrtv.com/content/news/Republican-Secretary-of-State-candidate-drops-out-of-race-483164351.html
http://www.kfyrtv.com/content/news/Will-Gardner-withdraws-from-ND-Secretary-of-State-race-485581981.html
http://results.sos.nd.gov/resultsSW.aspx?text=Race&type=SW&map=CTY
https://theminutemanblog.com/2018/06/07/ndgop-proposes-rule-allows-party-support-al-jaeger/
http://www.kfyrtv.com/content/news/ND-GOP-supports-Al-Jaeger-for-Secretary-of-State-485749931.html
http://joshfornd.com/
https://sos.nd.gov/office-secretary-state/contact-us/office-contact-information
https://www.legis.nd.gov/cencode/t44c02.pdf
https://www.facebook.com/pg/ndgopstateconvention/videos/?ref=page_internal
https://vip.sos.nd.gov/PortalListDetails.aspx?ptlhPKID=13&ptlPKID=3
https://ballotpedia.org/Ballot_access_requirements_for_political_candidates_in_North_Dakota