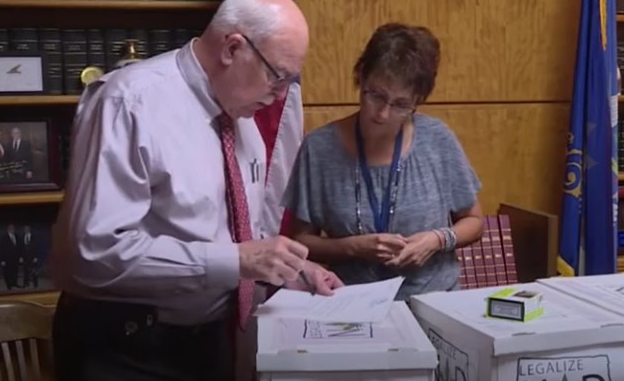 In late November, the group known as "Legalize ND" turned in their proposed ballot measure to the Secretary of State's office, with the hope of being approved to gather signatures, for an effort to legalize recreational marijuana. Just two and a half weeks later, Secretary of State Al Jaeger gave them the go ahead. There's 13,452 signatures required to put the issue to a vote of the people, but yesterday Legalize ND turned in nearly 19,000 of them. That's a pretty good cushion.
It's expected that some time within the next month the validation of signatures will be complete, and the measure will be approved for the November ballot. What exactly would passage of the proposal accomplish? In the words of Legalize ND's website:
"The measure legalizes the use, sale, possession, and distribution of marijuana for anyone 21 years or older.  For anyone under the age of 21, the law creates a new specific subset of non-felony penalties. Additionally, the law legalizes 'paraphernalia' for marijuana exclusively. Finally, records are expunged for anyone that followed the new law even if it occurred in the past, except for cases of someone being under the age of 21."
I think it's safe to say that the opposition to recreational marijuana will now begin to surface in a way that we've not yet seen. This will especially be true once Al Jaeger verifies there's an adequate amount of signatures. In essence, the true campaigning – both for and against – begins now.
What kind of arguments will Legalize ND have to respond to? Here's a few just off the top of my head:
I'll stop at #5. But suffice it to say, you'll hear these arguments – and many others – when it comes to the debate on legalizing marijuana in North Dakota.
Now, lest I be misunderstood, I want to make it perfectly clear… I'm not advocating for the use of marijuana. In fact, as I've mentioned before on this blog, I've never used it myself. But like the prohibition of alcohol, the War on Marijuana has been an absolute failure— all at the expense of the taxpayer. Not to mention the fact that alcohol is far more problematic than "weed"— which led me, on one occasion, to point out the hypocrisy of those who indulge in adult beverages, yet think they should be able to dictate to others that they can't use marijuana.
Total legalization has been a topic of conversation before, but things got real yesterday in the Secretary of State's office when nearly 19,000 signatures were turned in to put the question to a vote of the people in November. As a result, I think it's fairly safe to say that the true debate begins now.
In our opinion, Legalize ND is right… it's time.
Sources:
http://legalizend.com/
https://bismarcktribune.com/news/state-and-regional/ballot-measure-petition-seeks-full-legalization-of-marijuana-in-nd/article_417f7978-6bf8-506b-9708-e383fa4ed963.html
https://theminutemanblog.com/2017/12/15/breaking-news-secretary-of-state-approves-petition-to-legalize-marijuana/
https://www.leafly.com/news/politics/supporters-turn-in-petition-to-legalize-cannabis-in-north-dakota
http://www.valleynewslive.com/content/news/Supporters-of-legalizing-recreational-marijuana-in-North-Dakota-submit-petitions-to-state-487695251.html
https://ballotpedia.org/North_Dakota_Medical_Marijuana_Legalization,_Initiated_Statutory_Measure_5_(2016)
https://theminutemanblog.com/2018/01/05/nd-group-seeking-legal-recreational-marijuana-responds-to-jeff-sessions/
https://www.nytimes.com/2018/06/08/us/politics/trump-marijuana-bill-states.html
https://theminutemanblog.com/2017/11/29/is-the-measure-to-legalize-marijuana-doomed-to-fail-and-who-can-fix-it/
http://legalizend.com/the-measure.html
https://www.cato.org/publications/policy-analysis/dose-reality-effect-state-marijuana-legalizations#full
https://theminutemanblog.com/2017/12/13/nds-medical-marijuana-users-prohibited-from-owning-guns-by-feds/
https://www.atf.gov/file/60211/download
https://www.drugabuse.gov/publications/research-reports/marijuana/marijuana-gateway-drug
https://drugabuse.com/marijuana-vs-alcohol/
https://theminutemanblog.com/2018/04/21/can-someone-uses-alcohol-oppose-legalizing-marijuana/