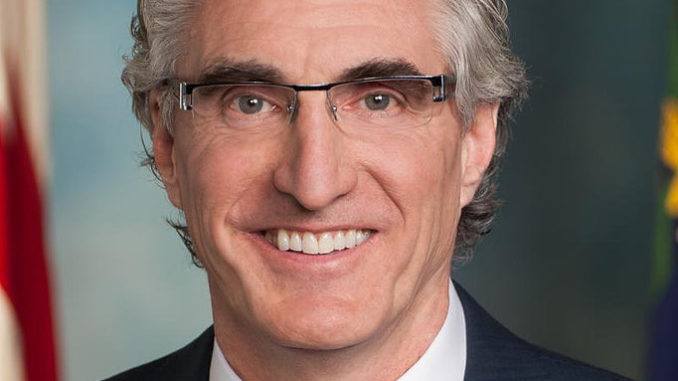 Earlier this month, we published an article in which I was critical of the State having a role in funding the Theodore Roosevelt Presidential Library. After mentioning the $791 million the Legislature raided from various funds to make the current budget work, and the $400 – $700 million budget gap being projected for the 2019 Legislative Session, I wrote this:
"Will anyone be surprised to see a move to raid the Legacy Fund in the 2019 session– which, as of today, contains over $4.1 billion?"
Well, Governor Doug Burgum indicated in his State of the State Address in Minot today that this will likely prove to be true. After acknowledging the fact that the State drained $200 million last Legislative Session to assist in balancing the budget, Burgum said:
"We may have to use this again to get us through this period of time where we're just using it to fund government."
While expressing this sentiment, Governor Burgum was also clear he was not in favor of using the principal of the Legacy Fund. And while that is encouraging news, the idea that the State would once again raid funds to balance a budget is disheartening. Why? Because the very suggestion seems to indicate that the moral fortitude isn't in place to cut the size of government like we should.
Whether it's things like the Theodore Roosevelt Presidential Library, North Dakota Tourism, the entire Department of Commerce, a myriad of other government agencies, horse racing (as mentioned by late State Senator John Andrist), or the sacred cows of K-12 education and Health and Human Services; we need to eliminate some things and make cuts to others.
The State already kicked the can down the road. Doing so again would only continue to prop up a State government that's larger than it should be.
Sources:
https://theminutemanblog.com/2018/01/08/nd-legislature-shouldnt-be-funding-the-theodore-roosevelt-presidential-library/
https://theminutemanblog.com/2017/04/29/the-budget-nd-watchdog-network-warns-no-room-for-error/
http://www.kfyrtv.com/content/news/Predicted-funding-gap-of-400-700-million-464505523.html
http://www.nd.gov/treasurer/north-dakota-government-funds/
http://bismarcktribune.com/news/local/govt-and-politics/burgum-north-dakota-s-budget-future-is-not-risk-free/article_01bc9720-3f3a-5a62-a3c4-297a892549a2.html
https://theminutemanblog.com/2017/11/20/the-state-should-not-pay-josh-duhamel-to-promote-north-dakota-tourism/
https://theminutemanblog.com/2017/08/07/save-the-taxpayer-start-eliminating-state-agencies/
http://www.willistonherald.com/opinion/andrist-looking-for-ways-to-waste-money/article_c9ceca2e-de97-11e7-b3af-a341c235c1f7.html
http://www.grandforksherald.com/news/government-and-politics/4389541-former-nd-lawmaker-and-newspaper-giant-john-andrist-called-one
https://theminutemanblog.com/2017/04/06/carlson-reiterates-protection-for-the-budgets-sacred-cows/