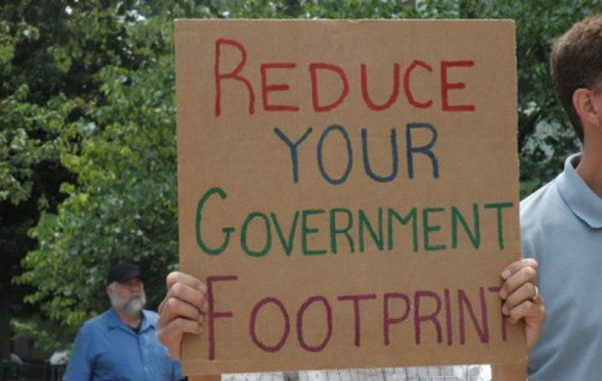 Have you ever taken a look at North Dakota's alphabet of state agencies? If you haven't, I highly recommend it. You can see them here. I took the opportunity to take a quick look recently, and it's quite an eye-opening experience. North Dakota – in my opinion – has a lot of unnecessary government.
Small government folks do a fairly good job of talking a good game of "reducing" the size of government. Republicans in particular market themselves as the party of "limited government". Oftentimes the gauge of success in regards to this is portrayed in terms of reducing or maintaining low taxes.
And while reducing or maintaining low taxes is certainly important, there's another means whereby those advocating for limited government can measure their success. This can be gauged when we consider how many state agencies – together with their programs – have been or are being eliminated.
As I mentioned earlier, it's quite the experience to consider all the government agencies we have in little old North Dakota. And I certainly don't have time to share all those that I believe should be eliminated. Having said that, I will share just a few random examples.
North Dakota Council on the Arts – from their web site we learn the following:
"The North Dakota Council on the Arts (NDCA) is a service and program agency of the state, established in 1967 by State Legislature to develop, promote and support the arts in North Dakota . The NDCA operates with an annual budget of over $1.5 million through the support of the National Endowment for the Arts and an appropriation from the North Dakota State Legislature. Approximately two-thirds of the NDCA's budget is awarded to organizations and individuals through various grant programs .
"It is the mission of the North Dakota Council on the Arts to promote, preserve and perpetuate the arts in North Dakota." (Emphasis Added)
I'm guessing that since we survived without the North Dakota Council on the Arts prior to 1967 that we could probably survive without it again. Besides, do we really need to spend taxpayer dollars to "promote and support the arts"? I just don't find this to be a legitimate function of government. By spending "approximately two-thirds" of their budget on grants, this is really just a give-away program.
North Dakota Racing Commission – from their web site we find this description:
"The North Dakota Racing Commission is the regulatory body in charge of regulating live and simulcast racing in North Dakota and administers three special funds for the benefit of the horse racing industry in North Dakota . The Commission is made up of five members appointed by the Governor and has an office staff of a Director and Administrative Assistant." (Emphasis Added)
If you're like I was some years back, you quite possibly didn't even know we had horse racing in North Dakota. Yeah, it's not exactly a thriving industry. And it's certainly one we shouldn't spend taxpayer dollars to regulate. To be fair, their budget for the last biennium was a measly $573,734. But still. Unnecessary.
You can see a recent article here that discusses last month's horse racing in the state.
These are just two examples of what some would argue to be "small appropriations" in the budget. Yet, they're simply not needed. I could list many more, but I promised not to. So, let me end with one that's quite a doozey.
North Dakota Department of Commerce – described by their web site this way:
"The North Dakota Department of Commerce works to improve the quality of life for North Dakota citizens by leading efforts to attract, retain and expand wealth. Commerce serves businesses and communities statewide through committed people and partners who offer valuable programs and dynamic services .
"Our four divisions – Tourism, Economic Development, Workforce Development and Community Services – and our relocation effort – ExperienceND help our citizens live, work, do business and play in North Dakota ." (Emphasis Added)
This is a biggee. The department boasts a $100.2 million total budget for the 2017-2019 biennium– $31.3 million of that from the state's General Fund. When the House debated the Department of Commerce budget on April 6th of this year, House Majority Leader Al Carlson (R – District 41) – who has served in 13 Legislative Sessions – said this:
"If some of you could go back in time, to the day we set up the Commerce Department, you would wonder what in the world has happened to it. And I don't disagree with it– that its changed significantly since the day it was envisioned . And there was a lot of discussion on this floor about setting up another bureaucratic system. Well, if you listened to the floor debate, you figured out how bureaucratic it can be. Because everything in the world has been put into that and most of them involve giving money away ."
There is absolutely nothing touted in the description of the Department of Commerce that cannot be handled by the private sector. And none of it should be funded with taxpayer dollars. Yet, as Rep. Carlson admitted to, most everything done through this department involves "giving money away"– tens of millions of dollars of it.
Look for yourself and see what you think. But whether it's small appropriations for agencies like the Council on the Arts or the Racing Commission or large ones like the Department of Commerce, I believe that our ultimate success as advocates of limited government in North Dakota should be measured by how many unnecessary agencies we can eliminate.
So, the next time you speak to a Republican State Legislator, go beyond talking low taxes and ask them what state agencies they support eliminating. And I'm not just talking about eliminating agencies during lean financial years. I'm talking about eliminating them because they don't belong there. You'll then quickly find out just how much of a small government advocate they really are.
Sources:
1. http://www.nd.gov/arts/
2. http://racingcommission.nd.gov/
3. https://www.nd.gov/omb/sites/omb/files/documents/agency/financial/state-budgets/docs/budget/executivebudgetsummary2017-19.pdf 4. https://www.commerce.nd.gov/
5. http://video.legis.nd.gov/pb2/powerbrowser_Desktop.aspx?wowzaplaystart=3579000&ContentEntityId=1921&MediaStart=2017-04-06T09%3a24%3a38-06%3a00&browser=0