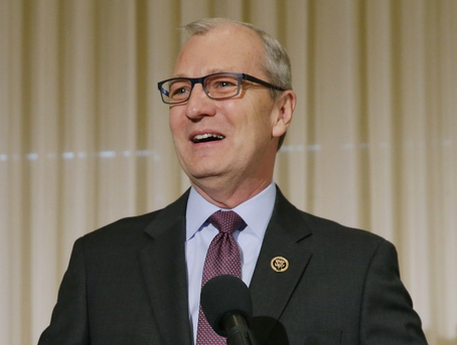 Yesterday, the Forum reported that Congressman Kevin Cramer has hired a new campaign manager in his bid for re-election to the U.S. House. Jared Hendrix of Minot will fill that role. The news was no surprise to us here at The Minuteman. As noted in the Forum article, Cramer has been in talks with Hendrix since back in November.
It's fascinating to see how John Hageman – the author of the Forum article – set up his column on Hendrix's hiring. It kind of has a negative connotation to it. Let me explain.
While rightfully identifying Hendrix as having managed Rep. Rick Becker's (R – District 7) campaign for governor in 2016, he specifically called it a "failed run for governor". And, of course, it's true. Becker didn't become governor. But that's not quite the entire story.
What Hageman leaves out is the fact that Becker's showing at the State Republican Convention was both surprising and impressive. He lost a very close race to Attorney General Wayne Stenehjem for the Republican endorsement. An endorsement that ultimately meant nothing, since Doug Burgum – who came in third at the convention – later became the party's nominee, by winning the June Primary.
And what was the key to Becker's showing at the State Convention? Delegates. And not only did he nearly amass enough of them to upset Wayne Stenehjem, but he also had the most votes (over 1,000 of them) to become a delegate to the party's National Convention in Cleveland. Yes, Becker had more than everyone else– including then Governor Jack Dalrymple.
And who organized the effort to amass the delegates who became known as "Becker Backers"? That's right– Jared Hendrix.
The totality of the situation sheds quite a different light on not only Rick Becker's gubernatorial campaign, but on the role Hendrix played in it. Yet, Hageman chose not to share the whole picture.
Furthermore, let's consider the inconsistency on the part of Hageman in the article. While he was fine with pointing out Rick Becker's "failed" campaign for governor, he did nothing of the sort when he wrote about Congressman Kevin Cramer's Democratic opponent for U.S. House, Ben Hanson.
Hageman rightfully points out that Hanson is "a former state legislator". Yet, unlike his willingness to refer to Becker's "failed run for governor in 2016", he makes no mention of the fact that Hanson failed in his bid for re-election to the State House in 2016. In fact, Hanson came in last.
And in addition to all of this, Hageman also makes no mention at the success Hendrix enjoyed in his role with the campaigns of multiple conservative State Legislators– though Cramer's press release specifically mentions it:
"Mr. Hendrix has also successfully managed several district legislative candidates in 2014 and 2016."
Why Hageman intentionally chose to frame Congressman Cramer's announcement the way that he did is obviously speculative. What's certain is that it wasn't an entirely accurate portrayal.
Perhaps the bigger story in all of this is the fact that Cramer hired Hendrix at all. The three term Congressman isn't exactly identified with what is often referred to as the "Liberty Movement". Yet, Hendrix is. And Cramer reportedly didn't have a problem with it. He knew who he was getting.
On the other hand, undoubtedly, some of those involved in the Liberty Movement probably cocked their heads in disbelief as they learned who Cramer's new campaign manager is. Others in the movement may even be prone to call Hendrix a "sellout" or a "turncoat" for taking the job.
Yet, time will tell whether this was a good move for Cramer– or Hendrix for that matter. In recent months, Cramer has attended public meetings where he spoke sympathetically on issues appealing to Liberty folks such as reducing spending, auditing the Fed, selling public lands, abolishing the Department of Education, and eliminating the 17th Amendment. Whether that equates to him advocating for such things as a U.S. Congressman remains to be seen.
Cramer's vote last week to reject Rep. Justin Amash's (R – Michigan) amendment to a bill to reauthorize the FISA Section 702 mass surveillance program doesn't sit well with some Republicans in the "Liberty wing" of the party. Not only did Cramer vote to kill the amendment, but he voted for the final bill as well. Such a vote represents some of the dynamics Hendrix may have to live with from time to time while under the employ of Cramer.
If time proves that Cramer actually advocates for some of the things he's talked about lately – if he moves further in the direction of limited constitutional government – then Hendrix will be vindicated in the eyes of some of his critics. If not, then he may feel their scorn.
Like him or hate him – and believe me, there's people that do both – Jared Hendrix gets results. And it seems that's what Kevin Cramer was looking for. Hopefully those results ultimately mean North Dakota's lone Congressman advocating for a smaller and less intrusive federal government.
Sources:
1. https://www.inforum.com/news/4388374-cramer-names-campaign-manager-re-election-bid
2. https://ballotpedia.org/Ben_Hanson
3. http://clerk.house.gov/evs/2018/roll014.xml
4. http://reason.com/blog/2018/01/10/amash-paul-and-others-trying-to-stop-con
5. https://www.cato.org/blog/house-votes-reauthorize-fisa-section-702-mass-surveillance-program?utm_content=buffer9902e&utm_medium=social&utm_source=twitter.com&utm_campaign=buffer
6. http://clerk.house.gov/evs/2018/roll016.xml