Two years ago, we were the first to make the detailed connections between Governor Doug Burgum and the Dakota Leadership PAC. Burgum was using this PAC to campaign against conservative candidates in the 2020 June primary. As illustrated by the Bismarck Tribune, Fargo Forum, and KFYR, he's at it again in 2022 as well. Even The Hill gave Burgum's unprecedented move national attention recently.
When this all started, back in 2020, we revealed that Governor Burgum was using former staffers to run Dakota Leadership PAC. Chief among them was Robert "Robbie" Lauf. Lauf has a long history with Burgum. He was made candidate Burgum's Political Director in November 2015, became Policy Advisor to the then newly elected governor in December 2016, and rose to the level of Senior Advisor in August 2018.
Lauf also joined the Theodore Roosevelt Presidential Library Board of Trustees the same month he became Senior Advisor to Governor Burgum. That took place just three months after Lauf attended a board of trustees meeting with the governor, in which Burgum assured the board that "national partners have emerged who are interested in a physical Presidential Library in or near Theodore Roosevelt National Park."
Was it merely coincidence that Robbie Lauf joined the board of trustees just months after attending one of their meetings with Governor Burgum? Doubtful. As is often the case in politics, relationships are important. Sometimes they mean everything. Lauf certainly appears to be the beneficiary of his relationship with the governor.
In February it was announced that Lauf was stepping down as a member of the Theodore Roosevelt Presidential Library Board of Trustees to become the foundation's Director of Partnerships and Programming. Yet, the governor's boy must still have plenty of time on his hands. At least it seems so from recent information sent to The Minuteman. More on that in a bit.
One of the legislative seats that Governor Burgum is looking to pick up is being vacated by State Senator Erin Oban (D – District 35). On the Republican side, vying for that spot are Bismarck natives Ryan Eckroth and Sean Cleary. Yes, that same Sean Cleary whose Joe Biden-supporting and Ruth Bader Ginsburg-loving sister is running for Bismarck City Commission. That same Sean Cleary who — like Lauf — was also a staffer for Governor Burgum.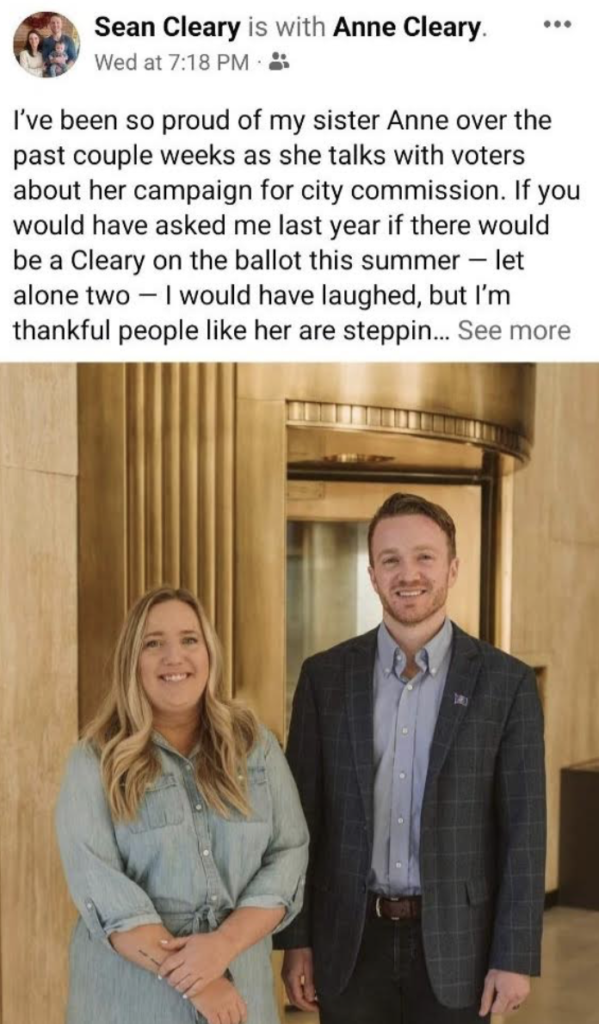 Eckroth won the District 35 endorsing convention— much to the chagrin of Governor Burgum and Robbie Lauf who were both in attendance. When a conflict over whether Eckroth had indeed achieved the majority vote required by district bylaws, I'm told it was Lauf who was calling for a revote— in spite of the fact that a significant number of voters had already left the convention. In the end, Cleary withdrew and Eckroth was named the endorsed candidate. Cleary then gathered sufficient signatures to place his name on the primary ballot to challenge Eckroth for the Republican nomination.
As is often the case in hotly contested primary races — especially those involving the governor's chosen candidates — voters have since been subjected to a significant amount of questionable campaign material. For example, Brighter Future Alliance — led by the dishonorable Pat Finken — recently sent out a political hit piece saying Eckroth's insurance license had been "Revoked" in 2012. While it's true that Eckroth had agreed to surrender his license amidst allegations of misconduct, he never admitted to any wrongdoing, was never fined or criminally charged, and has since claimed the allegations were "proven untrue". Admittedly — and rightfully so — information like this is confusing to voters.
Also confusing is an anonymous message sent to Ryan Eckroth himself earlier this month. A constituent of District 35 obtained a screenshot of it and sent it to The Minuteman: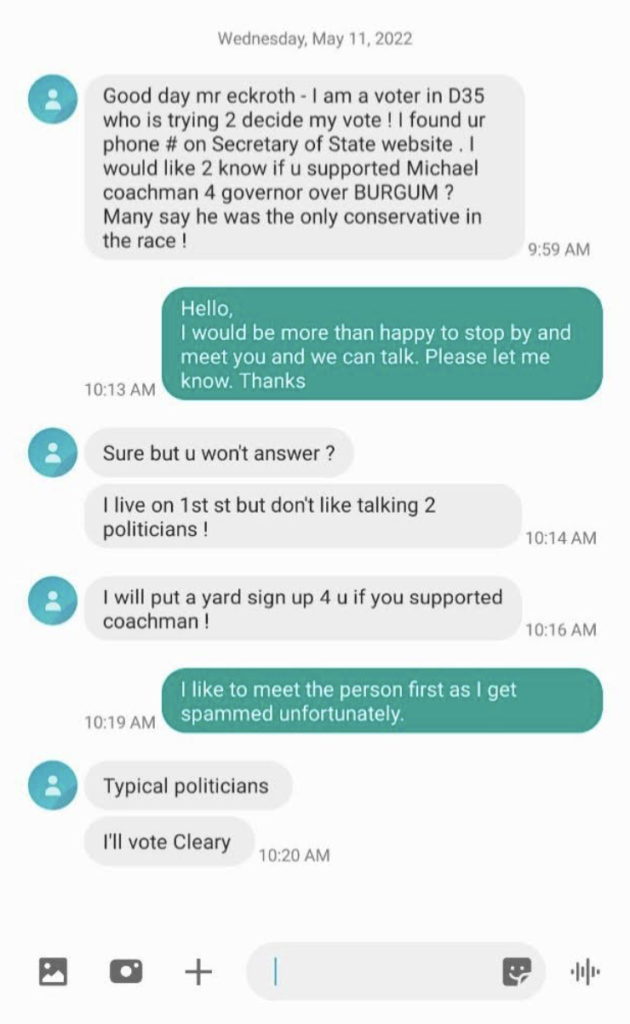 As you can see, the anonymous sender is trying to find out if Eckroth supported Michael Coachman in his campaign for governor and even offers to put up an Eckroth sign if he did. (Note: You'll recall that Coachman failed in his bid for the Republican nomination in 2020 and then ran an unsuccessful campaign as an independent later that same year.) When Eckroth rebuffs the request and offers to meet in person, the sender ends with, "I'll vote Cleary."
Overall, it's an odd series of messages for sure. And the obvious question arises, "Who sent them?" Normally the answer to that question wouldn't matter. But as you'll read in a moment, these aren't normal circumstances.
For reasons of privacy, I've cropped out the phone number from which the anonymous message originated. But with a simple investigation it was quickly determined that the number is registered to none other than Robert "Robbie" Lauf. Yes, the same Robbie Lauf who has not only worked for Governor Burgum and the Theodore Roosevelt Presidential Library Foundation, but also had an address on 1st street in Bismarck.
What did Lauf really think he was going to accomplish in this silly exchange with Eckroth? Quite frankly, it's embarrassing. Antics like these are the kind of thing you'd expect from a high school kid— at best.
Unfortunately, this isn't the first time Lauf has been guilty of sophomoric behavior. After I wrote about his involvement with the Dakota Leadership PAC in 2020, a reader of The Minuteman sent us information showing that Lauf — an NDSU alum — had mocked UND super fan Mark Kauk in a social media post back in October 2015. Oddly enough, that was literally the month before Burgum named him as Policy Director. You can see the post below:
Now, mocking a UND super fan may mean nothing to you. At least it won't until you find out that this UND super fan is developmentally disabled. And not only is Mark Kauk UND's best known fan, he's also a Special Olympian. That's right. Robbie Lauf was mocking someone who is handicapped. It was pathetic.
Thankfully, people like Robbie Lauf haven't kept Kauk from accomplishing things. Kauk was named the Grand Fork's Herald 2009 Sportsperson of the Year. Just today it was announced that he will be honored with UND's 2022 Hall of Fame Class as a Honorary Letterwinner Award recipient.
After getting blasted on social media, Lauf removed the post you see above and offered this as an explanation:

Does anyone with a functional brain actually believe this garbage? The post was a pathetically stupid move. And he rightfully got called out for it. But rather than accept responsibility and apologize, he tried to explain it away. It was nothing short of irrational.
The only reason I didn't write about this back in 2020 — when we were given the information — is because I wanted to give Lauf the benefit of the doubt. It had been 4 1/2 years since he made the post. We all make dumb mistakes. Yet, here we are — now 6 1/2 years later — and Lauf seemingly hasn't matured much. He's still doing stupid things.
I can't help but wonder… Is this the kind of behind-the-scenes immature behavior a state senate candidate like Sean Cleary welcomes to assist his campaign efforts? Is this the level of intelligence Burgum expects from those he taps to do his bidding? Is Robbie Lauf representative of what we should expect from those who have been hired to direct the affairs of the highly touted Theodore Roosevelt Presidential Library?
I don't know about you, but I'd sure expect a whole lot better if I were them.
Sources: