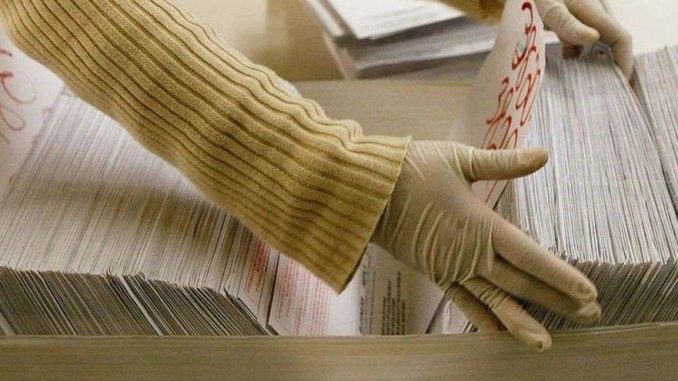 There's a number of unhappy people in the aftermath of North Dakota's Primary Election. Among them are folks who didn't like mail-only voting. This isn't altogether surprising, but at this point is it worthy of legal action?
Ever since Governor Doug Burgum's Executive Order "strongly encouraged" county commissions across the state to have mail-only voting for the June Primary, a number of people have voiced their displeasure. And for good reason. After all, it's kind of silly that we can congregate at Walmart — or a variety of other stores — but couldn't cast a ballot in person. Aside from that, we had North Dakota's own Secretary of State admitting voter fraud was a possibility.
On its face, if the mail-only election was worthy of a lawsuit — and I believe that it was — it should've been done long before the election took place. Yet, I'm hearing calls for one now— after the results are in. In other words, some people want a do-over.
On the whole, I don't think any rational person can argue that mail-only voting disenfranchised the electorate. As I wrote on Tuesday, without all the ballots even being in, North Dakota's 2020 Primary Election had a higher turnout than 2018 (115,226) and 2016 (139,957). As of today, the number of ballots cast sits at 153,933.
To put this into a bit more perspective, according to this document from the Secretary of State's office, records going back to 1980 show 2020 turnout second only to 2012 (175,303).
You might recall that the 2012 Republican Primary had the U.S. Senate and U.S House races to hammer out. In addition to that, it also had two contentious ballot measures to decide:
Republicans Rick Berg and Duane Sand were battling it out for the right to take on Democrat Heidi Heitkamp in succeeding U.S. Senator Kent Conrad. Berg won the primary, but later lost to Heitkamp in the November election— by just 2,936 votes.
Republicans Kevin Cramer and Brian Kalk faced off to determine the nomination against Democrat Pam Gulleson in succeeding U.S. Congressman Rick Berg. Cramer won and later beat Gulleson in the General Election.
Measure 2 — this measure proposed eliminating property taxes. Voters did the unthinkable and defeated it with over 76% of the vote against.
Measure 4 — this measure proposed that the University of North Dakota to be allowed to discontinue using the Fighting Sioux nickname and logo. Sadly, it passed with over 67% of the vote.
The 2020 mail-only Primary Election had nothing close to this. Yet, it turned out the second-most primary voters.
Now, don't get me wrong. I'm not defending the decisions made to have a mail-only election. For a number of reasons, I felt it was a bad idea before and I maintain that position now. But again— if a lawsuit was to be done, the strength of the argument was before the election and not after.
Perhaps the best argument against mail-only voting — via Executive Order — was that it was unconstitutional. But still, at this point, the results are in. What would a lawsuit accomplish in relation to the election we just had? In short, nothing.
Like it or not, the 2020 mail-only Primary Election is going to stand. A belief to the contrary is just crazy, and legal action will result in nothing more than an exercise in futility.
PLEASE LIKE & SHARE!
Sources:
https://www.governor.nd.gov/sites/www/files/documents/executive-orders/Executive%20Order%202020-13%20Elections.pdf
https://theminutemanblog.com/2020/05/07/secretary-of-state-admits-voter-fraud-possible-with-mail-only-election/