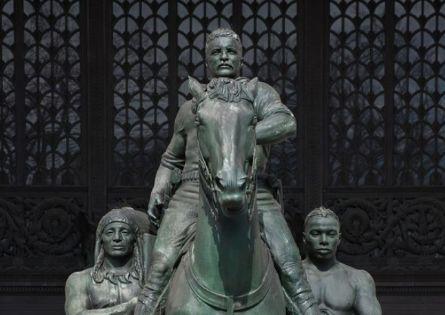 It's been four weeks since the horrific and senseless killing of George Floyd. While peaceful protests — which are rightfully protected by the First Amendment — have taken place in cities across America, they've far too often been accompanied by instigators dead set on rioting.
Despite calls from George Floyd's family to end the violence, Americans have watched news coverage of things like traffic being blocked, buildings being burned, businesses being looted, and even innocent people brutalized. The peaceful message brought by those demanding justice and reform is too often lost in the chaos.
Among all of this, many statues of historical figures — deemed as racists — are being vandalized, toppled, or both. In the rush to be part of such a movement, some folks in Philadelphia actually vandalized the statue of Matthias Baldwin. Oh, by the way, Baldwin was an abolitionist who:
"…argued for the right of African Americans to vote in Pennsylvania during the state's 1837 Constitutional Convention, and helped establish a school for African American children where he paid teachers' salaries for years."
But I guess some folks don't let facts like these get in the way when they crave the rush of adrenaline that apparently comes from destroying things.
In addition, these goons also defaced Philadelphia's Civil War Soldiers and Sailors monument with graffiti reading "BLM." The reality of this is exactly what Joe Walsh, a member of the Friends of Matthias Baldwin Park, told National Review:
"The irony of vandalizing a monument to those who died to end slavery is lost on the morons who don't know their history."
Well said.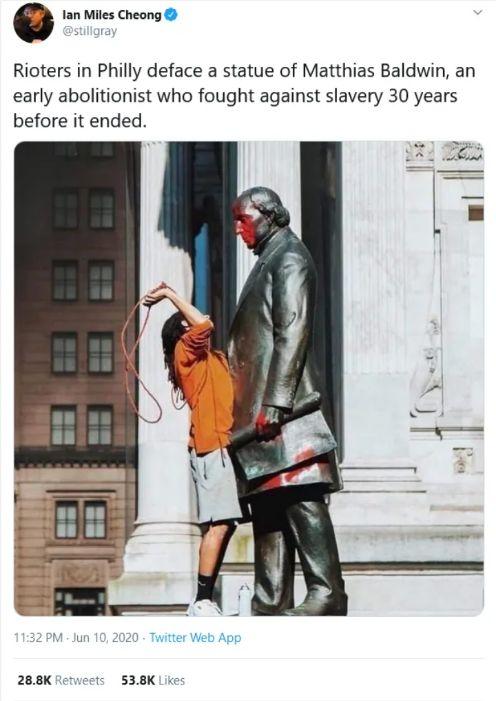 We learned yesterday that the American Museum of Natural History in New York City has asked that the statue outside their doors, of former President Theodore Roosevelt, be removed. Mayor Bill de Blasio has agreed:
"…because it explicitly depicts black and indigenous people as subjugated and racially inferior. The city supports the museum's request. It is the right decision and the right time to remove this problematic statue."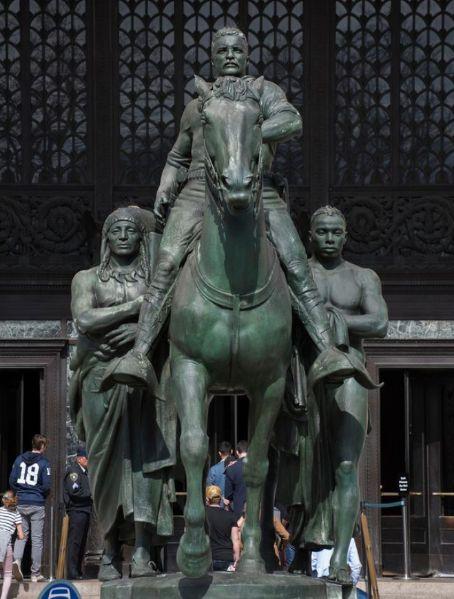 The monument has been in the news before. It was vandalized in October of 2017, but current events create an interesting set of circumstances. Especially when we consider the fact that while the museum is now seeking to rid itself of Teddy Roosevelt imagery, North Dakota is partnering to build a Presidential Library to honor him.
You might recall that at the close of North Dakota's 2019 Legislative Session — and after a lot of debate — Governor Doug Burgum got his way. The legislature gave him his library.
How important is the TR Library to Governor Burgum? Well, he's the one who championed it. Consider this:
In May of 2018, Burgum attended a Theodore Roosevelt Presidential Library Foundation Board of Trustees meeting and told those present that "national partners have emerged who are interested in a physical Presidential Library in or near Theodore Roosevelt National Park." He also noted that he was "working with legislators to lift the constraints placed on the state money allocated for the project".
Three months later, in August of 2018, Governor Burgum's advisor — Robert Lauf — somehow ends up on the Board of Trustees. (As a side note, Lauf was also in attendance at the May meeting.)
By December of 2018, Burgum proposes a $50 Million "investment" into the "Legacy Project" known as the Theodore Roosevelt Presidential Library. This was done when he delivered his Executive Budget Address just prior to the start of the 2019 Legislative Session.
In March of 2019, Governor Burgum testified in front of the Senate Appropriations Committee to advocate for funding of the project.
After the legislature gave it the thumbs up, Burgum signed the bill into law on April 26, 2019. This created a $50 Million endowment that hinges on private donors coming up with $100 million for construction.
Following Governor Burgum's signing ceremony, I wrote "Good or Bad, Burgum's Legacy May be Linked to TR Library & Museum". Like I'd done the first time I wrote about — and opposed — the idea of government getting involved in the project, I focused largely on the funding aspect. I pointed out multiple times that private dollars alone should fund it.
Yet, the current political climate brings an entirely different element to this project going forward. What will it mean for North Dakota's $50 Million "investment" if a growing number of people view Theodore Roosevelt as a man not worth honoring? Beyond that, how will it reflect on Governor Burgum?
This could be very bad for North Dakota and the legacy of Doug Burgum.
PLEASE LIKE & SHARE!
Sources: