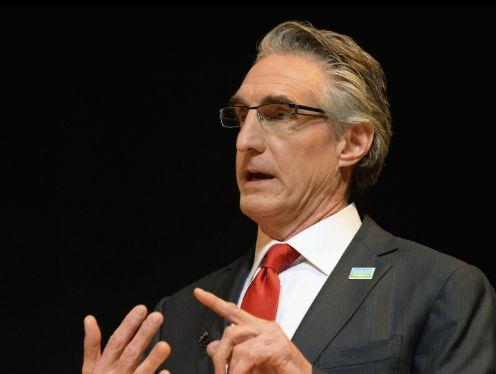 Last Saturday was the North Dakota Republican Party's (NDGOP) state convention. Not only were delegates silenced on the rules, but the convention as a whole was quite a mess. Amidst it all, the delegates got to hear calls from Senators John Hoeven and Kevin Cramer for unity within the party. Their message on this point was simplistic— Democrats are the enemy, not each other.
Just how serious are Hoeven and Cramer on this issue of unity within the party? Argue it if you'd like, but I think it's clear that both men's comments were directed at so-called "Becker Backers", not the body as a whole. If they claim otherwise, they're about to have another opportunity to prove it.
What is that opportunity? Well, it appears Governor Doug Burgum has fired up his political action committee (PAC) again. You know, the one that regularly pummeled our mailboxes during the 2020 election cycle under the name Dakota Leadership PAC. That year Burgum dropped more than $3.2 million of his own money into races and much of it was used to campaign against conservative Republicans.
The Secretary of State website shows that Burgum's PAC was once again registered on January 31st of this year. Political whispers in recent days say that the governor has already committed millions to it. Whether that speculation is true won't be known until the upcoming campaign filing deadline hits in less than a month.
The first time I wrote about Burgum's quest against conservatives was February of 2020. In May of that same year, I also wrote about Dakota Leadership PAC and the fact that Burgum was running it with former staffers. At the time, one of his primary targets was District 8 incumbent Jeff Delzer— who also chairs the powerful House Appropriations Committee. Another conservative candidate Burgum set his sights on was former State Representative Dan Johnston (R – District 24). At the time, Johnston was challenging fellow lawmaker Rep. Thomas Beadle (R – District 27) for the right to replace Kelly Schmidt as State Treasurer. The governor threw his money into a number of other races too.
In the end, both Delzer and Johnston lost their primary races. Johnston's loss undoubtedly came as a result of Democrats crossing over to vote for Beadle. But in an odd twist of unfortunate circumstances, one of Delzer's challengers — David Andahl — passed away from COVID-19 a month prior to the general election. Though deceased, Andahl won anyhow and Burgum attempted to appoint his replacement. A lawsuit ensued and the North Dakota Supreme Court ruled against the governor and left it to the District 8 Republican Executive Committee to do the appointing— and they chose Delzer.
In the aftermath of Dakota Leadership PAC's con job on primary voters, I suggested there would be fallout in two ways:
Legislators would be looking over their shoulders wondering if they'd be targeted next if they crossed the governor.
Some folks would refrain from even bothering to run for legislature or statewide office for fear of being unable to compete with Burgum's dollars and dirty campaign tactics.
There's little question that the former has become a reality. And when it comes to the latter, we need look no further than Deputy Secretary of State Jim Silrum. Those associated with NDGOP circles long expected Silrum to be the leading candidate to replace long-time incumbent Secretary of State Al Jaeger. But his candidacy never materialized. Instead, State Representative Michael Howe (R – District 22) ran unopposed in last Saturday's state convention. Why? Because it was well-known that he was the "Burgum candidate". In other words, Silrum would have to go up against the Burgum machine. And multiple reports have it that he didn't see a path to victory, so he simply didn't bother trying.
(As a side note, Michael Howe will have a challenger in the primary. Political newcomer Marvin Lepp has thrown his hat into the ring. You can see his platform here.)
With Dakota Leadership PAC registered for the 2022 cycle, it certainly appears obvious that Governor Doug Burgum is preparing a barrage of attacks on conservatives once again. And there's plenty of candidates out there he'd love to see lose. Do you suppose Senators Hoeven and Cramer will preach unity to the state's chief executive like they did the delegates? Time will tell, but I'm guessing those are crickets we hear in the distance.
PLEASE LIKE & SHARE!
Sources: