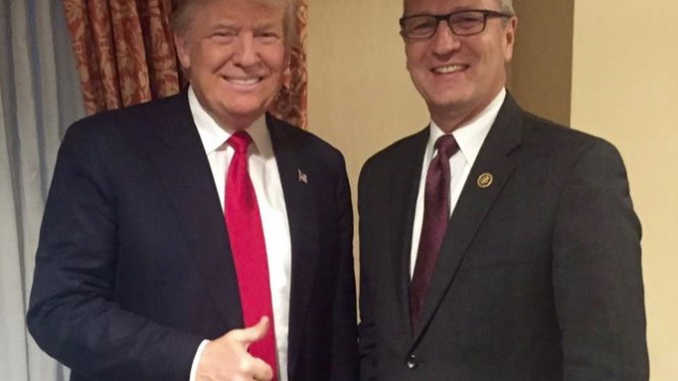 Earlier today I received a phone call from someone close to me. The purpose of their call was illustrated by a simple question, "Who is Tom Campbell?" After an impulsive chuckle, I explained that he is a Republican State Senator, who just happens to be the only declared candidate for U.S. Senate versus Democratic incumbent Heidi Heitkamp.
After a discussion about Campbell, the conversation turned to current U.S. Representative Kevin Cramer. I expressed my view that Cramer was just taking his time but would ultimately jump into the race. So, it was no surprise to me when I came across this article from The Hill tonight explaining that President Donald Trump personally called Cramer this week to encourage him to run. I've obviously been too busy. I hadn't picked up on his  interview with Chris Berg two days ago where he discussed it.
A Kevin Cramer candidacy for U.S. Senate makes sense for one simple reason… he has the best chance of unseating Heitkamp. And if that happens, the chances of Republicans taking back all three seats in Washington skyrockets to somewhere close to a sure thing.
Former Democratic State Representative Ben Hanson (District 16) declared his candidacy for U.S. House (the seat currently occupied by Kevin Cramer) back in August. But with all due respect to Mr. Hanson, he's a terribly weak candidate. Not only is North Dakota heavily Republican, but Hanson couldn't even win reelection as an incumbent in his own district in 2016. In fact, he received the fewest votes– not exactly a ringing endorsement.
In all likelihood, about any candidate the Republicans could field in the House race would probably win easily versus Hanson. And I'm guessing that is most definitely playing in the mind of Kevin Cramer.
While Tom Campbell's campaign recently released polling showing him beating Heitkamp in a head to head matchup, it's early in the race and he hasn't had to deal with the political jabs she will undoubtedly throw. Furthermore, the feeling in some political circles is that she would take Campbell to the woodshed in a general election campaign.
What's perceived as Campbell's weakness in a matchup versus Heitkamp just so happens to be Cramer's strength. There's no question he can go toe to toe with her on the campaign trail. Like him or hate him, Cramer isn't scared of anyone. This is something that was exhibited earlier this year when he faced a hostile crowd at a Town Hall in Mandan over the healthcare issue. That's just one of many examples.
Cramer was also one of the first Congressman to endorse Donald Trump's candidacy for President. He did that way back in April of 2016 at the North Dakota State Republican Convention– a convention in which then Presidential candidate and U.S. Senator Ted Cruz spoke. There's little doubt that  Trump's popularity in North Dakota would bode well for Kevin Cramer– despite it taking a dip recently.
Another interesting aspect of this situation goes back just short of two months ago, when Trump visited and spoke at Mandan's oil refinery. While the media was making a big deal of Heitkamp's attending that event – and an even bigger deal over comments made by Trump about her – I took a different view of what the President said:
"Considering all of this together, this may well have been a brilliant political move by Trump. After all, the President knows very well that he is quite popular among North Dakota's voters– with a 59% approval rating at last check. This could have very well been Trump's way of telling Heitkamp to climb on board the Trump Train or risk losing her seat in Washington. 
"Yes, what the Washington Post sees as a positive for Heitkamp may have actually made her defeat a greater possibility."
Time will tell whether those comments prove to be true, but it certainly appears we're headed in that direction. After all, I think it's important to note that Cramer didn't have to reveal the fact that the President encouraged him to run. But he chose to do so. Why? Because I believe he's sending a message.
Move over Tom Campbell and look out Heidi Heitkamp. The President's calling and Kevin Cramer just might be coming through.
Sources:
1. http://thehill.com/homenews/campaign/358676-north-dakota-rep-trump-wants-me-to-run-for-senate 2. http://thehill.com/homenews/campaign/358676-north-dakota-rep-trump-wants-me-to-run-for-senate 3. http://www.kfyrtv.com/content/news/Fargo-Democrat-Ben-Hanson-announces-bid-for-US-House-seat-440847233.html 4. https://ballotpedia.org/Ben_Hanson
5.
https://www.sayanythingblog.com/entry/tom-campbell-campaign-releases-polling-showing-candidate-beating-heidi-heitkamp/ 6. http://www.washingtontimes.com/news/2017/may/12/kevin-cramer-protester-booted-from-town-hall-after/ 7. http://www.grandforksherald.com/news/politics/4000995-nd-rep-kevin-cramer-endorses-trump 8. http://www.newsmax.com/Newsfront/donald-trump-approval-rating-dropped-down/2017/10/10/id/818829/ 9. https://www.washingtonpost.com/news/post-politics/wp/2017/09/06/in-north-dakota-trump-calls-embattled-democratic-sen-heidi-heitkamp-a-good-woman/?utm_term=.6c6f5e86164b