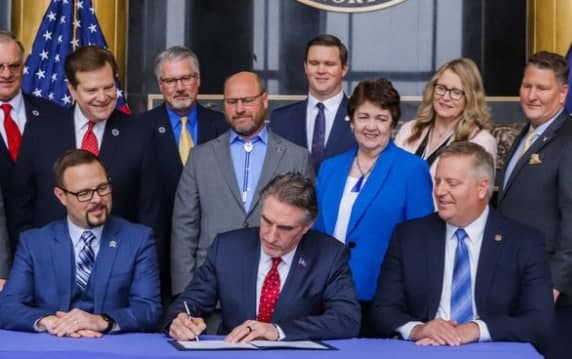 Over the years, we've been critical of Governor Doug Burgum on a number of issues. That's to be expected when there's disagreement on important matters that affect North Dakotans. But the flip side is that it's also important to give credit when credit is due. And yesterday was most definitely an example of this.
As you're likely aware, Governor Burgum signed a proclamation declaring North Dakota a Second Amendment Sanctuary State. In a nutshell, the document declares that our state will "take all necessary steps to defend our constitutional right to keep and bear arms." That's a big deal. And Burgum deserves our thanks for putting his name to it.
Undoubtedly, some will question how sincere the proclamation is or just how far Governor Burgum would go in leading out against "federal overreach" on the issue. But let's not forget that among the gun bills he signed this legislative session alone, there was House Bill 1383 and House Bill 1498.
In case you're unfamiliar with them, Rep. Rick Becker's (R – District 7) HB 1383 prohibits the state from participating in the "enforcement of a violation of a federal statute, order, rule, or regulation purporting to regulate a firearm, firearm accessory, or firearm ammunition". HB 1498 was Rep. Ben Koppelman's (R – District 16) Stand Your Ground Law. When it comes to state politics, I believe both are historic pieces of legislation.
Now, while it's true that former Rep. Luke Simons' (R – District 36) House Bill 1272 — which was quite literally a sanctuary state for guns bill — failed to become law, that wasn't because of Doug Burgum. Instead, that was the horribly misguided failure of the North Dakota Senate.
It's also interesting to note the attendees at the signing ceremony of the proclamation. There's a significant number of Republican legislators who are affiliated with the conservative Bastiat Caucus that were in that group. I think it speaks well of all parties involved that they were able to put aside differences for such an important moment.
As stated in the proclamation itself, "President Biden and the United States Congress have announced intentions to pursue measures that will infringe on the right to keep and bear arms". Whether it's the Biden/Harris Gun Control agenda, executive actions, or atrocious congressional legislation, the threats against the Second Amendment are very real. Governor Burgum deserves credit for his commitment to defend against them.
PLEASE LIKE & SHARE!
Sources: