There's a movement in North Dakota to prohibit our state and local government from implementing mask mandates. The legislation to make this happen is House Bill 1323 and will likely hit the Senate floor for a vote this week.
Despite a 9-5 Do Not Pass recommendation out of committee, the bill passed by the narrow margin of 50-44 in the House. In floor debate then, Rep. Kathy Skroch (R – District 26) told her colleagues that they'd never had more emails on a bill than they did on HB 1323— and that she'd not received a single one in opposition to it.
Its passage in the House received national attention. For example, Fox Nation's Tomi Lahren had a segment praising the bill and named its primary sponsor, Rep. Jeff Hoverson (R – District 3), her "Freedom MVP of the Week". Unfortunately for Hoverson, the Senate Political Subdivisions Committee wasn't quite as enthusiastic. They gave his bill a 6-1 Do Not Pass last Thursday. (NOTE: You can see video of their hearing and committee work here.)
To be honest, I'm a bit troubled by the way HB 1323 was handled in committee on the Senate side. Rep. Hoverson brought in expert witnesses for the hearing, but members of the committee passed on numerous opportunities to ask them questions. Instead, some of those Senators — who we now know are opposed to the bill — brought their concerns to committee work instead. That's not what legislators who want answers and believe in a fair process do. I find it troubling.
Yet, this opposition from the committee seems to be motivating more support for passage of HB 1323, not less. In fact, there's a rally Monday morning at the State Capitol in support of the bill. They're calling it the "Unmask Freedom" rally.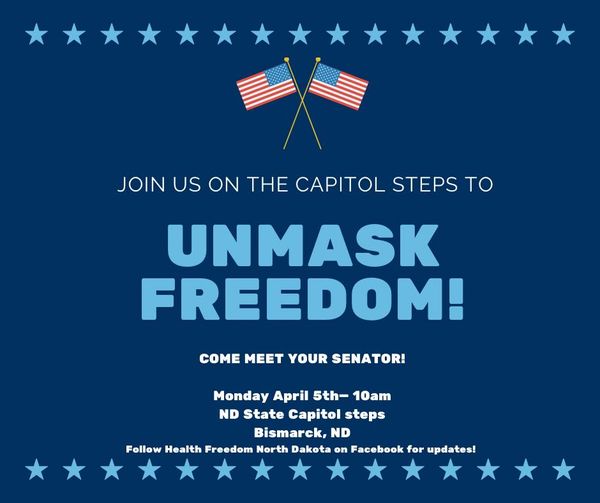 As it stands now, the bill hasn't been amended. Attempts to do so were rejected in committee. My guess is that we'll still see a floor amendment in hopes of making it more palatable to Senators who currently oppose it. For example, amending it so that language prohibits the state from implementing mask mandates, but permits local political subdivisions to do so. In other words, allowing local control over the issue.
What may be a major factor in whether HB 1323 has any chance this week is how those attending tomorrow's rally conduct themselves. I can guarantee you that there are Senators who will vote against the bill if supporters behave in a way that's perceived as anything short of respectful. And yes — like it or not — that may involve actually abiding by the policy to wear a mask in Senate chambers.
While proponents of mask mandates would have you to believe otherwise, there's no consistent data supporting the idea that they're effective in battling the Coronavirus. In fact, some of the states with the worst death rates have had mandates in place the longest. There's also no correlation between mask usage and daily positive tests.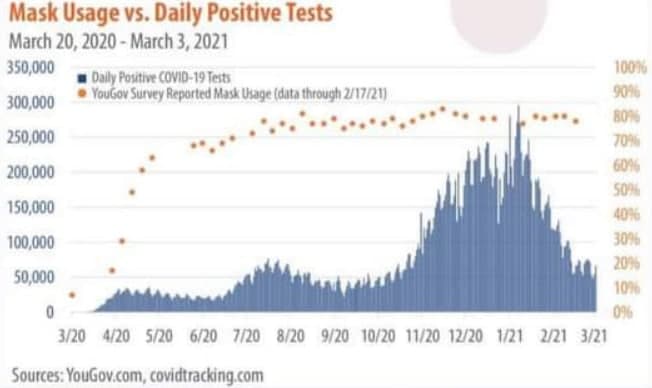 Will these realities — together with other important facts — be enough to convince a very tough Senate to pass HB 1323? The answer to that may depend on you. If you've not contacted your Senator, I'd encourage you to do so now. You can find their contact information by clicking here.
PLEASE LIKE & SHARE
Sources:
https://www.beckershospitalreview.com/public-health/us-coronavirus-deaths-by-state-july-1.html
https://www.aarp.org/health/healthy-living/info-2020/states-mask-mandates-coronavirus.html