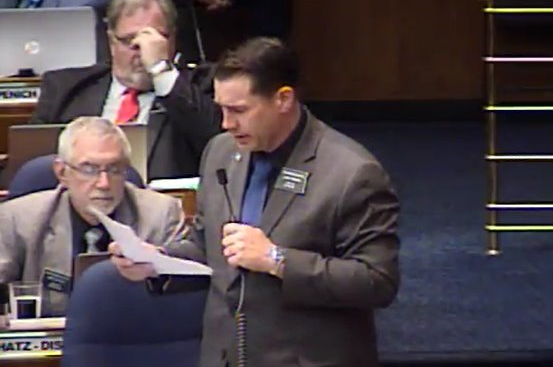 Rep. Luke Simons' (R – District 36) future as a member of the North Dakota Legislative Assembly hangs in the balance. On Thursday, his colleagues in the House will assemble as a Committee of the Whole to decide what that future looks like. Unfortunately, for Simons, his shot at a fair process has been seriously compromised.
The way House Majority Leader Chet Pollert (R – District 29) and Legislative Council Director John Bjornson have handled the sexual harassment allegations against Rep. Simons grossly resembles what Americans have become accustomed to seeing in Washington, DC. It's certainly nothing to be proud of. Yet, Pollert somehow thinks he's not in any way bound to afford Simons his Due Process rights.
The North Dakota Legislature has policies in place regarding harassment and how complaints are to be handled. One very troubling aspect of this situation though is that those rules weren't followed. You can see them here.
As a result of no formal complaints being filed against Rep. Simons, intake requirements were ignored, no review panel or independent investigator was appointed, and no investigation took place. To top it off, records show that House Republican leadership knew about allegations, but didn't seem to think they rose to the level of resignation, censure, or expelling the District 36 lawmaker.
At least they didn't until political pressure mounted in the moments following John Bjornson releasing informal documentation of the aforementioned allegations. And, as a result, House Republican leadership decided to cover their own behinds by giving Rep. Simons the ultimatum to resign or possibly be censured or expelled.
One very troubling aspect of this clown show is the reality that there was no confidentiality involved— which is a requirement of the policy against workplace harassment when investigations are being conducted. In fact, once a complaint has been reported, it's an exempt record until such time an investigation is complete or 75 days has passed.
It doesn't take too much thinking to understand the importance of confidentiality in these situations. Not only does it foster an environment in which those investigating can get to the truth, but it significantly decreases the possibility of those involved creating or succumbing to political pressure. In short, it helps to protect against tainting the process.
You can see the wisdom of this in the Simons' case, but for all the wrong reasons. The issue has been so front and center in the media that it could certainly be argued it's impossible to get a fair shake at this point. Too many people are already calling for Luke Simons' head— and that includes some of those who may well decide his fate tomorrow.
Anyone who believes this debacle has been just is either a lunatic or has the intellectual capabilities of a rock. I, for the life of me, cannot understand why Rep. Pollert and others would be so scared to have an actual hearing with testimony, witnesses, and cross-examination. It's illogical, irresponsible, and unacceptable.
PLEASE LIKE & SHARE!
Sources: