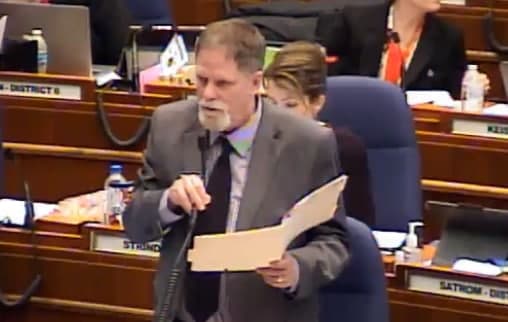 Nearly a year ago, I got wind that legislation was in the works to make North Dakota a Sanctuary State for Life. In other words, some lawmakers want the state to tell the federal government to go pound sand on the issue of abortion. That effort now finds itself in the form of House Bill 1313.
Representative Jeff Hoverson (R – District 3) is the primary sponsor of the legislation. If passed, those found guilty of performing abortions would be subject to the penalties of a Class AA felony— which carries a maximum of life in prison without parole.
What's fascinating about this effort is the reality that Hoverson's bill amends existing law that already makes it illegal to kill an unborn child. Only current law exempts "an abortion performed by or under the supervision of a licensed physician". That's right, killing unborn children is apparently okay as long as you have a license to do it.
Many will argue that an abortion ban would be unconstitutional, as a result of the Supreme Court of the United States' ruling in Roe v. Wade. But let's be clear. This is a nullification bill. Its sponsors aren't looking for the approval of a majority of nine robe-clad justices in Washington, DC. And besides, that hasn't worked so far.
No, what Rep. Hoverson and others are saying is that it's time for North Dakota to do its part in ending the holocaust of abortion— regardless of what the federal government says about it.
I'll also remind you that this wouldn't be the first nullification bill to find its way into the North Dakota Century Code. We've defied the federal government on the issue of medical marijuana since 2016. Their turning a blind eye to the legalization of medical marijuana might just have something to do with the fact that 37 of the 50 states have nullified federal law on the issue.
Could it be that it'll take a state by state movement to end abortion? I think so. Besides, the federal government shouldn't have had anything to do with the issue in the first place.
Admittedly, the road ahead for HB 1313 is undoubtedly an uphill one. First of all, Rep. Hoverson will have to work to get the bill through the House Human Services Committee without it being neutered. Committee member Gretchen Dobervich (D – District 11) is already threatening an amendment to add trigger language to it.
If it gets through the House, then it faces the Senate. Yes, that same legislative body that added trigger language to the Dismemberment Abortion Ban last legislative session.
From there, Governor Doug Burgum would have to sign off on it. Yes, that same Doug Burgum who said during his 2016 campaign that he'd veto any abortion legislation the Supreme Court would strike down.
In facing these realities, many will say that this nullification effort to ban abortion in North Dakota is futile. And maybe they're right. But with over 60 million abortions since Roe v. Wade, I think it's past time we at least have a very public conversation about the issue.
PLEASE LIKE & SHARE!
Sources: