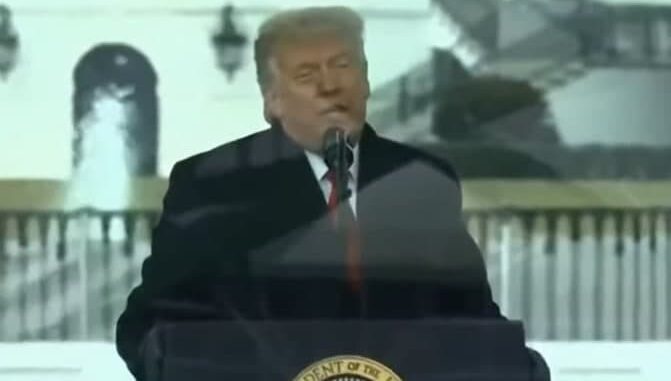 The amount of dishonest political gamesmanship from Democrats has reached another level of ridiculous. This time it's found in the claim that President Donald Trump somehow "incited insurrection" with his speech at last week's "Save America" rally in Washington, DC.
As you're aware, a mob of Trump supporters somehow decided it was a good idea to breach police lines, break into the Capitol, and disrupt proceedings to certify Electoral College votes for the most recent Presidential Election. It was an absolutely stupid move— one that tragically cost a Capitol Police Officer and Trump supporter their lives.
In the aftermath of it all, the violence overshadowed what was an otherwise peaceful assembly in the nation's capital. On top of that, Democrats immediately seized the opportunity to craft a new narrative about the president— that he incited an insurrection. And they're using it to move forward with efforts to impeach Trump in his final days. Three Republicans, who never liked the president in the first place, are joining them in the effort.
The problem with the claims? They're simply not true. You'd have to be completely dishonest to say that they are after listening to President Trump's Save America speech. You can listen to it yourself here. (Go to the 1:05:39 mark.) I encourage you to do so.
The address was well over an hour long and included a variety topics; big tech/media suppression, honesty and integrity of elections, primarying "weak Republicans", his accomplishments, and election reform— just to name a few. But not once did he say or do anything to incite violence. In fact, it was quite the opposite.
Two things stick out about this issue—
First, it's true that President Trump called for marching to the Capitol (see 1:20:35). But he specifically said they were going down to "cheer on our brave senators and congressmen and women" and to call upon Congress to "do the right thing" and "only count the electors who have been lawfully slated".
In calling for the crowd to "cheer on" these efforts, doesn't it follow that those congressional proceedings actually have to take place to make it happen? It's irrational to think otherwise. As we found out, that's not possible when an angry mob storms the Capitol building.
This argument is strengthened by the fact that President Trump called on Vice President Mike Pence — multiple times during the address — to "do the right thing" and send electoral votes back to the states in question for recertification.
Second, President Trump called for his supporters to march to the Capitol building to "peacefully and patriotically make your voices heard" (see 1:21:25).
That's pretty explicit. How any logical person gets inciting an insurrection out of that statement alone boggles any logical mind. But we're not dealing with logical minds here, are we?
The Aftermath
To top all of this off, in the aftermath of the breach on the Capitol, President Trump took to the airwaves and called on his supporters to go home. He said there must be "law and order" and that "we have to have peace".
The president also condemned the violence, chastised those who "defiled the seat of American democracy", told them "they do not represent our country", and said those who broke the law "will pay".
Conclusion
President Trump called for a lot of things in his speech. He most certainly warned America about the dangers of big tech, suppression from the media, and a country run by Democrats. But not once did he incite an insurrection— or even riots for that matter.
The proof is in his own words— for those willing to actually listen them, rather than false narratives from hypocrites.
PLEASE LIKE & SHARE!
Sources: