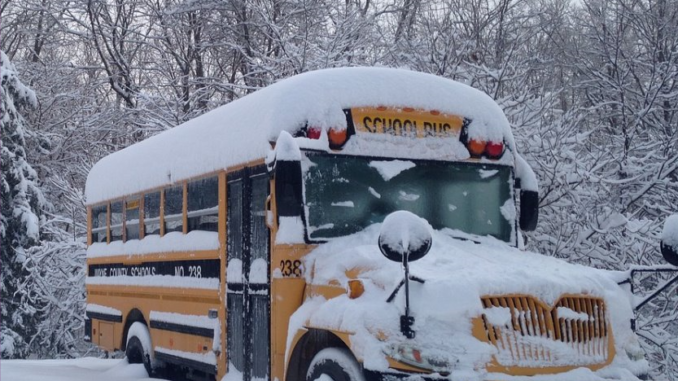 Two North Dakota lawmakers are proposing a bill in the upcoming 2019 Legislative Session that has the potential to change the way schools across the state handle their snow days. In fact, if passed, the legislation would provide school districts the option of eliminating traditional snow days altogether.
Our state has a reputation for less than ideal winter weather. In the event that such weather inhibits travel — such as the horribly icy roads experienced today across much of the state — schools are faced with little choice but to alter schedules. Sometimes those alterations are simple late starts. Other times they just don't run buses. And in the most severe cases, school is cancelled altogether.
Depending upon the choices of each district, some schools ultimately have to make up lost days. Others actually include additional days in their yearly schedules with the hopes of not having to make them up at the end of the year. This, of course, is all due to the fact that state law requires 175 days of instruction from July first to June thirtieth of the following year. Yet, District 12 Representatives Jim Grueneich and Bernie Satrom believe it's time to provide schools with an alternative— a "virtual education" alternative.
According to the bill draft, districts would submit an application to the Superintendent of Public Instruction for approval of utilizing a virtual education plan. Aside from needing the approval of the state superintendent, districts would also be required to "provide evidence that at least ninety-five percent of the school's teachers and administration were actively instructing, facilitating, and engaging students through the virtual education plan."
As you can tell, participation in this alternative would be voluntary. Because of that, I can't say that I'd be opposed to the idea. But it does bring to light what I see as a bigger problem. Why should school districts have to seek permission from the almighty Superintendent of Public Instruction? It seems to me we're really good at talking about "local control", but we're not very good at making it a reality. Would it be unreasonable to simply trust local administration and school boards in these matters? I don't think so.
I do see a significant positive in the legislation. And it's admittedly something those responsible for the bill probably didn't intend when they came up with the idea. Should this bill become law in 2019, it would essentially be another admission that a child's learning isn't limited to the traditional classroom in the public education setting. This is a good thing.
While people like Superintendent of Public Instruction Kirsten Baesler and North Dakota United President Nick Archuleta are doing everything in their power to maintain the public school monopoly, others are coming to the realization that what's best for our kids is choice in education. Why should parents be taxed for the education of their children, yet have no say over how those dollars are spent?
If school district's across North Dakota can have the option of an alternative virtual education plan to make up snow days, why not allow parents alternatives to public education — with their own tax dollars? If we're going to admit that a child can learn outside the traditional classroom, then why not online options from home? Why shouldn't homeschoolers be able to collaborate in a similar way? And a myriad of other options.
Even Governor Doug Burgum has referred to our current education system as a "monopoly". And he's right.
So, instead of continuing to vest so much power in the State — as illustrated in this proposal for school districts to beg approval for an alternative to making up snow days — why not strip some of that power away? Instead of making them kneel at the feet of the Superintendent of Public Instruction, how about we just empower them to make those decisions themselves?
And while we're at it, let's start taking the steps to break the public education monopoly by allowing true school choice in North Dakota. After all, what are opponents of such measures afraid of? Is it really about "the children"? Or is it about protecting their territory— the monopoly? I think it's the latter.
Do some people honestly believe that public schools are the best option for all kids? You'd have to be a fool to believe such a thing. So, why are some folks so protective of the monopoly? It's simple— control and money. Let that sink in.
It's past time. We need to begin stripping the State of their hold on education.
Sources:
https://www.valleynewslive.com/content/news/North-Dakota-lawmakers-considering-dumping-snow-days-501418621.html
https://www.legis.nd.gov/cencode/t15-1c06.pdf#nameddest=15p1-06-04
https://www.scribd.com/document/394391874/19-0120-04000
https://www.grandforksherald.com/news/education/4397400-3025-home-schooled-kids-last-year-trend-nd-doubles-past-decade
https://theminutemanblog.com/2018/02/03/we-need-true-school-choice-in-north-dakota/