About two months ago, State Representative Dan Johnston (R – District 24) announced his bid for State Treasurer. Johnston is seeking to replace the person who has served longest in that capacity— Kelly Schmidt.
Johnston's announcement came from NDGOP headquarters in Bismarck with notables like Schmidt, State Auditor Josh Gallion, Public Service Commissioners Brian Kroshus and Randy Christmann, Rep. Rick Becker (R – District 7), and Rep. Ben Koppelman (R – District 16) in attendance.
While Rep. Johnston has enjoyed success with garnering the support of Republicans around the state, his most notable endorsement came today. United States Senator Kevin Cramer took to Facebook offering his support for Johnston's campaign. You can see the post below.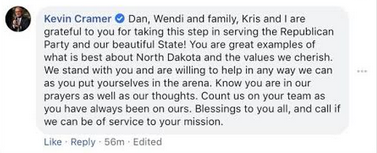 You might recall that Cramer was an early supporter of Donald Trump during the 2016 election cycle. Will this kind of support give Johnston the upper hand in defeating fellow Republican Representative Thomas Beadle (R – District 27) at the upcoming NDGOP State Convention later this month for the party's endorsement? Only time will tell. But this should be a big deal for the Johnston campaign.
Update: The post originally questioned whether Dan Johnston would now have the upper hand in defeating Thomas Beadle in the June primary. I was reminded that both Dan Johnston and Thomas Beadle have said that they will honor the results of the upcoming NDGOP State Convention later this month in Bismarck. I have updated the post to reflect that.
If it holds true, then it appears that the winner of the convention will go unchallenged for the Republican nomination in the June primary. As of this writing, no other Republican candidates have filed paperwork to get on the June ballot for State Treasurer. Democratic-NPL Party Chairwoman Kylie Oversen has said there are no candidates from their side at this time either.
PLEASE LIKE AND SHARE!
Sources:
https://theminutemanblog.com/2020/01/07/state-rep-dan-johnston-announces-bid-for-state-treasurer/
https://theminutemanblog.com/2020/01/29/lawmaker-who-voted-to-abolish-treasurers-office-is-running-for-treasurer/
https://bismarcktribune.com/news/local/govt-and-politics/nd-north-dakota-republican-lawmaker-announces-state-treasurer-bid/article_cb88a66d-39d2-50f6-a302-69147ae13853.html