During the 2014 and 2016 election cycles, North Dakotans had more than two choices on the ballot for U.S. House— thanks to a man named Jack Seaman. The Libertarian businessman took on then incumbent — and now U.S. Senator — Kevin Cramer.
While Seaman came up short in both campaigns — garnering about 6% of the vote in 2014 and 7% in 2016 — it wasn't without some great moments. As you can see here, Jack Seaman is pretty darn good in debates.
If you meet Jack Seaman — or even watch the videos I linked to above — you'll soon realize that he's not afraid of standing on principle. A great example of this can be found in this debate footage from 2014 in which he reminds the audience of where America's being entrenched in a two-party system has gotten us as a nation— unsustainable debt, endless wars, government regulation, etc.
During the 2016 campaign, an amusing one minute video surfaced called, "It's Always Funny in North Dakota– Cramer Gets it Wrong". You can see for yourself, but in a nutshell it shows Congressman Kevin Cramer claiming that Seaman commonly agreed with him during the 2014 debates and suggested that Jack "might have to look for a few more differences" going into the 2016 debates. The video then segues into actual footage from 2014 showing Cramer repeatedly saying he agreed with Jack, not the other way around. It's worth the watch.
Based on Jack's response to a social media post yesterday, it appears he's as principled now as he was during his U.S. House campaigns. But unlike the 2016 video that leaves one chuckling, Seaman's comment on Facebook has a much more serious element to it. You can see the post below.
After the Libertarian Party of North Dakota posted a link to their Facebook page of Senator Cramer's website touting his efforts to "Introduce Legislation to Give Mothers the Ability to Receive Child Support While They Are Pregnant", Seaman responded with this: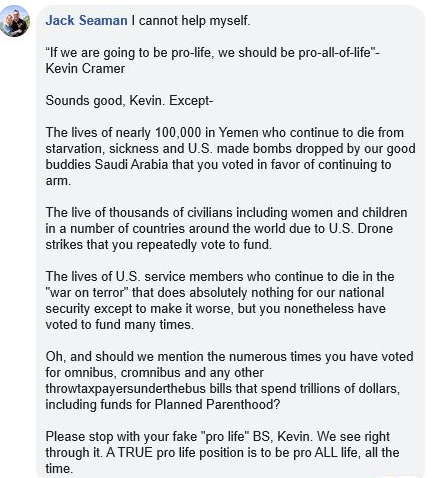 I suppose some might think the post to be a bit harsh. But is it unfair? I don't think that it is. Like it or not, Seaman has a point.
If Senator Cramer is going to lay claim to being pro-life or "pro-all-of-life", how can he justify supporting interventionist policies that result in the deaths of so many innocent people? Are they just collateral damage? Or do their lives simply not matter because they're not Americans? I'm not trying to be rude— nor do I think Jack Seaman is. These are legitimate questions.
At hand here, of course, is a common difference that exists between Libertarians and a lot of Republicans on foreign policy. I say "a lot", because there's a growing number of non-interventionists in the GOP. Yet, to be fair, there's plenty of Libertarians who criticize lawmakers as "warmongers" while being pro-choice themselves. Thankfully, Jack Seaman isn't one of those.
When I think of this issue, I imagine what we would feel like as Americans if some other country — let's say China — decided that people within our borders were a threat to them. If China dumped bombs in some of our cities to remove these threats — killing hundreds or thousands of Americans in the process — how would we react? I think you get the point.
We should, at the very least, understand where Jack is coming from. It can certainly be argued that interventionism has done "nothing for our national security except to make it worse". Its most definitely cost the United States a lot of blood and treasure.
And to Jack's final point— How is it okay to vote for spending bills that include funding for Planned Parenthood if you're staunchly pro-life? Remember, this is an organization that reported over 330,000 abortions in 2017-2018— that's 117 abortions for every adoption referral. The Heritage Foundation reported in 2018 that Planned Parenthood had received $1.5 billion in taxpayer funds over a three year period. This isn't chump change we're talking about here.
It's no secret that we're Jack Seaman fans. In fact, I wrote about it nearly two years ago and expressed the view that we may one day look back and regret not sending him to Washington. I still believe that. He was a great candidate, and his being a Libertarian shouldn't have kept people from voting for him.
In fact, I even proved in the aforementioned article that half of Kevin Cramer's votes could have gone to Jack Seaman in 2016, and he would have beaten the Democrat, Chase Iron Eyes. So often we convince ourselves that voting for a Libertarian will only result in the election of Democrats. But that wasn't even close to being the case in the 2016 U.S. House race.
Kevin Cramer does some really good things. But Jack Seaman is right— he needs to be more consistent on the issue of life. It's time to put a kabosh to interventionist foreign policies, endless wars, and the funding of Planned Parenthood.
PLEASE LIKE & SHARE!
Sources:
https://www.mindakgold.com/
https://ballotpedia.org/Jack_Seaman
https://www.youtube.com/results?search_query=Jack+Seaman+debate
https://www.youtube.com/watch?v=VHpGRFTgwOs
https://www.cramer.senate.gov/sen-cramer-colleagues-introduce-unborn-child-support-act
https://www.heritage.org/life/commentary/planned-parenthoods-annual-report-out-heres-what-you-need-know
https://www.heritage.org/marriage-and-family/commentary/new-report-shows-planned-parenthood-raked-15-billion-taxpayer-funds
https://theminutemanblog.com/2018/03/29/jack-seaman-man-north-dakota-sent-washington/