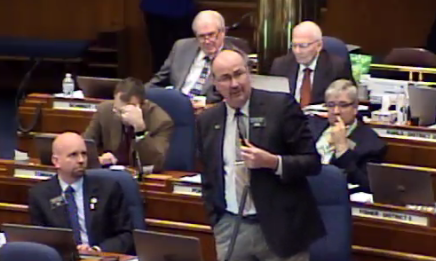 We recently featured an article praising the work of State Auditor Josh Gallion. You can read it for yourself, but Gallion has been doing a great job bringing accountability and transparency to North Dakota government. But apparently when dealing with the Bismarck political establishment, there's consequences for the State Auditor actually doing what he's supposed to do.
This morning the House considered Senate Bill 2004, which is the State Auditor's budget. There's quite a bit worth discussing in relation to the bill, but I want to focus on page 3 where they literally stripped the authority from the auditor to conduct performance audits at his own discretion. If Governor Doug Burgum signs this bill into law, Gallion would now have to go to the Legislative Audit and Fiscal Review Committee for approval before conducting a performance audit of state agencies.
Without question, this is one of the most egregious moves by the 2019 Legislative Assembly. And considering some of the things they've done this session, that's saying a lot. In defending the bill, Rep. Mike Brandenberg (R – District 28) had the audacity to say that, "The job of the Auditor is to keep people out of trouble, not go out there looking for trouble." Really? I'd suggest it's both. And state law illustrates as much.
The North Dakota Century Code 54-10-01.1 explains the State Auditor's position as being:
"… vested with the duties, powers, and responsibilities involved in performing the post audit of all financial transactions of the state government, detecting and reporting any defaults, and determining that expenditures have been made in accordance with law and appropriation acts." (Emphasis Added)
By the very nature of his position, the State Auditor needs the ability to function independently in order to be as effective as he should be. And the Legislature is stripping him of that.
Those who supported this move might suggest that it's not problematic to seek such approval from this legislative committee. I wholeheartedly disagree. Aside from this creating the possibility of being stifled in his efforts to bring accountability and transparency to happenings within our government, what other elected officials have to go through such a process to do their job? Rep. Kim Koppelman (R – District 13) made this point on the House floor this morning.
Does Attorney General Wayne Stenehjem have to seek approval for BCI to conduct investigations? Does DPI Superintendent Kirsten Baesler have to seek approval to carry out her responsibilities? No. As Rep. Koppelman pointed out, the Legislature gave her authority to actually waive state laws. The list could go on. It seems to me that this move by the Legislature is unprecedented, which makes it all the more troublesome.
Needless to say, if Governor Burgum has any respect for the importance of accountability and transparency in government, he will line item veto this unnecessary and awful restriction on the State Auditor. This simply cannot be allowed to stand.
Political retribution of this sort — or even the appearance of it — has no place in our state. It doesn't matter that Burgum himself was the subject of one of Gallion's audits. It makes no difference that the Governor even disagreed with some of Gallion's conclusions in that audit. This is no time for childish political games. This needs to be stopped and a line item veto can do just that.
Josh Gallion was elected to do a job. Let him do it.
Note: If you'd like to watch the House debate in its entirety, click here.
PLEASE LIKE & SHARE!
Sources:
https://theminutemanblog.com/2019/04/05/state-auditor-josh-gallion-is-a-rising-star-with-the-people/
https://www.legis.nd.gov/assembly/66-2019/bill-index/bi2004.html
https://www.legis.nd.gov/assembly/66-2019/committees/interim/legislative-audit-and-fiscal-review-committee
https://www.legis.nd.gov/cencode/t54c10.pdf
http://video.legis.nd.gov/en/PowerBrowser/PowerBrowserV2/20190425/-1/13189?startposition=20190425084219
http://video.legis.nd.gov/en/PowerBrowser/PowerBrowserV2/20190425/-1/13189?startposition=20190425081725