Last week I wrote that U.S. Senator Heidi Heitkamp's re-election campaign had reached a point of embarrassing desperation. That was in the aftermath of her campaign printing an "Open Letter to Congressman Cramer" that listed the names of women they purported to be survivors of domestic violence, sexual assault, and rape. The only problem was that some of those women didn't give permission for their names to be included on the list. Not to mention that some of them weren't Heitkamp supporters or even victims of domestic violence, sexual assault, or rape. It was bad— really bad.
One would think that Senator Heitkamp would have learned a valuable lesson from the aforementioned political snafu. But either she hasn't or she failed to fire enough campaign staff in the aftermath of it all, because today Point of View's Chris Berg reported that the Heitkamp campaign screwed up again. This time in relation to veterans.
Interestingly enough, Heitkamp is in the midst of a seven city tour in North Dakota with Chuck Hagel. Yes, that same Chuck Hagel that considers himself a Republican and was appointed Secretary of Defense by President Barrack Obama. It's not the first time Hagel has supported Democrats. They're making the attempt to defend her record in relation to veterans.
Yet, it just so happens that prior to speaking today at the Fargo Air Museum Senator Heitkamp published a Facebook post featuring World War II veteran Lynn Aas. And get this— it was published without his permission. And this was before she told the crowd assembled in Fargo that veterans shouldn't be used for political gain.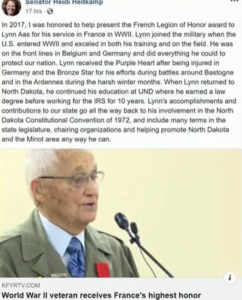 In a comment made on Heitkamp's post, Dan Aas — Lynn's son — made this statement:
"My father Lynn Aas wants it made clear that this post was made without consulting him, and he does not endorse Senator Heitkamp in this current election. While he appreciates the recognition from the Senator, he does not want his military background and acquaintance with the senator to be used for political gain. Please remove this post. Thanks."
To be fair, Heitkamp's opponent Congressman Kevin Cramer received harsh criticism during his 2014 re-election campaign to the U.S. House when he ran an ad filmed at the North Dakota Veteran's cemetery near Mandan. Cramer ultimately pulled the ad.
An interesting side note to Cramer's situation is that he was recently criticized in a Letter to the Editor for posting an image of a veteran on his Twitter and Facebook accounts that was a stock photo and "no North Dakotan veteran". When it comes to politics, you pretty much can't win with these things. Which makes it even more mind-boggling that Heitkamp would do what she did. And to do it in the aftermath of last week's debacle — again, without permission — well, it just wasn't a wise move.
I suppose this shouldn't surprise me. It's just one more misstep in a series of political stumbling from the Heitkamp campaign. At this point, I'm kind of getting used to it.
You can watch Chris Berg's coverage of the issue here:
Sen Heitkamp says at her Veterans event that our Vets should never be used for political gain, after she uses a WW2 Veteran without her permission for her political gain. Plus, she reacts to latest poll showing she is down by 16 pts to Kevin Cramer.

Posted by POVnow on Wednesday, October 24, 2018
Sources:
https://theminutemanblog.com/2018/10/16/heidi-heitkamps-campaign-of-desperation1/
https://pjmedia.com/trending/sexual-assault-survivors-doxed-in-heitkamp-ad-afraid-for-their-lives/
https://www.kfyrtv.com/content/news/Chuck-Hagel-defends-Heitkamps-veterans-voting-record-on-campaign-swing-498420781.html
https://www.washingtonpost.com/news/the-fix/wp/2013/01/07/why-republicans-dont-trust-chuck-hagel-in-5-easy-steps/?noredirect=on&utm_term=.3a47f03a6cd9
https://www.minot.af.mil/News/Article-Display/Article/806067/hell-froze-over-the-lynn-aas-story/
https://bismarcktribune.com/opinion/letters/cramer-fails-to-use-veteran-from-n-d/article_7dda8118-6d3d-5959-91ab-4c17ff9de06e.html
https://www.facebook.com/POVnow/videos/249125319106228/UzpfSTYyODE1Mjk4OTpWSzoyMDI5NjQ1MjkwNDI4MDcx/