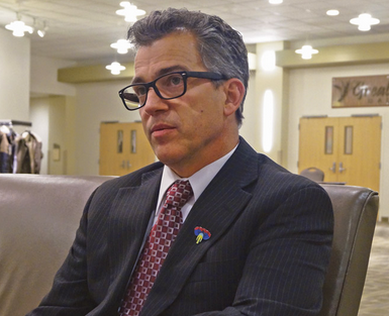 Discussion has heated up about a potential opponent to sitting U.S. Senator Heidi Heitkamp in 2018. Names like current U.S. Congressman Kevin Cramer, state Senator Tom Campbell (R – District 19), and former U.S. Congressman Rick Berg have all surfaced. But the one that has perhaps drawn the most attention this week is state Representative Rick Becker (R – District 7).
Rep. Becker missed the last day of the legislative session for meetings in Washington, DC. A fact that was reported by Rob Port at the SayAnything Blog. To be clear, Rep. Becker planned that trip when the legislature was expected to finish early. He then had the blessing of House leadership to carry through with his trip after it was realized the legislature would run longer than expected.
Becker almost never misses legislative days. He's only missed two days in the last three sessions. That attendance record is far superior to many of his legislative colleagues. So, while some folks have criticized him for the absence, it's really a hollow and pointless argument. But I digress.
The fundamental question at hand is, "Should Rep. Rick Becker run for U.S. Senate?"
As one who is a fan of Rep. Becker – something I have not kept a secret or been shy about admitting to – I must say that the answer is not as clear to me as it once was.
Just over a year ago, Rep. Becker was running a tough gubernatorial campaign heading into the State Republican Convention against the then favored Attorney General Wayne Stenehjem and now governor Doug Burgum. Becker had a phenomenal showing at the convention where he went to a second ballot and came within votes of going to a third, in which he would have gone head to head versus Stenehjem for the party's endorsement.
Becker's loss at the convention wasn't really a loss at all. He ended up accumulating the most votes – over a 1,000 of them – to go to the National Republican Convention as a national delegate. His vote total was more than that of even the then sitting governor Jack Dalrymple and other party elites. He struck a cord with convention attendees… a conservative cord.
Coming out of that convention, I was convinced that Rep. Becker was the man that should take on an increasingly vulnerable Senator Heidi Heitkamp in 2018. I even expressed as much the same day the State Republican Convention ended. But I'm just not as convinced this is the right move anymore.
It's not that I don't believe Becker can beat Heitkamp. I believe he can. In fact, an argument could be made that he's best equipped out of the potential candidates to oust her. It's not that I wouldn't love to have him in Washington, DC either. I would. The cesspool there is desperately in need of a limited government voice like Rick Becker's. But at what cost to the state of North Dakota?
I've also made it no secret that I believe the federal government is potentially too far gone anyhow. The most effective and immediate change Americans can work for is at their local and state levels– that's where I believe true change is to be found.
One need look no further than the recently completed North Dakota Legislative Session to see the impact that Rick Becker has. Aside from his growing "Bastiat Caucus" – which advocates for principles of limited government – two of the big wins of the session came in the form of Constitutional Carry and Confidential Informant Reform (i.e. "Andrew's Law")– both sponsored by Becker. Remove that type of legislation from a session and there's little to be excited about.
And while the legislature still spent way more than they should be, Rep. Becker was often there to sound the voice of reason and opposition to spending bills. His absence in the North Dakota Legislature would leave a gaping hole for those of us who want limited government and fiscal responsibility in Bismarck.
I suppose I could more readily accept the idea of Rick Becker as U.S. Senator if the intention was to eventually have him return to North Dakota for a run at the governor's office again. A sitting Republican U.S. Senator would be a formidable candidate to replace Governor Doug Burgum at some point when he's done.
Yes, Rep. Becker would be a breath of fresh air in Washington, but his absence could potentially leave us gasping for air in Bismarck. It's a trade-off I'm no longer convinced is the best thing for North Dakota.
What I do know is this… we need more people like Rep. Becker both in Washington and in Bismarck. Unfortunately for us, there's only one Rick Becker.
Sources:
1. https://www.sayanythingblog.com/entry/rep-rick-becker-interested-2018-senate-race-skipped-last-day-legislative-session-meetings-washington-d-c/
2. http://www.legis.nd.gov/assembly/65-2017/members/house/representative-rick-c-becker
3. http://www.inforum.com/news/legislature/4000766-stenehjem-wins-gop-nomination-hotly-contested-nd-governors-race-burgum