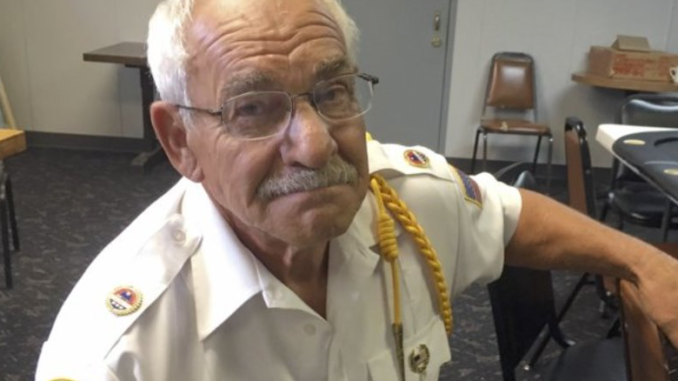 It seems that Assistant Burleigh County State's Attorney Julie Lawyer – who also happens to be a candidate for State's Attorney – thinks that defending self and property is an act of Terrorizing. And because of that 70-year old Army veteran Raymond Geffre is currently a victim of a horrible misapplication of the law. The long-time Army Ranger, Vietnam vet, and former firefighter – who also serves as a chaplain of North Dakota's volunteer honor guard – is facing charges of Terrorizing.
According to an affidavit filed in Burleigh County, an employee for Midland Garage Door Manufacturing Company named Edward Weber claims that in an attempt to locate a customer he turned down the wrong road. While turning around, Weber says that Geffre approached him in a vehicle and exited with a cellphone in one hand and a black semiautomatic handgun in the other. Weber further claims that Geffre pointed the gun at him through the driver's side window— a claim that is denied by Geffre.
In the aftermath of these events, Geffre was arrested and charged with Terrorizing— a Class C felony that, if convicted, carries a mandatory minimum of two years incarceration. But do Geffre's actions warrant such a charge? I'd suggest that they don't.
The fundamental problem is that the statute being used to prosecute Geffre shouldn't be applied to a man who felt that he was potentially defending himself and his property.
12.1-17-04. Terrorizing.

A person is guilty of a class C felony if, with intent to place another human being in fear for that human being's or another's safety or to cause evacuation of a building, place of assembly, or facility of public transportation, or otherwise to cause serious disruption or public inconvenience, or in reckless disregard of the risk of causing such terror, disruption, or inconvenience, the person:

1. Threatens to commit any crime of violence or act dangerous to human life;
If Burleigh County is allowed to apply this law to landowners in defense of self and property, what are the implications for our 2nd Amendment and private property rights? In a nutshell, it neuters them.
Now, naturally someone is going to inevitably point out that Weber intended no harm to Geffre or his property. And that certainly seems to be the case. But how was Geffre supposed to know that? After all, he didn't know Edward Weber from Charles Manson. Was he somehow obligated to approach the uninvited guest from a position of anything less than strength? I don't believe so. Even law enforcement is permitted to utilize weapons when they approach situations they think might be problematic. Why should we require less from a landowner?
It should also be noted that according to Geffre's attorney, Tom Dickson, the property is posted with No Trespassing signs.
If Burleigh County is successful in prosecuting Geffre on charges of Terrorizing, what message does it send to individuals who do enter property with criminal intent? It's simple. If they're caught, they only need to claim otherwise. And from that point on, any landowner who brandished a weapon of any sort, in defense of self and property, might be the one sitting in the crowbar hotel.
To top all of this off, according to attorney Tom Dickson, Geffre also had all of his guns confiscated as a result of the charges.
In the course of his life, Raymond John Geffre has engaged Viet Minh soldiers, attended funerals for childhood friends killed in action, and fought fires. The fact that he now has to fight the very people who should be protecting him – namely Burleigh County's Sheriff's Department and State's Attorney office – is nothing short of despicable.
Update: The title of this article originally had "Terrorist" instead of "Terrorizer". This was a mistake in editing and has since been corrected to reflect the proper terminology.
Sources:
https://bismarcktribune.com/news/local/govt-and-politics/longtime-prosecutor-runs-for-state-s-attorney/article_6579e397-0802-5976-a852-994c7f5bb350.html
https://bismarcktribune.com/news/veterans/sgt-ray-geffre-bismarck/article_ee9cd506-a4d2-5375-8f80-d1613e401ba2.html
https://www.apnews.com/727bf74930d84c99bdd9deea5ac6fd18
https://bismarck.mugshot.press/arrest/647222/ray-geffre
https://www.legis.nd.gov/cencode/t12-1c17.pdf#nameddest=12p1-17-04