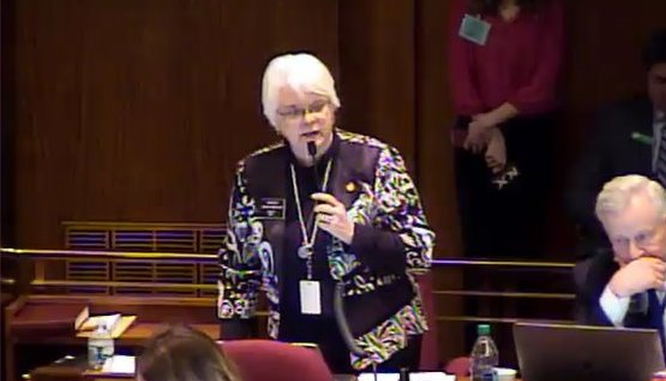 We live in very odd times. So odd it seems that a government official can now win an award for voting to spend taxpayer dollars. It's an interesting concept, but for Fargo State Senator Carolyn Nelson (D – District 21), this is exactly the case.
The Forum reported yesterday that Senator Nelson is being recognized as the first ever recipient of the "Outstanding Woman State Legislator Supporting the Arts" award. The recognition comes from the John F. Kennedy Center for the Performing Arts and a nonprofit group called Women in Government.
Nelson was nominated by two fellow Fargo Democrats in the Legislature, Rep. Mary Schneider (D – District 21), and Rep. Pam Anderson (D – District 41). The award will be given on November 8th at the John F. Kennedy Center for the Performing Arts in Washington, DC.
Nancy Todd, a Colorado Senator and Chairwoman of Women in Government's board – who also happens to be a Democrat – praised Nelson:
"At home, in the community, in the legislature, nationally and around the world, Senator Nelson has enhanced thousands if not millions of lives through the arts."
Let me be clear, I have no problem with Senator Nelson's involvement in the arts at home and in the community. Details of her involvement in those areas are also noted in the Forum article. But it's singing her praises for her work in the legislature on this issue that is problematic for me:
"As a lawmaker, Nelson, D-Fargo, has fought for expanded arts funding and has resisted arts funding cuts, according to her nomination for the award." (Emphasis Added)
I'm certainly not saying that there's no value at all in certain areas of the arts. Nor am I saying that Senator Nelson's love for them is ill-founded. Heck, I'm not even saying that she shouldn't advocate for them. I just don't believe utilizing the legislature to do so is admirable.
My reasoning for this is very simple… it's not the proper role of government. If some aspect of the arts cannot be self-funded through private enterprise or donations, then perhaps it shouldn't exist at all. Extracting money from the taxpayer to prop up such things is not only a poor use of funds, but it's inappropriate. Such things contribute to bloated and unnecessary government expenditures.
Simply put, I just don't think advocating for and voting to spend other people's money is worthy of an award. To me, it sends the wrong message about the role of government in our lives. But I suppose it should come as no surprise when liberals are the ones that are doing the nominating and doling out the awards.
If the truth were told, perhaps a more appropriate name for this award would be the "Outstanding Welfare Advocate for the Arts" award. Of course, it's also no surprise that Democrats would find some way to disagree with that too.
Sources:
1. http://www.inforum.com/news/4346363-fargo-state-senator-get-national-award-supporting-arts