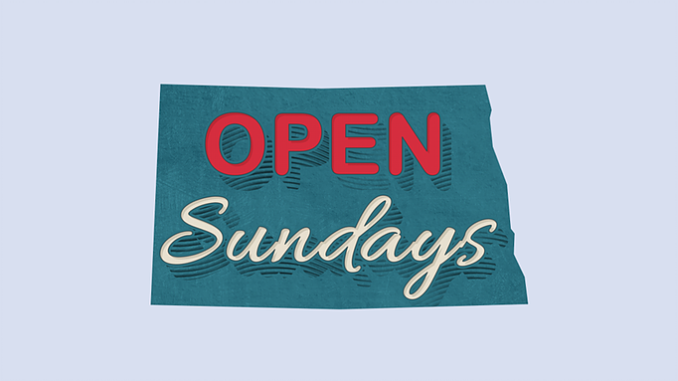 The process is moving along to end North Dakota's ban on Sunday morning shopping– otherwise known as a "Blue Law". Fargo Businessman, Brandon Medenwald, took up the task of organizing a petition drive after the North Dakota Legislature defeated a bill to repeal the law earlier this year.
The movement that Medenwald leads is complete with a non-profit group called "North Dakota Open on Sundays", a web site, and a Facebook page. According to the Bismarck Tribune, the necessary paperwork from the sponsoring committee has been completed and is being gathered for drop-off at the Secretary of State's Office. Once approved, the group can begin collecting signatures with the goal of having the measure put to the voters on the November 2018 ballot.
The debate surrounding this issue took some interesting – if not ridiculous – turns while before the Legislature. First, it was narrowly defeated in the House one day– only to narrowly pass after being reconsidered the next. It was then defeated in the Senate. Some folks took comments from the floor debate a tad too seriously.
For example, this comment from Rep. Vernon Laning (R – District 8):
"I don't know about you but my wife has no problem spending everything I earn in six and a half days. And I don't think it hurts at all to have a half day off."
Or this one from Rep. Bernie Satrom (R – District 12):
"Spending time with your wife, your husband — making him breakfast, bringing it to him in bed and then after that go take your kids for a walk."
Both Representatives opposed the repeal of the Sunday Closing Law, but if you watch their comments on video (I'll include a link at the end of the article) it's obvious the comments were not at all mean-spirited. Nevertheless, some folks couldn't resist the urge to make them out to be anti-women and male chauvinistic.
To me, the sad thing about Rep. Laning and Rep. Satrom's comments wasn't what they said, but the distraction others turned their comments into. The fundamental problem with the Sunday Closing Law is that government tells private businesses when they can and cannot be open. It's that simple. And violation of the law is a Class B misdemeanor.
My favorite post on North Dakota Open on Sundays Facebook page is this:
If it seems silly, it is. But the sad thing is that under the current law this is entirely possible. One store may be legally open that sells the soup, while another is closed that has the can opener you need to eat the soup. And if they sell you the can opener before noon– well, it's a violation of the law.
There is a religious element to the current law that cannot be ignored. And as a religious person myself, I can sympathize with the desire to allow people the opportunity to attend Sunday services and to spend time with family. But what about Seventh Day Adventists? Or Jews? Their Sabbaths do not fall on Sundays. What about those that would like to work on Sunday mornings?
The best way to handle the law is to eliminate it. Remember, governments should only be empowered to do those things that the people they represent have the power to do themselves. And since we do not have the right to dictate to our neighbors when they can or cannot open their businesses, then the state shouldn't be dictating it either.
At some point this month, it is expected that petitions will begin circulating and signatures will start being gathered. I suspect that getting the required 13,452 signatures won't be difficult. And when North Dakotans go to vote in November 2018, they'll have the opportunity to do something a majority of the North Dakota Legislature refused to do… reduce the power of government.
It may well be the beginning of the end for North Dakota's Sunday Closing Law. And if it proves to be so, it won't be because of backlash towards alleged "anti-women" or "male chauvinistic" comments from legislators. It won't be because people hate religion. It will be because people don't believe government should dictate when businesses are open.
Sources:
1. http://bismarcktribune.com/news/state-and-regional/organizer-hopes-to-start-collecting-petition-signatures-on-sunday-closing/article_1a48df66-b555-5b01-a2b2-de3cb4bf6bec.html
2. Video of Representatives Laning and Satrom here:
3. http://www.valleynewslive.com/content/news/Group-aims-to-do-away-with-restrictive-shopping-law–416380993.html
4. https://www.facebook.com/ndopenonsundays/