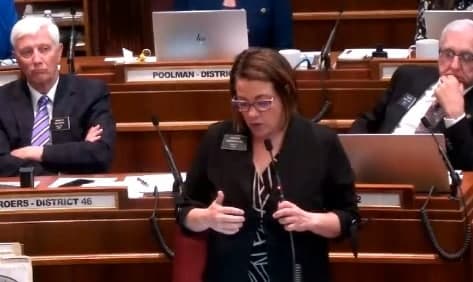 After a long and controversial road for House Bill 1298, it's dead. Though it gained the necessary 2/3 vote in the House to override Governor Doug Burgum's veto, the Senate failed to do so— by four votes.
As you're likely aware, HB 1298 sought to prohibit biological males — who identify as females — from participating in girls' sports. To me, the concept isn't exactly complicated. Any rational person understands the fundamental biological differences between males and females.
Unfortunately, rationale doesn't always prevail in politics. In fact, these days it might be argued that, more often than not, it doesn't. And that's what we saw with this bill.
Opponents to the ban paraded out a variety of arguments. Prevalent among them was fear of potential lawsuits and essentially labeling those who supported the legislation as hateful and discriminatory. Yet, despite the exceptional counterarguments of someone like Senator Doug Larsen (R – District 34), logic and reason simply didn't matter to some of his colleagues.
Just how indefensible is it that the bill didn't become law? Let me illustrate.
Hypothetical A
Suppose 16-year old John Doe — who is an average track athlete — decides he wants to run with the girls' track team. Not because he thinks he's a girl, but because he realizes he'll blow away the competition.
Would he be permitted to make the switch? You and I both know the answer— No! Nor should he be. And for obvious reasons. No rational person would support such a thing. Which is why nobody advocates for it happening.
Hypothetical B
Now, let's suppose John claims he's a girl. True, he's biologically a male. He knows this. But he's also felt for a while now that he should have been female. In fact, he's so convinced — as are his parents — that he's been undergoing testosterone-suppression treatment for the last year in an effort to "transition".
Under these latter conditions, and according to the current policy of the North Dakota High School Activities Association — the same one cited by Governor Burgum in his veto — John is free to join the girls' track team.
It's ludicrous.
In December of last year, the British Journal of Sports Medicine released its findings in a study indicating "that while hormone treatment was associated with changes in athletic performance, transgender women still retained a competitive advantage 2 years later." In fact, on average, they were still "12% faster than other women." (Emphasis Added)
Is it any wonder why Senator Michael Dwyer (R – District 47) expressed more than once how flawed the NDHSAA policy is?
The fundamental reason we even have girls' sports in the first place is because girls are biologically very different from boys. In my mind, that's so obvious it's not even really debatable. Whether we're talking skeletal and muscular systems or a variety of other characteristics, boys are generally bigger, faster, and stronger.
Governor Burgum's veto — and the subsequent failure of the Senate to override it — is indefensible.
Sources: