Unless you absolutely just don't pay attention to North Dakota news, then you've at least heard or read something about the controversy surrounding a recent Facebook post shared by State Senator Oley Larsen (R – District 3). It became news with this article from Say Anything Blog on Sunday.
As you can see, Larsen shared a photo that includes these words across the top of it:
"Congresswoman at a Al' Quaida training camp in Somalia. She is trying to get this picture blocked[.] Share it everywhere[.]"
This, of course, refers to United States Representative Ilhan Omar (D – Minnesota). You might recall that not only was Omar the first Somali-American elected to Congress, but she is one of the first two Muslim women elected to that body as well.
There's a major problem with the photo though. While it bears some resemblance to the congresswoman, it's not her. Rep. Omar was born in 1982. The photo was taken in 1978 at a Somali military camp— which also happens to be ten years prior to the founding of Al Qaeda.
As you can imagine, Senator Larsen's post — which has since been removed — has become a lightning rod of sorts. Aside from Say Anything Blog, other state-wide news outlets covered the story. It then went national— and even Time picked it up.
Though he removed the controversial post, Larsen allowed another to remain in which he referred to Omar as a "terrorist". It has since been edited to remove that reference.
It seems that with so much attention being drawn to all of this, that Senate Majority Leader Rich Wardner (R – District 37) felt the pressure to chime in. Yesterday, he called on Larsen to not only apologize, but to resign his position as President Pro Tempore of the Senate. An interesting request from one of the Republican traitors that supported the awful Red Flag Law. But I digress.
Even Omar herself had responded to the situation with this post on Twitter: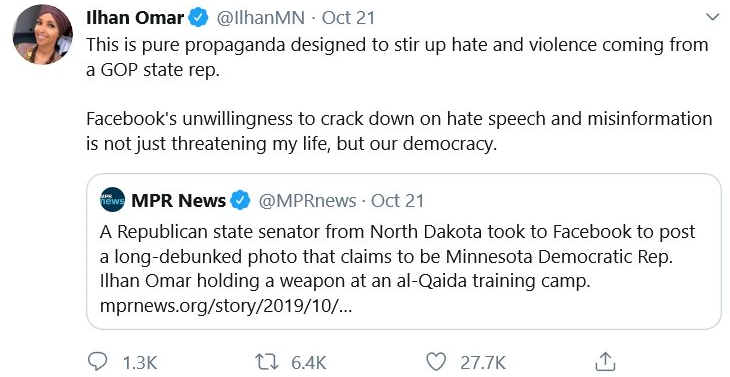 I want to be clear that I agree this wasn't Senator Larsen's best move. In fact, I wouldn't even argue with those who want to label it as "stupid". It was. Having said that, I think the response to it has reached a level of ridiculous all its own.
This idea — floated by some — that what Larsen did was "racist" is just plain silliness. Being a Muslim has nothing to do with race. Therefore, his reference to her being a terrorist cannot be racist.
While criticism of Larsen has come from both sides of the political aisle, I must admit that I find it somewhat humorous coming from the left. These same people who say that Larsen should "prove it" if he's going to call her a terrorist are largely the same ones who believed — and even perpetrated — the unproven claims of Trump's "Russian collusion".
Is there much of a difference between referring to someone as a "terrorist" and accusing them of being a Russian agent?
Along these same lines, it might be argued that Larsen had as much evidence for his claims as Hillary Clinton did hers, when she recently accused Democratic presidential candidate Tulsi Gabbard and former Green Party candidate Jill Stein of being Russian assets.
I think the fact that Rep. Omar even bothered responding to this is interesting. After all, who is Oley Larsen to her? Let me answer that for you— a nobody. Prior to this, I'm guessing she didn't know him from Adam. Did she truly feel more threatened by this or was it just another opportunity to lash out at Republicans? After all, the debunked photo has been on social media for months now.
What's also amusing is that Omar herself doesn't exactly have the moral high ground when it comes to false claims and social media blunders. She had a perceived anti-Semitic Tweet, another one accusing Immigration and Customs Enforcement (ICE) of being un-American, and even made misleading statements about gun deaths in America.
Then there's the time Omar refused to answer questions about what she would do to deter extremism and terrorist recruitment in her district. And we shouldn't forget that back in 2016, she wrote a judge asking for leniency in the case of a man who had pledged allegiance to ISIS. And that's not even all of it. You can see more here.
Aside from Wardner suggesting Larsen resign his interim position as President Pro Tempore of the North Dakota Senate, others believe he should step down altogether. I disagree. If Ilhan Omar can remain in office, Oley Larsen can too.
At the end of the day, if the people of District 3 want Oley Larsen gone, they'll make it so. But so many of the political darts being thrown at the senator are coming from people who are nothing but hypocritical for throwing them.
Did Senator Larsen make a mistake? Yes. Is it more harmful than the ones made by the person he posted about? I don't think so.
Maybe it's time we get back to talking about policies, instead of social media blunders. And in that arena, Rep. Ilhan Omar fails miserably too.
UPDATE: Within minutes of publishing this article, Senator Oley Larsen published an Op-Ed on Facebook. We've taken the liberty of publishing it here on The Minuteman. You can read it in its entirety by clicking here. He will not be resigning.
PLEASE LIKE & SHARE!
Sources:
https://theminutemanblog.com/2019/01/15/nd-republican-traitors-stand-with-democrats-on-red-flag-gun-law/https://www.sayanythingblog.com/entry/north-dakota-state-lawmaker-claims-picture-shows-minnesota-democrat-ilhan-omar-in-an-al-qaeda-camp/
https://omar.house.gov/
https://www.apnews.com/afs:Content:6978680630
https://thehill.com/homenews/house/466811-north-dakota-gop-state-lawmaker-shares-debunked-photo-calls-omar-an-elected
https://www.youtube.com/watch?v=i198vTUBlgA
https://www.sayanythingblog.com/entry/republican-state-senator-takes-down-false-claim-about-ilhan-omar-and-al-qaeda-leaves-up-another-post-calling-her-a-terrorist/
https://bismarcktribune.com/news/state-and-regional/govt-and-politics/senator-should-apologize-for-ilhan-omar-post-nd-senate-majority/article_dcb9135d-1ac0-5dba-ae80-880ed92f2ff3.html
https://www.usnews.com/news/best-states/alaska/articles/2019-04-18/larsen-elected-as-the-senates-new-president-pro-tempore
https://theminutemanblog.com/2019/01/15/nd-republican-traitors-stand-with-democrats-on-red-flag-gun-law/
https://theminutemanblog.com/2019/10/19/if-democrats-had-any-sense-theyd-support-tulsi-gabbard-for-president/
https://www.foxnews.com/media/jill-stein-blasts-hillary-clinton-russian-asset-claim
https://www.politico.com/story/2019/02/11/house-democrats-ilhan-omar-antisemitism-1163728
https://www.foxnews.com/politics/ilhan-omar-unamerican-ice-detain-immigrants
https://www.politifact.com/truth-o-meter/statements/2019/jun/12/ilhan-omar/rep-ilhan-omars-claim-high-there-arent-500-gun-dea/
https://pjmedia.com/trending/illhan-omar-declines-to-address-terrorist-recruitment-in-her-district/
https://www.discoverthenetworks.org/individuals/ilhan-omar/
https://thehill.com/opinion/civil-rights/430895-why-omars-views-are-dangerous
https://theminutemanblog.com/2019/10/23/op-ed-larsen-omar-isnt-a-terrorist-shes-just-sympathetic-to-them/