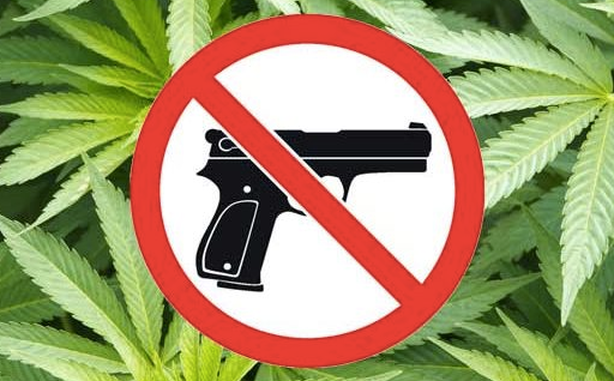 Last night we broke the news explaining that the North Dakota House had hijacked Senator Oley Larsen's (R – District 3) Senate Bill 2140. The sole intent of the original bill was to allow those who are caught carrying a concealed weapon without their permit to produce one within 30 days of the violation in order to avoid criminal charges. But the House Energy and Natural Resources Committee tacked on an unrelated amendment that lays the groundwork for gun confiscation of North Dakota's medical marijuana users. And the House not only adopted the amendment, but they passed the bill yesterday on a vote of 53-38.
As I explained in the previous article, if signed into law in its current form, those who register as "qualifying patients" under North Dakota's medical marijuana law will have their "name, date of birth, and driver's license number" turned over to the Bureau of Criminal Investigation (BCI) for the "sole purpose" of determining whether they can legally possess a firearm. Quite simply— according to federal law, if you're a medical marijuana user, you can't have a gun, which means you can't conceal carry in North Dakota. By the way, violating the law can result in a maximum of 10 years in prison.
While Rep. Todd Porter (R – District 34) — who is also Chairman of the House Energy and Natural Resources Committee — expressed his hope that BCI wouldn't use the amendment for purposes of gun confiscation, even he had to admit that it could be. Once we published last night's article on the subject, it set off a bit of a firestorm of opposition.
One of the questions at the time of yesterday's vote was whether a 2/3 majority was required to pass the bill since it involved a statute related to medical marijuana. You might recall that any statutory measure passed by the people requires a 2/3 majority of the Legislature to change it. And medical marijuana was passed by the people in November of 2016.
At the time of yesterday's vote, it was determined that 2/3 was not required. But it now appears that may not be the case. The House just brought the bill back up for reconsideration today and sent it back to committee. It'll be interesting to see where the bill goes from here.
If you want this amendment removed, now is the time to contact your representatives.
PLEASE LIKE & SHARE!
Sources:
https://theminutemanblog.com/2019/04/09/amendment-lays-groundwork-for-gun-confiscation-of-nd-medical-marijuana-patients/
https://www.legis.nd.gov/assembly/66-2019/bill-index/bi2140.html