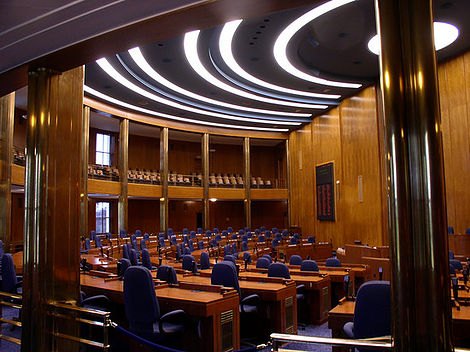 The North Dakota Supreme Court recently settled the dispute over Governor Doug Burgum's vetoes. According to the Grand Fork's Herald:
"Lawmakers petitioned the court late last year and asked the justices to determine the legal effect of the vetoes, in which Burgum struck parts of budget legislation after the end of the 2017 session. The state constitution allows the governor to veto items in an appropriations bill while allowing the rest to become law, but the court said Burgum went too far in some cases by striking conditions on spending without vetoing the appropriation itself."
Aside from acknowledging that Burgum had gone too far in some of his vetoes, the court also sided with the executive branch on parts of two bills. Again from the Herald:
"… the court sided with the state's executive branch in striking down parts of two bills that justices said unconstitutionally delegated too much authority to large legislative committee known as the Budget Section. [Attorney General Wayne] Stenehjem said there are almost two dozen other parts of existing law that give the committee similarly improper powers.

…

"The Budget Section is a 42-member committee that meets between the Legislature's biennial sessions. Stenehjem said there's 'good reason' to call it a 'mini-Legislature.'"
And this is where it gets interesting. Because of the court's ruling in relation to the Budget Section committee, Stenehjem – a former legislator himself – speculated that it may cause lawmakers to consider meeting more often. While State Senator Ray Holmberg (R – District 17) has his doubts about such a thing, Senate Majority Leader Rich Wardner (R – District 37) acknowledged it "could be something that would happen down the road".
Of course, the North Dakota Legislature currently meets for no longer than 80 days every two years— as mandated by Article IV of the State Constitution. As you can see, organizational meetings and special sessions called by the governor don't count towards the 80 days.
The question of meeting more often isn't a new one. During the buzz of the Bakken oil boom, some folks even questioned whether we should have a full-time legislature. While I personally reject that idea, would it be advantageous for lawmakers to take the 80 days they currently have and split them? Thus enabling them to meet annually. After all, the State Constitution specifically says that, "Days spent in regular session need not be consecutive…"
Since they have the 80 days, would it matter if they use them all at once or split them? Perhaps a better question is whether it would help our legislature to be more responsive to issues as they arise? Would it somehow make them more effective and serve the public better? I must admit, I'm skeptical. Of course, we should also consider the impact it would have on those who serve as well. Being part-time legislators, most of them have regular jobs. How would such a move affect them?
Having said all of this, if meeting annually ends up just being a move to warm the public up to the idea of a full-time legislature, then I'd be completely opposed to it. Personally, I'd like to see less governing, not more. Thankfully, I don't think there's an appetite for a full-time legislature. But it appears we may see the debate about meeting annually.
I'm interested in your thoughts.
Sources:
http://www.grandforksherald.com/news/government-and-politics/4479716-stenehjem-north-dakota-supreme-court-opinion-has-larger
https://www.legis.nd.gov/assembly/65-2017/committees/interim/budget-section
https://www.legis.nd.gov/constit/a04.pdf