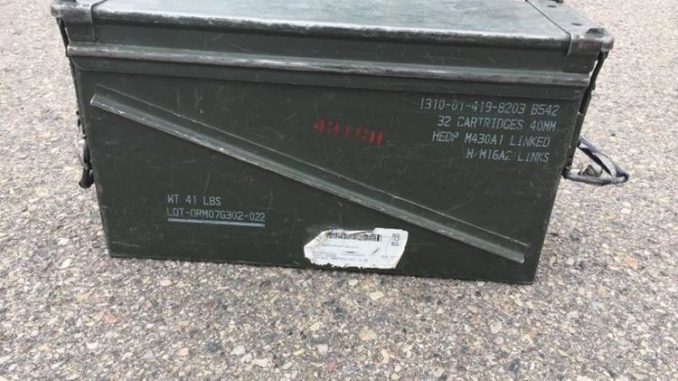 You've probably heard, but according to multiple reports someone made a boo-boo in Mountrail County. To be more specific, Air Force personnel seems to have lost a belt full of ammunition for a grenade launcher earlier this month near Parshall. As of today, they still have been unable to locate the explosives— even after 100 airmen walked a specific six-mile route last Friday.
Apparently the lost ammunition fell off a Humvee, is specific to a particular launcher, and will not work in other devices. As long as they remain in the green metal container that they were in, they are considered to be safe. Yet, if the container is found to be damaged, the area should be evacuated and a call placed to 911.
Because of their failure to locate the explosives, the Air Force is offering a $5,000 reward to anyone that can provide information that will result in their recovery. If you have any information regarding this issue, call the Air Force Office of Special Investigations at 701-723-7909 or you can submit anonymous tips to the following link— http://www.tipsubmit.com/WebTips.aspx?AgencyID=1111. You can also reach the Mountrail County Sheriff's Office at 701-628-2975.
Sources:
https://www.airforcetimes.com/news/your-air-force/2018/05/13/air-force-looking-for-explosives-lost-in-north-dakota/
http://bismarcktribune.com/bakken/lost-air-force-explosives-still-missing-in-northwest-n-d/article_7745aeef-618d-535a-a1cb-77cc76870acd.html