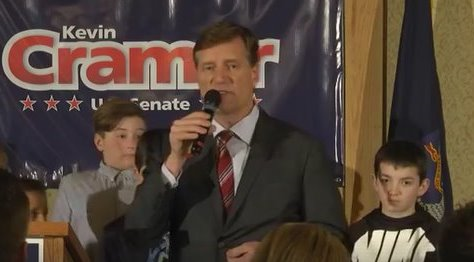 Tom Campbell is in trouble, and his campaign knows it. The State Senator from District 19 announced his campaign for U.S. Senate last August. At the time, Campbell hoped to use his wealth to flood North Dakota with his advertisements. The purpose, of course, to raise his name recognition in the state and to brand himself as a "Conservative Farmer". While people undoubtedly became more familiar with his name, the recognition didn't really seem to translate to overwhelming excitement and support for his candidacy.
Just last month, reports surfaced that while Campbell had "raised" over $1 million for his campaign, about $745,000 of that was his own money. Within two weeks of these reports, Congressman Kevin Cramer reversed his previous decision not to run for U.S. Senate and decided to jump into the race. That decision led Campbell to switch his campaign to the U.S. House race.
Just days after Campbell switched, State Senator Kelly Armstrong (R – District 36) threw his hat into the ring for U.S. House. Not only is Armstrong a State Senator – with a far more conservative record than Campbell – but he had also just resigned from being the NDGOP State Chairman. And as a result of Armstrong's connections within the party, he said he raised $250,000 in eight days— that doesn't include the $100,000 of his own money he put in. In other words, what it took Campbell to raise in six months, Armstrong nearly matched in eight days.
One of the problems for the Campbell campaign is that more people are becoming aware of the fact that he's not really all that conservative. Back in December, we published an article giving examples from his voting record to support this point. Well, apparently someone asked about Campbell's voting record on his Facebook page yesterday. And according to reports from three different individuals, attempts were made to share our article in response to the question, but it was removed – along with the person's inquiry about his record – and those individuals who repeatedly tried to share the information on his voting record were blocked from commenting.
Here's screenshots showing one of the instances of it being removed:
Now, I'll grant the fact that our article wasn't favorable to Tom Campbell. But it's based on his voting record. And furthermore, it provides a link to a more extensive view of his record— including the votes he voted right on. So, why is his campaign afraid to let voters know about it? I'm speculating, but I'm guessing because the overall record doesn't match the campaign rhetoric of him being a conservative. Heck, we didn't even mention when he was the only Senate Republican to vote with Democrats in trying to keep the bloated agency known as "BreatheND".
When a voter asks about a candidate's record, they should probably get an answer. At the very least, there shouldn't be an attempt to white wash evidence of what the voting record is. Tom Campbell made those votes. Nobody else did it for him.
Sources:
http://kfgo.com/news/articles/2018/feb/02/gops-campbell-seeds-senate-bid-with-744k-of-own-money/
https://theminutemanblog.com/2018/02/13/breaking-cramer-to-jump-into-senate-race/
http://www.minotdailynews.com/news/local-news/2018/02/campbell-launches-u-s-house-campaign/
https://theminutemanblog.com/2018/02/20/breaking-ndgop-chairman-resigns-will-run-for-u-s-house/
https://www.sayanythingblog.com/entry/armstrong-camp-says-they-raised-250k-for-house-campaign-in-eight-days/
https://theminutemanblog.com/2017/12/20/tom-campbells-voting-record-proves-hes-not-really-conservative/
http://acuratings.conservative.org/wp-content/uploads/sites/5/2017/07/NorthDakota_2017_web-1.pdf
http://video.legis.nd.gov/pb2/powerbrowser_Desktop.aspx?wowzaplaystart=5624000&ContentEntityId=1852&MediaStart=2017-02-22T11%3a30%3a12-06%3a00&browser=0