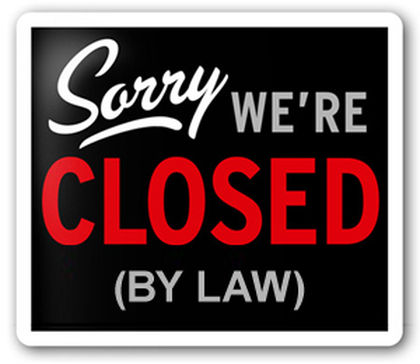 Two days ago the group behind the movement to eliminate North Dakota's Sunday closing laws – known as "North Dakota Open on Sundays" – turned in their language for an initiated measure to the Secretary of State's Office. Once approved, the group can begin collecting the required 13,452 signatures with the goal of having the measure put to the voters on the November 2018 ballot.
To close an article I wrote on this earlier in the month, I said:
"It may well be the beginning of the end for North Dakota's Sunday Closing Law. And if it proves to be so… It won't be because people hate religion. It will be because people don't believe government should dictate when businesses are open."
The idea that this "may well be the beginning of the end" for the law is supported by the results of an on-line poll done by the Grand Fork's Herald today. As of this writing, these were the results:
Now to be fair, I suppose it would be a stretch to conclude that this is a scientific poll and that the results would manifest themselves as accurate in a November 2018 election. But it would not surprise me at all if they're not too far off.
With just over fifteen months to election time, I suppose a lot could change. But with the possibility of over 75% of North Dakotans ready to remove the government's ability to restrict business hours on Sundays, the initiated measure process may simply prove to be a mere formality.
Sources:
1. https://theminutemanblog.com/single-post/2017/07/07/Is-it-the-Beginning-of-the-End-for-NDs-Sunday-Closing-Law
2. https://www.facebook.com/ndopenonsundays/