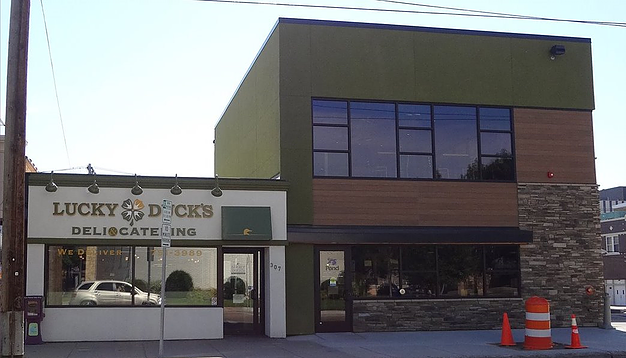 Caution: This article contains content of an adult nature.
If there's one thing that government is good at, it's wasting taxpayer dollars. The cronyism embodied in so-called "Renaissance Zones" is a great example of this. But a recent bit of information shared with me by a concerned citizen truly illustrates a troubling aspect of how taxpayer dollars can be used.
In September of 2013 Kadlec Enterprises, LLC had their $490,000 Bismarck Renaissance Zone project approved. The project was for 307 N. 3rd Street– a location that includes businesses owned by Kadlec like Lucky Duck's Deli & Catering and The Pond.
Located in the basement of this building is what a 2015 Bismarck Tribune article referred to as an "event center". In that article the Tribune said:
"The event center will mostly be used for Kadlec's catering business, allowing families and businesses to book it for private events — everything from weddings to business parties. It will have a full-service bar and seat about 200 people.
"When the center isn't booked, Kadlec plans to bring in entertainment, including comedians, live music and dueling pianos."
The "event center" described above is known as "The Vault Event Center". But the description found on their Facebook page sheds a bit of a different light on it than the 2015 Tribune article. The social media page calls it a "Dance & Night Club".
The Vault's web page is even more descriptive:
"This space is also where we have everything to offer for entertainment: Live music, Dueling pianos, Comedians, DJs, Dancing or whatever you're fancying!"
Just last month, The Vault hosted "Girls Night Out, The Show". If your sheltered North Dakotan mind lacks imagination, like mine does, here's part of the show's official description:

"120 sexy minutes of getting extremely hot watching the sexiest Hunks in the country; each number is electrifying as the guys drive you wild; they entice and tantalize; they tease you leaving your wanting more… then boom they bust out the Hip-Hop Contemporary, Rock, Country and performance dance-moves that leave you out of your seats cheering and screaming. All of this and more happens as you watch the best live Male Revue shows on the Road Today! Throughout the amazing dances and ripped ab goodness, there are also interactive games & crowd participation."
And in case you didn't know, the City of Bismarck prohibits nude dancing:
"5-01-27. Entertainment. 1. Appearances, entertainment or performances of any type consisting of or containing any nude performer or nude dancer, or topless female performer or topless female dancer are prohibited on licensed premises."
Well, according to pixelated picture evidence (shown below) provided to me of that event, it appears that at least one "Hunk" from "Girls Night Out, The Show" wasn't as familiar with the local city ordinance as his lady friend was with his suddenly not-so-private parts.
But this isn't about the violation of a city ordinance as much as it is about the fact of how ridiculous it is that taxpayers of the City of Bismarck are funding these types of activities through the Renaissance Zone Program. I wonder if all of them are happy about that? I'm guessing if they knew, they wouldn't be.
I personally don't care what kind of "events" The Vault hosts on their own dime. Though I certainly don't condone them. But for goodness sakes, if there is one example of why Renaissance Zones should be eliminated, this is it. No taxpayer should have to subsidize rubbish.
Sources:
1. http://bismarcktribune.com/business/local/bismarck-restaurant-owner-opening-more-eateries-event-center/article_95c35292-0b80-5f2a-b2c7-641a2b821a08.html
2. http://bismarcktribune.com/news/columnists/leann-eckroth/league-director-to-retire/article_5f2fbd1e-2612-11e3-8c9c-0019bb2963f4.html
3. http://www.kfyrtv.com/home/headlines/KFYR-Historic-Downtown-Buildings-May-Become-Bars-Restaurants-315129991.html
4. https://www.evensi.us/girls-night-out-the-show/210580968
5. http://www.vaulteventsnd.com/about-us.aspx
6. http://www.bismarcknd.gov/DocumentCenter/View/19478
7.

8.