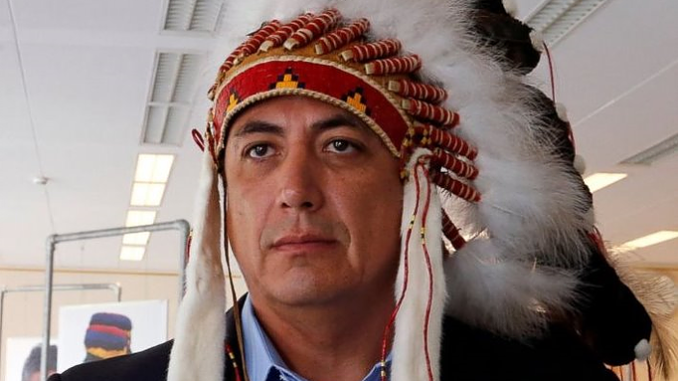 For weeks now speculation has been swirling about who President Donald Trump will appoint as North Dakota's next U.S. Attorney. Most of that speculation has been centered around Drew Wrigley– who is not only the state's former Lt. Governor, but he also served previously as U.S. Attorney under President George W. Bush from 2001-2009.
On Tuesday, the Bismarck Tribune reported that the five federally recognized tribes in North Dakota recently passed a resolution and sent a letter to Senators John Hoeven (R) and Heidi Heitkamp (D) asking that they be consulted in this and all future considerations for the appointment. And who can blame them?
In the letter to North Dakota's two U.S. Senators, the United Tribes pointed out that:
"The U.S. attorney effectively serves as our local prosecutor, yet we have no democratic role in electing or hiring them."
A fair point. When it comes to the charging of serious crimes on reservation lands, the tribes rely on and are required to depend upon the U.S. Attorney. They would also be correct in their point that the federal government has a treaty obligation to consult the tribes in decisions of this magnitude that affect them.
There appears to be one little problem though. The resolution and letter may have been too late. According to the Bismarck Tribune, Senator Hoeven had already recommended Drew Wrigley for the appointment by the time he received the letter on Tuesday.
And not only did Hoeven already make his recommendation, but he claims that
none of the tribes brought the issue up in his meetings with them since the process of looking for a new U.S. Attorney started. The underlying reality though – that some folks probably don't want to admit – is that consulting the tribes wouldn't have changed anything anyhow. Wrigley was a former Deputy Chief of Staff to Hoeven when he was serving as Governor of North Dakota in 2000. It was a given that he would have his old boss's support.
Aside from all of this, Senator Heidi Heitkamp is seemingly going to attempt making political hay out of the issue with the tribes by one of her staffers expressing Heitkamp's support for their feelings on the issue in a written statement:
"Given the federal government's continued lack of funding for law enforcement, criminal justice and rehabilitation in Indian Country and the special relationship that the U.S. Attorney and the federal government have with the tribes concerning crime in Indian Country – Sen. Heitkamp believes North Dakota's tribes should certainly have a say in who the White House appoints as the U.S. Attorney in North Dakota ."
And considering the desperate state of her prospects for re-election, she seemingly has little choice but to attempt to capitalize on the issue with Native Americans. Especially after the way that she handled (or didn't handle) the Dakota Access Pipeline issue. She'll need every vote that she can get. But I digress.
The fact that the Native American tribes of North Dakota want to be part of the process is understandable. But why wait so long to pass the resolution and send the letter in the first place? It's a good lesson to learn that if you want to be involved you have to take immediate initiative to be part of the process. Something that really wouldn't have mattered this time around anyhow.
Sources:
1. http://bismarcktribune.com/news/state-and-regional/n-d-tribes-want-a-say-in-picking-next-u/article_77f0f06e-048a-5dd5-9795-22d783422235.html
2. https://www.justice.gov/usao/us-attorneys-listing