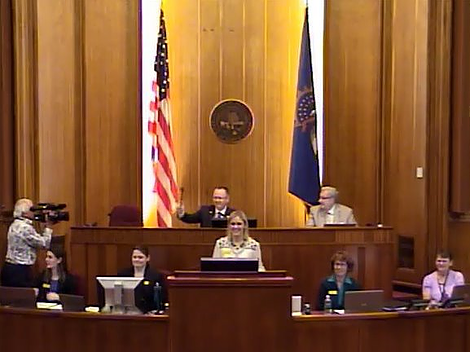 Well, they've gaveled out. The 65th Legislative Assembly is now a completed chapter in the History of North Dakota. After their moments of "Kumbaya" by the Majority and Minority Leaders of both chambers, the House and Senate adjourned "Sine Die" this evening after completing their 77th day. This leaves three days to spare should the legislature need to re-convene to deal with any issues between now and the next session.
We couldn't get through the session without occasionally hearing some people suggest that having the legislature meet every two years isn't enough anymore. The idea these folks put forth is either splitting the 80 day legislative session and meeting yearly or having a full-time legislature.
After following the session, I cannot fathom a full-time legislature. Not only is it inconceivable given our state's economic situation, but why would any thinking person want this legislative body spending every day dreaming up new legislation? The thought alone makes me shudder.
The coming biennium should be interesting. Nearly 20% of the budget comes from special funds that the Legislature raided to balance the budget. An indication that they didn't want to cut anymore than they absolutely had to. In fact, the overall budget isn't all that different from previous years. While General Fund spending decreased from $6 billion to $4.3 billion, overall spending only decreased from $14.2 billion to $13.6 billion.
If oil prices and agricultural commodity prices don't have a decent rebound, things could get interesting two years from now. And with the state getting out of the property tax business, while refusing to approve a bill with 3% caps on increases, I'm guessing property tax will be a hot topic beginning next year.
To be fair, there were some good victories this year– Constitutional Carry, Food Freedom, Andrew's Law, Homeschool Opt Out, etc. Yet, when considering things like a reluctance to cut deeper and killing bills like Civil Asset Forfeiture reform, DUI Checkpoints, Non-Resident Tuition reform, while creating North Dakota's version of the EPA; I think we're all a little safer with the Legislature adjourned.
Source:
1. https://www.sayanythingblog.com/entry/legislators-end-session-state-general-fund-spending-38-percent-oil-boom-peak/